Who was your first horse?
---
Who was the first horse you got? Whats their story?

My first horse, well, I never met him :/ my boyfriend had stumbled across a shire stallion who was 3 years old. He was worried hr'd be too crazy for me, so, he sent Royal Rebel off to training. When Rebel was at the trainers, he told me. 3 months later and we were getting ready to bring Rebel back, disaster struck. One of the horses at the barn failed its Coggins test so every horse was tested. Rebel tested positive. He was starting to show symptoms of it. Rebel ended up being euthanized. I'll never forget the first horse I owned, but never met.

So, to some, that won't count. I count it as having 2 first horses. I'm in the process of purchasing a yearling Appendix Quarter horse who hopefully will allow me to start over and keep me sane after all the deaths in the last 6 months. (boyfriend, boyfriends kids I was raising, as well as Royal Rebel)

So, who was your first horse? If you haven't had one yet, what's your dream horse??
Posted via Mobile Device
Pumpkin is a 13.2 suspected Australian pony, turning 20 this year. He has a big attitude, and will put up a fight over the smallest of things. Will always keep you on your toes. He is my first horse and only horse. I got him with our house when we moved in, 13yrs ago, when he was 7. As far as we know, he was a pasture puff with his previous owners. He was kept as a pasture puff when we moved in - I was only 2 and half, and my family were non-horsey.

When I was eleven I started to ride him and work with him. I didn't know how to ride, only what I had read in books. Dad gave me lead line rides, and I soon got bored with that. I eventually started to ride him on my own. He was the boss in this relationship: tacking up was a massive ordeal and and then we got to the ride, which wasn't much better.

We eventually got riding lessons, and ended up with a trainer coming in 3 years ago. I have been working with him now for coming to 5 years, and we are going to Pony Club this year.
---
There is one principle that should never be abandoned, namely, that the rider must first learn to control himself before he can control his horse. This is the basic, most important principle to be preserved in equitation - Alois Podhajsky
TOOT the horse
growing up in a non horsey home kept me from owning a horse until I was almost 18 years old.
I claimed a lot along the way, but Toot was really my first horse.
My first horse was a 14.2hh arab/saddlebred gelding (not a NSH...he was 3/4 arab and 1/4 saddlebred). Ours is a kind of convoluted story, really.
You see, he had been started as a long 2yo/coming 3yo as a hunter horse by his owners. He was started over 2ft fences as a 3yo (no build-up to them, just expected to jump 2ft fences being green broke and having no prior jumping training). He excelled at it, but started breaking down by the time he was a 4.5yo. When he started refusing fences, his owners decided to turn him into a western pleasure horse. The problem was, they didn't know what they were doing and tossed just any old western saddle on him, not worrying about saddle fit.
Needless to say, Dakota was one of the hardest-to-fit horses I have EVER met, and the saddle they picked didn't fit him, so he started acting up under saddle. Long story short, their "trainer" (who, in my humble opinion should be shot) told them to put Dakota in a twisted wire snaffle. One minor problem there: Dakota doesn't know how to neck rein and twisted wire snaffles are VERY harsh bits for direct reining. Because that pissed him off and he became harder to handle, the "trainer" said to ride him in spurs all the time. His head was also tied down clear to his chest, apparently to "prevent him from evading the bit."
So, when his owners sent Dakota to my friend to be "retrained," he was a mess. His neck was upside down (meaning there was more muscle on top than on the bottom), he had an extremely hard mouth, he barely felt anything on his sides, he "worked" with his head so far tucked in that his chin was touching his chest, and, because of the bad Parelli job done on him, he had absolutely no ground manners. Oh, and their farrier had messed up his feet so badly that we had to put corrective shoes on him for almost a year to fix them. I started working with my friend shortly after his owners sent Dakota to her. Dakota became my personal project.
I instilled ground manners into him (they were never perfect, but he was a h*ll of a lot better than he was when we got him). I taught him to lunge, both free and on the line. I got him to extend long and low instead of having his head tucked in so far. I got him working in a simple french link snaffle. I retrained him from the ground up until we were able to use him as a bareback lesson horse in a french link snaffle for a little girl who had been thrown from a big warmblood at her previous lesson barn and was terrified of horses. She LOVED Dakota. He was so gentle and responsive with her.
How my story ends with Dakota is kinda sad. His owners called my friend and told her that they realized that they couldn't deal with Dakota, he wasn't the horse for them, and since they had the max number of horses allowed on their property, that she could have him. No paperwork exchanged hands. Then, my friend couldn't afford Dakota on her feed bill anymore, so she offered him to me for free because of all the work I'd helped her with for the previous two years (completely without pay). As long as I cleaned stalls for her and lunged her horses, she would pay Dakota's stall fee and I would just have to pay for his feed. Perfect setup. A few months after Dakota became "mine," his "old" owners sent another horse to my friend to be "retrained." This one was a 4yo OTTB whose heels had been cut so short he was lame...but they were trying to ride him anyway. They sent him to my friend because they apparently couldn't figure out why he was acting out when they rode him. Gee...I don't know...maybe it's because he's in pain?!
Now, keep in mind that the entire TWO YEARS that my friend was feeding Dakota, paying board on him, putting corrective shoes on him and having him trimmed, and training him, his owners never paid one dime for anything (except for his birthday year before last, they brought a few bales of timothy hay because "it's his favorite"...yeah, no...he would take it out of his trough and PEE on it because he hated it so much).
So anyway, after they saw what an amazing horse he had become, they started acting like he was theirs again. Finally, my friend got tired of arguing with them and told them to either hand over his paperwork or come get him. They didn't exactly come and get him...she took him down to them, along with their OTTB. I didn't even get a chance to say goodbye to him and only found out he was gone when I was house-sitting for my friend and stopped by the barn to say hi to Dakota...except he wasn't there.
This was my Dakota-man.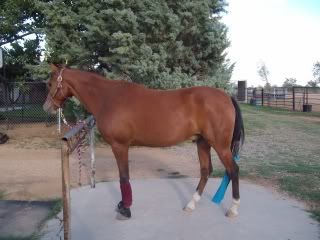 ---
Do not tell me I can't...because I will
show
you that I can.
The first horse was a 14.2 Morgan/Welsh cross dark bay gelding. Have no idea how old he was but I had him for 2 years (outgrew him) and the people I sold him to had him for another 5 before he died in '88. He really did teach me not only how to ride but to jump as well, which was funny since neither of us had jumped, and I didn't have an instructor..I just rode with the girls at the barn who "coached" me.

He was originally owned by a guy (his daughter actually) who owned a business called Diamond Lumber. The horse's name was, yes, Diamond :) He had a mane on him that was all pony, very thick, and would stand on end like a long Mohawk. He also fuzzed up quite well in the winter. His favorite treat of all things...Gummy Worms.
My first horse was Whiskey, an 12 year old Quarter horse. Found him on Craigslist with photos and just
had
to see him. When we went to visit him, we found out that he was blind in one eye but he seemed sound. Plus, the guy said that if he couldn't sell him that he would be shipped off to slaughter. I'm sure now that that was the jerk's sales tactic (tacky!) so we took him. Turned out that even though Whiskey was a good boy, he was jumpy as hell due to the one blind eye. After some time, we decided that we couldn't have such a jumpy horse around the kids. We were seriously concerned for their safety since Whiskey would scare so easily at times and even came down on the back of my foot one time. I thought at first that he broke it! We started the process of selling him.
Long story short...we found out that Whiskey was a stolen horse!!!
We ended up talking to the previous owner when we sold him to his new owner. The only thing that the previous owner wanted was the information to find the jerk that ripped him off. Oh, and Whiskey had his full sight before he was stolen. :(
---
Silence is Golden. Duct tape is Silver.
My first horse was a little black mustang named Dolly. She had alot of arabian in her with that beautiful face.
I was 4 or 5 years old, by the time I was 10 we were riding the trails. She was only 14 hands but a little beauty. At that time I caught the horse bug.
I feel so blessed to grow up with a horse.
Posted via Mobile Device
I got my first horse in 1957 a couple months before I turned 10. By standards in those days he was the perfect first horse for a kid. Remember, those were the days when you threw your kid into the lake to teach him how to swim.
Dandy was a 13 hand Shetland/Quarter cross gelding, and was mean, strong willed, set in his ways, thought biting people was fun, and only knew 3 speeds - stand, walk, and haul-ass. He had been used exclusively for barrel racing for years, and every time you turned him more than 90 degrees, he thought that was his cue to take off at full speed. If you could survive a year on Dandy's back, you walked away with enough skill to control and ride just about anything. I credit Dandy with giving me a deep, solid seat and a leg grip like a vise...I've never been unseated in 54 years of riding...been close a few times, though. Of course at my age now, I pretty much stick to the deadheads...

I got my first horse when i was 10 or 11. He was an OTTB (straight off the track mind you, and yes, he was hot!) I look back now and wonder what my trainer was thinking suggesting this horse! First time I rode him at my trainer's barn I ended up in the hospital, good times. However, I learned how to ride very quickly from that horse and my trainer was there every step of the way for me. I wouldnt change it, but would at the same time, would never suggest a child getting such a horse.
---
This is what happens when you have democrats in office
My first horse was a young 15.3hh [to an 8yo that is a huge horse] chocolate bay Standardbred mare, she was one of the more attractive Standie [no offense to Standie lovers!]. She was never raced and didn't have much pace training so she trotted half the time. She had the best ground manners but was definitely not a beginners horse under saddle. We had her for a year before my mom bought me another horse, a little black pony mare. And then a year later we sold her because I couldn't ride her. I wish I knew where she was right now because she would make a great eventing mare now.

Can't find a picture of her on my laptop :(
---
All you need is twenty seconds of insane courage, and I promise something good will come out of it