Why I didn't ride today
---
I can't be the only one who gets weird reasons why they didn't ride.
After a winter of record snowfalls, and biting cold, I could only ride when I could haul out, which wasn't that often because the roads were often crappy and the forecast bad, I have been longing for spring. Trouble is spring has been cancelled this year, so winter is kindly hanging around to make sure that we don't run out of weather
I decided today to beat the system, get up early and ride when the place is a frozen mess of ridged mud and sheets of frozen ice, which although is a crappy option, is a whole lot better than waiting until it thaws and the place is a sea of slimy black very slippery mud. I managed to drag myself out of bed, out into the Arctic waste, catch Emmy, went to tack up and WHOOPS, problem. You see since I got the trailer with a tack space most of my tack lives in there, so much less hassle that keep load and unloading, but there was an issue, can you what it is yet?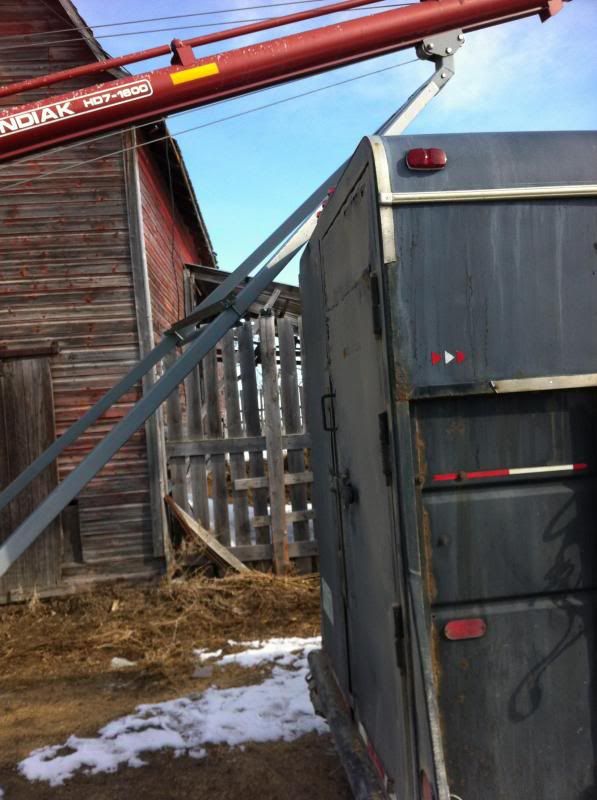 Some smart person *COUGH* DH, moved the auger while he was clearing snow and trying to level the yard, he must of moved it while the ground was soft, and the end had sunk in, and then frozen hard. So until I can get either the trailer or the auger shifted, in hand work it is. She was a star at that BTW
Come on, I want to hear your why I didn't ride today.
I would have gone with a lame old 'too much snow - no place to get out' excuse but yours is much more inventive.
Well I have to catch my mare first thing in the morning when I go out to do chores or else she heads out to pasture and you won't see her again till dark. So anyways it was snowing and trying to rain this morning here so I didn't bother locking her up since I figured today would be a write off. Well now I'm sitting here and the sun is trying to come out!! Grrr. If my other big pen wasn't under water right now that mare would be locked up all the time, but that's not an option right now!
When will summer get here so I can complain about bugs and heat!
Posted via Mobile Device
I actually did ride today! First time in quite a while. Just a simple hack around the property. Sorry GH but it was awesome!
---
it rained and hailed all day yesterday, and today's clouds looked like yesterday's leftovers, so that's why i didn't ride today.
I don't have a horse here to ride :(
---
"Strength is the ability to use a muscle without tension"

Gave two of my dogs, hair doos.......
---
Melinda
Because my mare had to be a hussy and get herself knocked up, now has a week old foal at her side. I couldn't ride my gelding because I don't have stirrups or leathers for the only saddle that fits him.
I couldn't ride cause I rode yesterday and my time, money, and life (such as kids) doesn't allow me to go out everyday. I board 30-45 mins away one way (depending on traffic and weather). I can't wait to get settled into a place with a few acres for my horses. Very soon though :)
Posted via Mobile Device
Well, I think your excuse beats mine. I was trucking into PA to bring back a load of hay....hopefully the last out-of-state trip before first cutting.