---
We grow too soon old, and too late smart.

I'm not one for blowing my own trumpet, but I was a STAR today.
TSO got me up very early this morning, it was snowing so I was glad to jump in the coffin and go for a ride. We started today by going over what we had learned yesterday, SOOO BORING, I nearly went to sleep, but then it got exciting, they got the carrier bags out. The bossy one stuck a bag on everyones stick, and they had to flap it all around us. Well I do what I always do, just switched off and put up with it, but when TSO made me move and moved the bag around me it was really really scary. TSO kept bringing it up to me, and I got scared, but then I found if I stopped running away, then the bag went away, PHEW, I was glad to find that out. No one has ever known before just how tense I have been about some things, but it is kind of nice to go through this stuff, and find it's not to bad.
In the afternoon we were doing sidepassing, and I got to show everyone how it should be done, good job the bossy one didn't see TSO and I having a fight about it!
Then came the highlight of the day, they put down barrels on the ground with a space between them, and TSO had to send me through the gap, then turn me round and send me back through. The bossy one kept making the gap smaller, until they looked like this.
Well any fool can see there is no gap, and the other horses were either jumping over, or having a fit about it, I was the only one that solved the problem, I'm smart...look
All you have to do is put your nose down and roll one of the barrels forward until you make a space, then you can just walk through, simple. I did it twice just to show the others that they were wasting their energy. The Bossy One and TSO were both very pleased with me. Soon after that we came home, and my personal foot care person turned up.
I now have nicely trimmed feet, they do look nice, and it feels so much better, yes it's been a good weekend really, nice to be doing something.
Good job I was here, the water bowl in our yard froze up and stopped working, and despite my close supervision, and I even picked up some tools, and carried off some insulation, they couldn't get it working.
Good job we men were dealing with it though, with my help the man put in a new bowl for us and we have fresh running water again, thank goodness.
Started
Join Date: Jan 2012
Location: An English Girl living in beautiful Alberta, Canada
Posts: 1,606
• Horses: 0
Blimey Gibbs, it looks a bit cold in your part of the world. Can you keep it there a while longer please? Sharing isn't always a good thing...
---
Get up, get going, seize the day. Enjoy the sunshine, the rain, cloudy days, snowstorms, and thunder. Getting on your horse is always worth the effort.
I MAY have been wrong, yeah I know unlikely, but I am prepared to consider the possibility, it MAY be that TSO isn't trying to poison me:
She came out yesterday evening to check us over, and I was carefully watching the big black, he seems very happy with the things that she holds by his mouth, he even eats them
so I thought I would sort this one out once and for all.
TSO gave some of the stuff the the Big Black, then I saw her watching me, and she held out some of this stuff. I came over and sniffed, and sniffed, and then opened my nostrils as wide as possible and REALLY inhaled. Mmmm there was a hint of something edible, so I picked a bit up in my teeth, and did the safe thing, shook it up and down lots to make sure it was dead, and then I chewed it, and it was OK. I tried one more, I killed that one as well, but then I thought I would stop....she should try doing the same, calling me lardarse she should look in the mirror and say NO when the treats are coming around.
Anyway I don't know what that stuff was, but she needs to find out, because it was OK......ish.
Gibbs is too cool!
---
Cowgirl up!
Seriously, please someone talk to TSO and tell her how to put a halter on properly, you'll see what I mean, ridiculous
I feel better now I have got that one out of the way.
Today was interesting, TSO took me into the round pen and she was getting me to line up with this box thing. I didn't get it at first, wasn't sure about moving towards her when she was tapping on the off side, but I tried it, and I didn't get into trouble, so I figured that was the right thing.
I got lined up nice, get the halter though, see what I mean.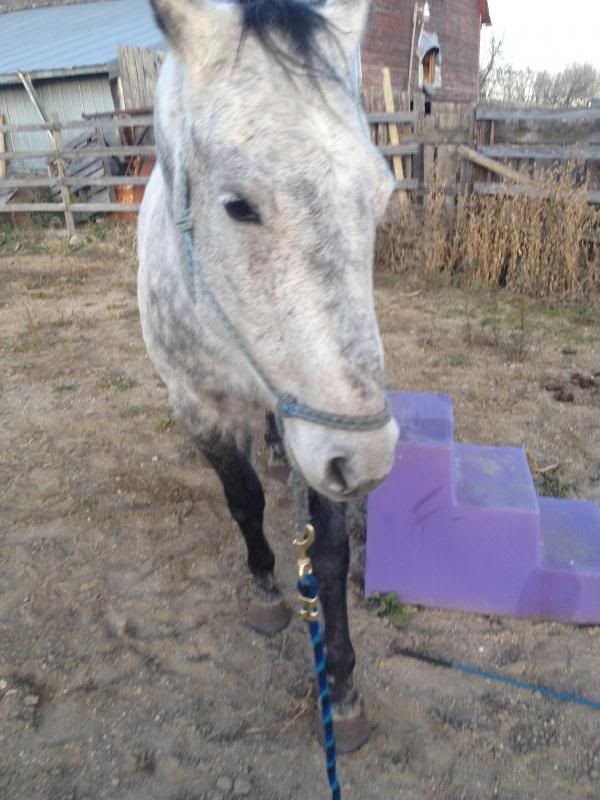 Then we did it again, it is so easy, I got bored, so I tried eating the box thing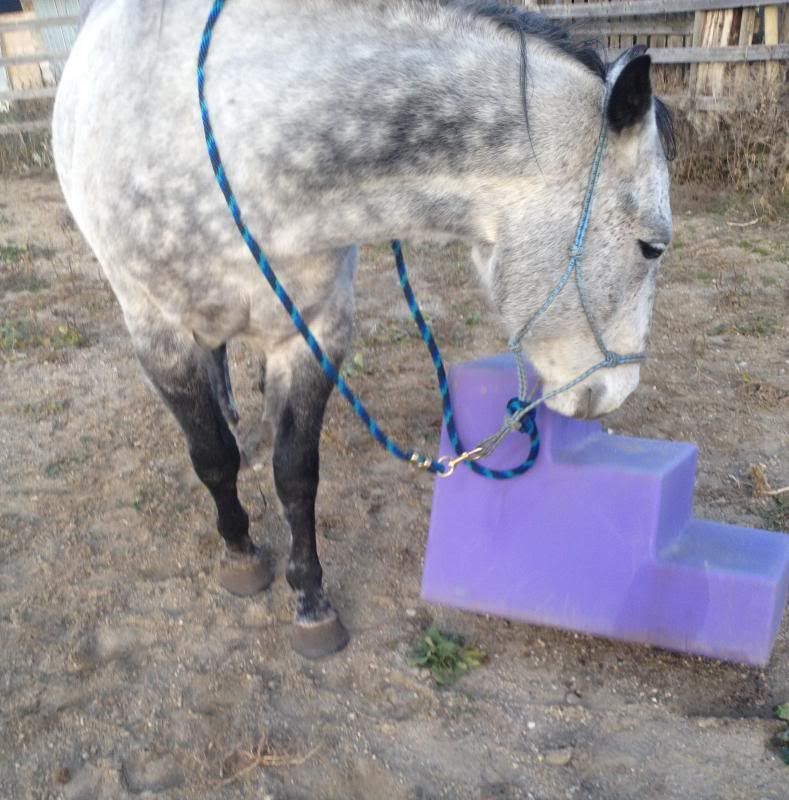 TSO tried taking a video of the next bit, but it didn't work, she was getting me to move over from the ground, so I thought she wanted me to half pass over the box thing, I did it twice, I'm so clever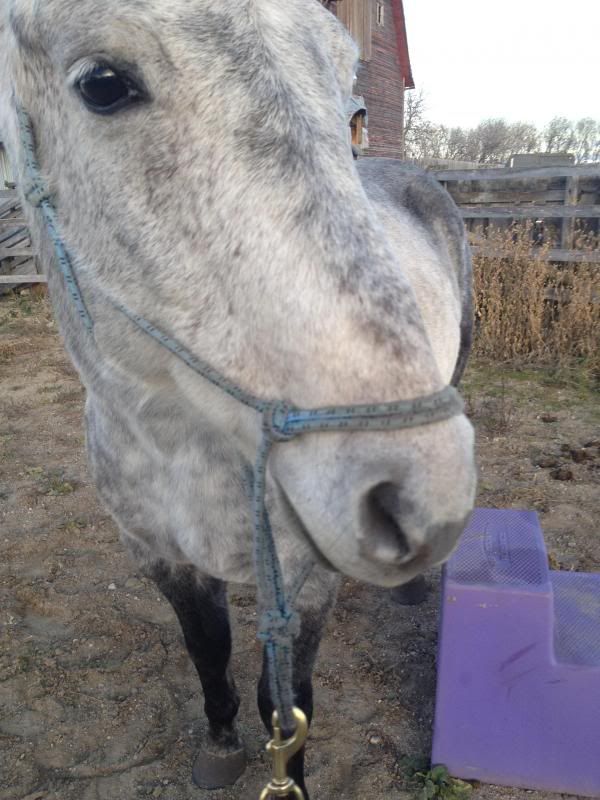 Then when we were done she showed me my new headstall, I must say it looks pretty nice, or it will when she makes a new hole so the throatlash can be looser, don't these people realize that I'm meant to be wide across there?
Oh and she is just going to have to swap this bit out 5" may fit the female one, but it's not going to work for me!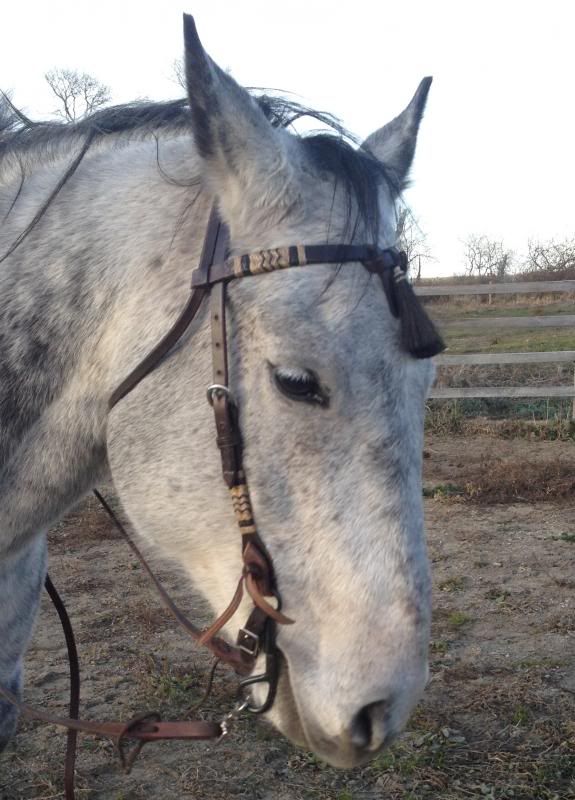 Pretty sharp though a few fixes and yeah, I will look even sharper than normal.
I am not happy, I'm not happy at all, TSO sold the Big Black, she says he has gone a long way away, I don't know why she was crying in my mane, she sold him not me. He was my buddy.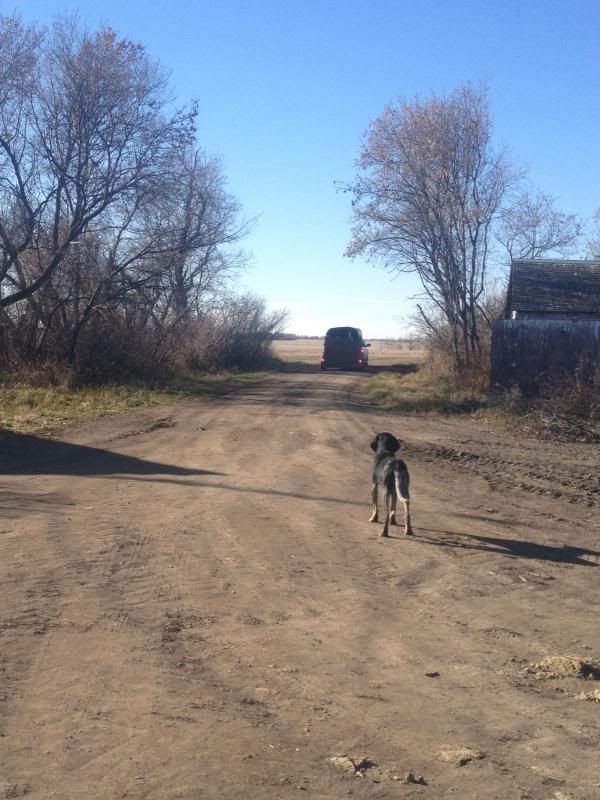 If it isn't bad enough that he has gone, it has left me here with only females, I DON'T like them, and not only do I have to share my pen, she is making me share my trough as well.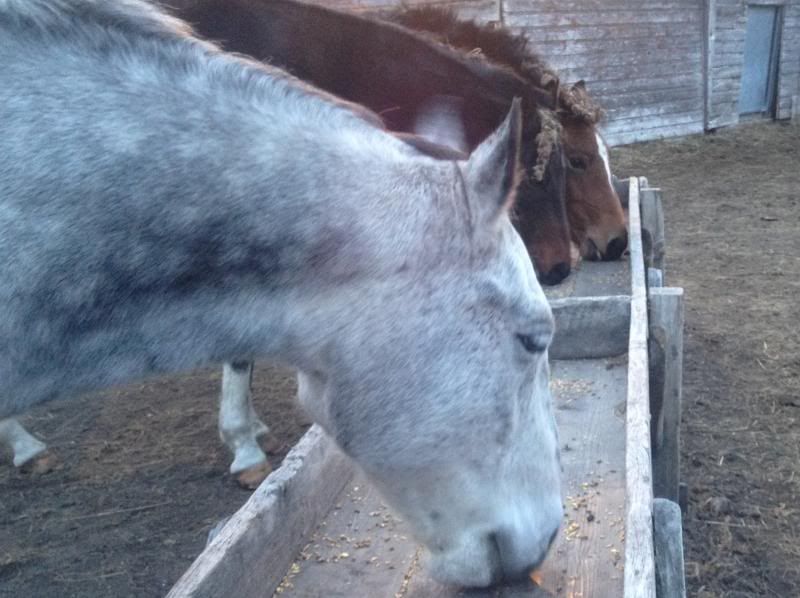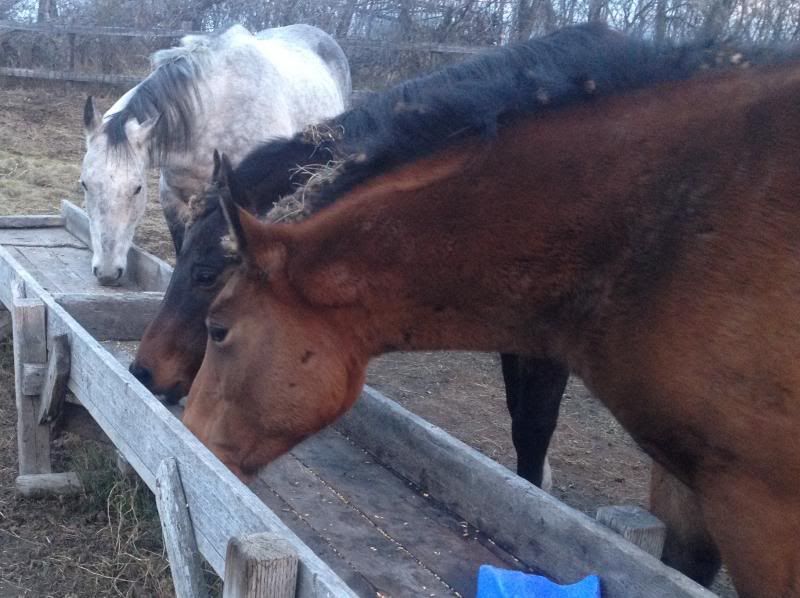 I would prefer to be on my own than live with GIRLS YUK, I'll go back to closing my eyes and hoping they go away
TSO says there is another boy coming to stay, and he is the same color as me, a nice grey, so that will be good.
I know I have been quiet, I have been working on something, and now I have to share. I have to tell you that with calm consistency and patience a lot is possible, and today I am proud of myself....

I knew something was going on, TSO has been working on asking me line up with the block, so when she came out to catch me early this morning I thought it might be the BIG day. She seemed nervous so I thought I would help by running around the pen and refusing to be caught, it seemed to work, she looked a lot warmer and more relaxed when I stopped and let her put a halter on.

Then she seized up again, so I thought I would be on my worse behaviour about loading as well, so she got warm again and then got mad, OOPS. Then the man came out and took my rope and got on trailer, and I jumped right on after him, TSO was outside so I didn't get exactly the name she was calling me, but I think it stated with B and ended with D.

Much as I suspected we ended up at the place with the Bossy One again, and she is still Bossy! We did some work like we did last time, I did well, then TSO took me out and put my saddle on, this looked promising. We did some more work, then TSO wanted me to jump over the barrels, in my saddle. Well that is hard work, I kind of stepped and fell over them a couple of times, then TSO said that if I made an effort and jumped them she would let me have a rest. I JUMPED those barrels, and everyone said I did a good job, and then they let me have a rest.

Then they put my bridle on, we did a bit of ground work, then the Bossy One got on me, she is just as bossy when she is riding as she is on the ground. She made me flex my head around, she walked, jogged and loped me around, but I wasn't allowed to slop around I had to do it nicely. She said I was a good boy, and very comfortable, HUH like that is a surprise.

Then all my planning and preparation came together and TSO actually got on and rode me! She had the bossy one lead me to start with, I don't know why, as I say I had done all the prep work to show her how good I am. She did ride me on her own in the end, just walking, and I of course was a perfect gentleman, and tried really hard to do everything that she asked me. At last, I hope she will keep trusting me, because everyone knows that I am a GOOD BOY.