Gibbs says, "glad you appreciate me"
Posted via Mobile Device
Well TSO was away for a long time, and then when she came back she seemed very very sad, I think it was something to do with the fact I haven't seen the littlest annoying dog for a long time. I gave her a manly sort of hug to make her feel better, but I'm not to good at that, so I left it to the long ears. I so wanted to tell TSO that I had been good and I am getting on with everyone now, but she seemed to want to spend time with the middle girl and the long ears, they seem to be good at the whole hugging thing.
It has also been very cold here, I don't mind it, I have lots of hair and a good layer of fat. TSO has a good layer of fat, but she doesn't seem so keen on being outside, no stamina women HUH.
So what else, mmmm, well it seems around here you have to celebrate a thing called Christmas, a thing that seems to mean being dressed up and looking all sorts of STUPID...
Once again I tried my usual of closing my eyes and hoping she goes away,
it kind of worked, at least she went and bothered the long ears instead of me, hehehehehe
Today was a nicer sort of day, so TSO decided to actually come and do something, namely trying to get me to load. Shhhh don't tell her, I always have known HOW to load, I have just been making sure she got her exercise. Now she is starting to get some cardio by taking the long ears for a walk


it means that I don't have to worry about her so much, so I showed her how good I can be


Mr Gibbs, I'm sure TSO appreciated your manly hug. The rarer something is, the more it is valued, a bit like you loading LOL
Having slept on things I can now reveal the ultimate humiliation, I mean what the dickens is all this about, she took my perfectly nice tail
and while I was busy checking out the food bowl, she did this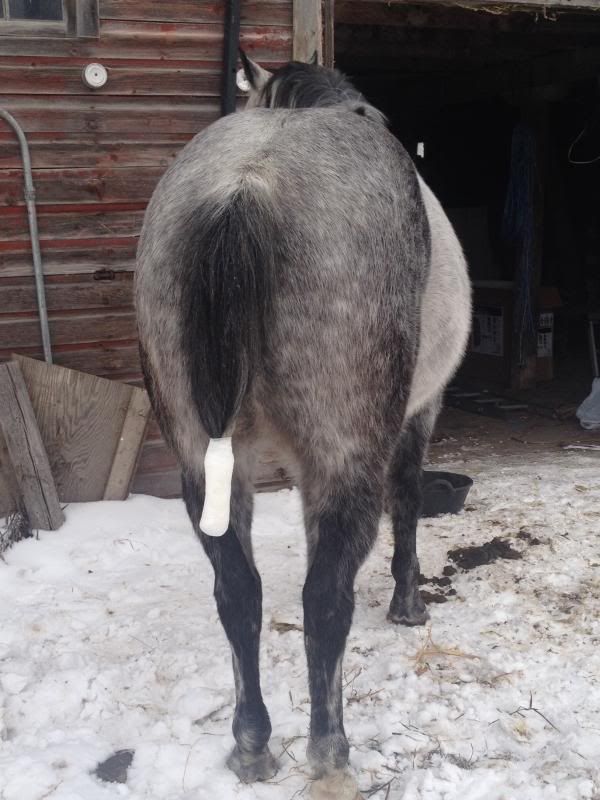 TSO is very very strange!
There hasn't been much to write about for a while, it got horribly cold, and we didn't see much of TSO, she came out wrapped up in 1000's of layers of clothes, made her look bigger than ever, made sure we had food and water, hugged the females and that long ears, then gave me a nice manly scratch.I have to admit that there is one place just on the left of my chest that seems to make my lips wobble when she scratches it.
These last few days though, there has been more activity, TSO had me and the annoying filly doing loading practice, I was super awesome, of course, and now load myself when she points, but the annoying one was plain annoying, she was standing there refusing to get on, while I had to stand on there patiently and wait. Then TSO got smart and gave me something to eat, it kept me quiet and the annoying filly got in pretty quick then.
But now I don't know what has happened, yesterday she put me and the annoying filly in the trailer and took us for a ride....I don't know what on earth she was doing, but we got thrown around and there was a huge bump, it went quiet, she came to check on us, but looked a bit shaken, but then we got going again.
We got unloaded at a place I didn't know, and we both got put stalls, it was nice and warm and clean, and we got some hay, and I was quite happy, the filly was being a pain though. I had just got comfortable, when TSO turned up again with my tack, and got me already to work. She took me in the school, but I was all excited, a different place, the filly was shouting, TSO was obviously upset by something, so I thought I should be as well. Then The Sensible One turned up, remember I told you about her in the first post, well she got hold of me and had a few words, and I realized that there was nothing to worry about.
Then TSO actually got on and rode me, didn't have anyone holding on a rope this time either, I was nice and lively for her, but she didn't seem to want me to go fast, in fact we did a lot of work on stopping and backing up. She did trot me in the end, I wish the woman would relax, she would have a much more comfortable ride if she did.
Anyway, I thought I did well, but then things went very strange, she untacked me, then me and the filly got to go in the school and roll in the sand, that was GOOD I love to roll. The TSO started chasing us around with a whip, don't know what that was about, but in a while she put us back in the stalls. After a while she came and got us and put us in the trailer, and we stood, and stood, and stood. I started knocking on the wall in case she had forgotten about us, then she came and got us both out, put us in a pen AND LEFT US HERE
Today she came back again, but just came to say hello and left again, I hope I'm not sold again!!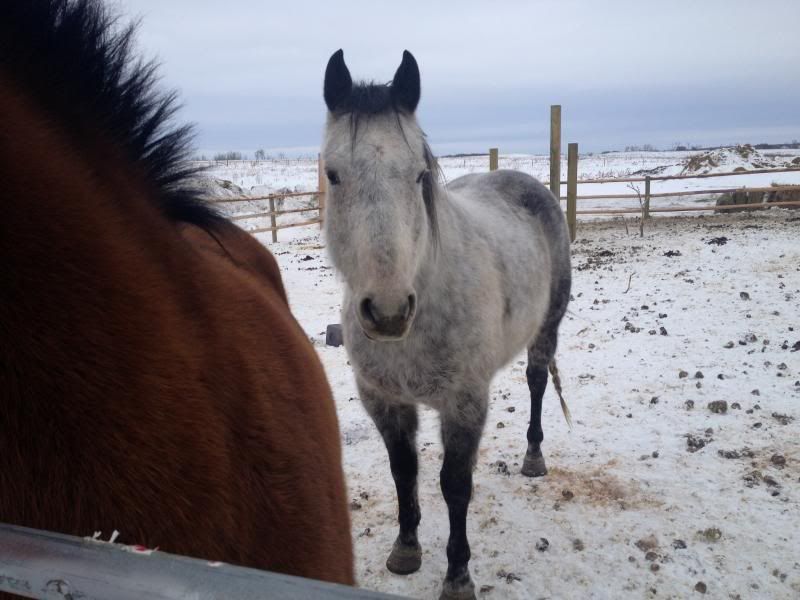 TSO HERE
No Gibbs you are not sold my friend, but that strange event on the journey yesterday was the trailer jackknifing on the ice, and my truck looks like this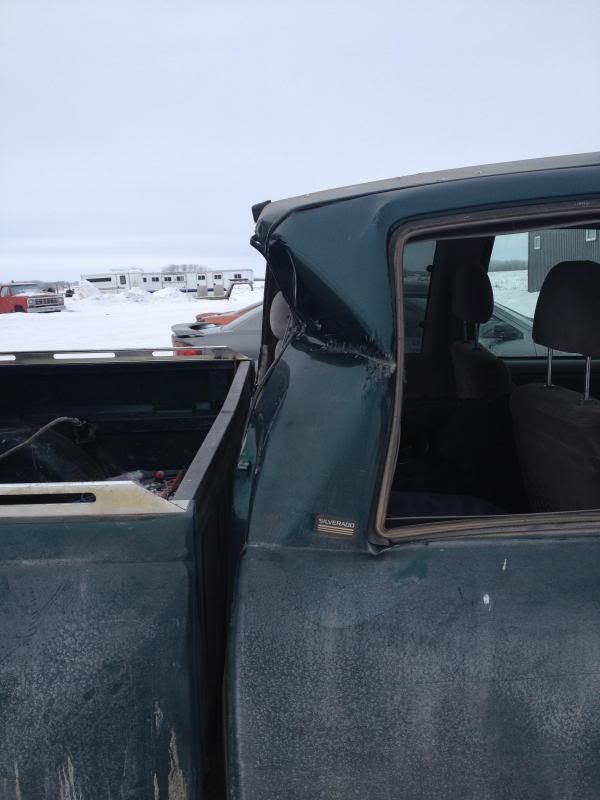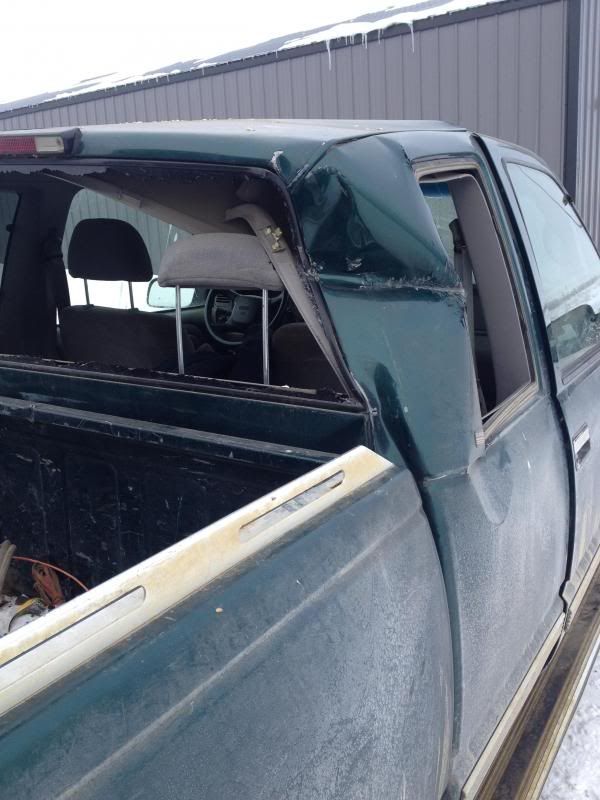 so it is kind of done with, then when we taped up all that broken glass with plastic and went to drive home the truck wouldn't start. After messing around for a couple of hours we decided that you would have to stay there overnight. We came back today but the truck is dead, and you will have to stay there until I get another tow truck lined up. I'm trying to decide if you should live there for a month or two, save me hauling you up and down!
Gibbs you always have such interesting adventures!

TSO, glad you're ok!
So scary!! Glad you're all ok. I can't believe you were able to get on and ride after that, I would have been a shaky mess.
Posted via Mobile Device
Your very own redneck truck!
---
"Be a best friend, tell the truth, and overuse I love you
Go to work, do your best, don't outsmart your common sense
Never let your prayin knees get lazy
And love like crazy"