Teen Forum Moderator
Join Date: Dec 2010
Location: South East Texas
Posts: 7,157
• Horses:
2
Worth Fighting For ..: The HAPPY thread ;)
---
Hello Horse Forum family! I would like to introduce to my new horse, Kenzie <3
Yes, if you've been around for long you have probably heard about Miss Kenzie and her long, difficult road...and you may have even followed her threads going back as far as last November, when she came to us starving and deathly ill. I won't bore anyone who already knows with the details, but here are both of her threads for anyone curious.
Severe Stunting, will she ever be normal?
It just doesn't END. Kenzie has been mutilated
We've all been through a lot in the past few months. After being crammed into a stall as a suckling with two other horses, losing her dam at 2 months old, being rehomed into an extremely neglectful home where she was half the body weight she should of been, contracting deadly EHV and fighting for her life on the floor of her stall for 5 days, then miraculously living only to be purposely targeted and mutilated for unknown reasons by some sicko who nearly cut off her ear, Kenzie and I are ready for a break. After an equally exhausting 'custody battle' for ownership of Kenzie, and having to cancel plans to move her cross-country, then deterioration of where she is living, I finally had enough. Perhaps against my better judgement, I decided to buy Kenzie as a last ditch effort to save her. And so here we are.
I will unfortunately be unable to keep Kenzie due to my age, upcoming college plans, and financial stress, but my parents have kindly allowed me to buy Kenzie in order to rehome her myself rather than trying to play broker for a difficult owner. Having teamed up with a very kind family in my area who are willing to board her for free as I search for a home for her, and after help in every form of the word from fellow forum members, I am happy to announce that Kenzie will potentially be moving one week from today to her new home...and to her new life.
The plan as of now is to finish rehabilitating her (her hooves are still poor, she has multiple wire wounds that I am currently trying to heal, and she still needs 30 lbs or so) and begin searching for a home for her immediately. Locally or out of state, it doesn't matter, but a good home is a must. Kenzie isn't even two years old but she's already been to hell and back multiple times. I will do everything in my will power to make sure she never returns.
This thread though, is a happy thread. It is a celebration of Kenzie's new chance, and it will hopefully be a picture/update log of how my pretty girl is doing as she finishes rehabilitating and starts searching for her forever home!!!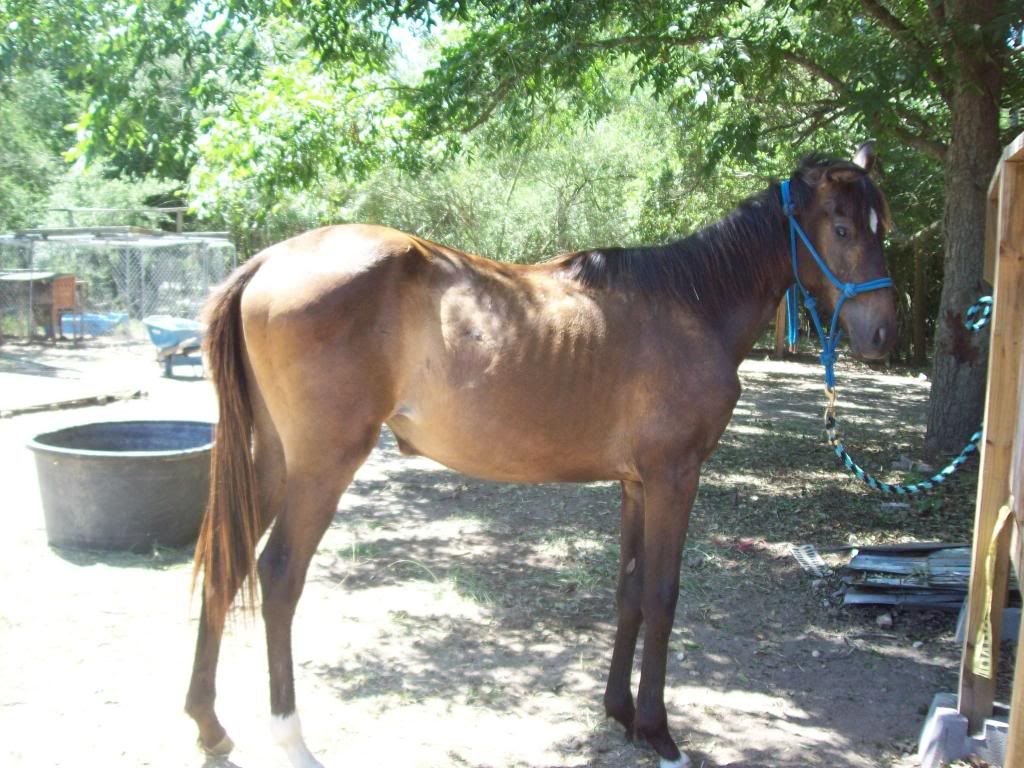 ---
Everyone in your life is meant to
be in your journey, but not all of
them are meant to stay till the end.
Subbbbbbbbing!!
---
Fabio - 13 year old Arabian/Lipizzan gelding

~
Rest peacefully, Lacey.

I'm so glad that you bought her!!! She will be really safe for the first time in her life.
---
Celeste
Carpe Diem!
WooHoooo!!
---
Live well, laugh often, love deeply...An' it harm none.
I look forward to hopefully good news from here on out. What a lucky little filly to have you as her guardian angel!
I'm SO happy to hear that!! Good luck!
Yay!
She's got a dang good chance now and I'm 100% certain you'll do right by her, Endiku. You've already done so much for her, you really are a saint. She's incredibly lucky to have you.
I never had a doubt she would be yours. ;)
Posted via Mobile Device
What would you think about posting Kenzie and Sour up for rehoming to see what kind of response you get. Maybe seeing who generates more interest could help you decide who would have the best shot at finding a new home?

You have helped both of them come so far, there's no doubt that whatever way it works out, you have done an amazing thing for both of these girls.
---
Live well, laugh often, love deeply...An' it harm none.
---
I'm so glad you got her!!
---
Being horseless is the pits!!