So here is the injury, now 99% closed up (just a teeny tiny pink spot left) but looking a little lumpy because of that flap of skin that didn't stay stitched but didn't die either. Not sure what to do about that.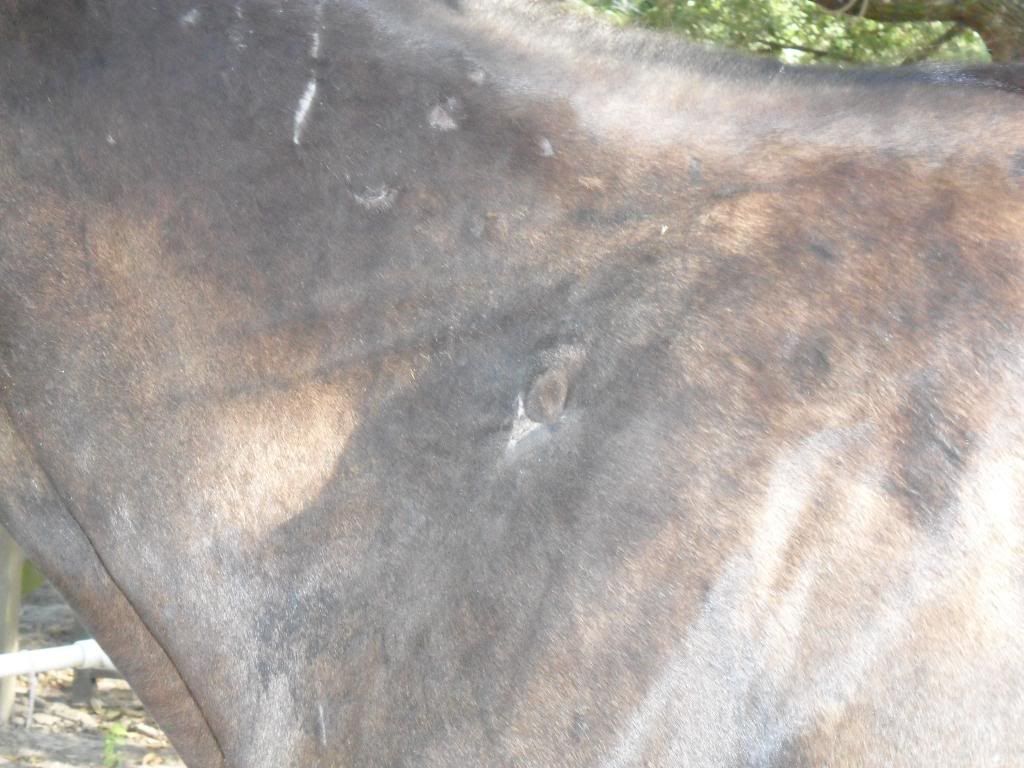 I swear she looks so darned homely right now... short ewed neck, scars from various things (most from before when she came to us) and still a little ribby. *sigh*
Excuse the lead rope in these pictures. I was standing right there with her but I didn't want to tie her since the only spot available (I still don't trust her with being loosely tied to fence boards) was tying her to the gate itself so I just looped it and quick release tied the end of it to keep her from catching herself.
Is her belly looking a little wormy or hay bellyish to you guys? I'm having a hard time telling since I see her all of the time. Her fecal about 5 weeks ago came back clean but you never know...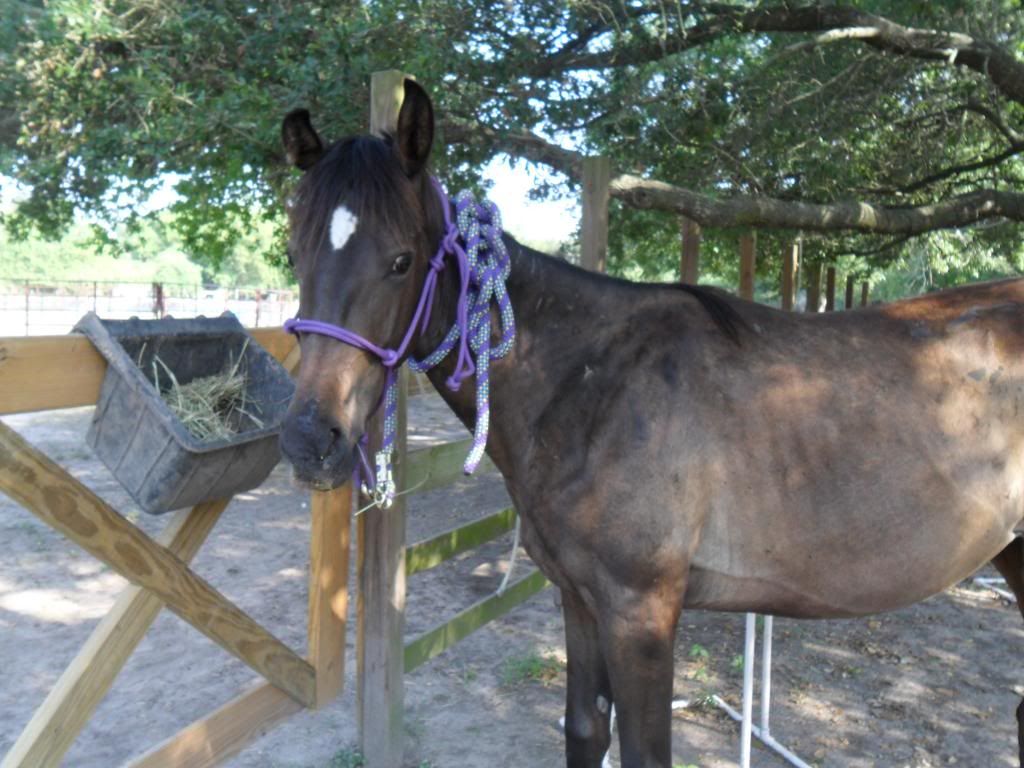 ---
Everyone in your life is meant to
be in your journey, but not all of
them are meant to stay till the end.
She is probably going to be skinny for a while. Moving her to good grass should do wonders. I would deworm her right as you move her just for insurance purposes. You don't want to take worms to the new home.
---
Celeste
Carpe Diem!
Endiku, she looks more like a horse now, especially through her body. She'll grow into herself. Don't worry.
---
"And somewhere in the northwoods darkness a creature walks upright. And the best advice you may ever get is: Don't go out at night..."
Good to hear. She looks nothing like the other nearly-two year olds (She'll be two in two months. Crazy right?) but at least she doesn't look 5 months old anymore. Her face has really matured since she came to me.
---
Everyone in your life is meant to
be in your journey, but not all of
them are meant to stay till the end.
Quote:

When I get back from my trip I'll try to do the water bottle spraying. It isn't the same sound as aerosol cans but maybe it will be close enough to serve its purpose :) thanks!
I use cheap walmart hairspray to get horses used to aerosol can sounds :) cheaper than canned air, too, and it doesn't get super super coldlike canned air does- a lady I know used it on her horse and the horse HATED the bursts of cold air, but didn't mind the hairspray. I just keep a wet rag around and wipe them down when I'm done if I get any hairspray on them.
You know, I actually think her weight is just fine. She's a growing horse, it's definitely better for them to be on the lean side than fat. I can see Henny's ribs and we all know he's a chunky monkey. Like everyone is saying, she's putting all that feed into catching up. Her body knows what it's doing so just keep trucking along. :) She definitely looks older! I think she looks older than Henny now and he's 16 months. She is really coming along. If she needs anything, it's some muscle. Some exercise could definitely do her a lot of good. I think you're doing a great job so far!
Posted via Mobile Device
I think I've fallen in love with Kenzie. You're doing awesome with her. I'm just subbing so I can keep up with the updates (I can't believe I forgot to do this earlier...).
She actually is starting to look like a coming two year old! Good Work! I don't think there are any problems with what she's doing with all the feed you're giving her. :)
Not wormy, like a real horse finally! :) Just keep going with her!
---
"Strength is the ability to use a muscle without tension"

Thanks guys! It really is neat to see how much she has matured since the beginning. And she's definitely nearly doubled in size both height and width wise.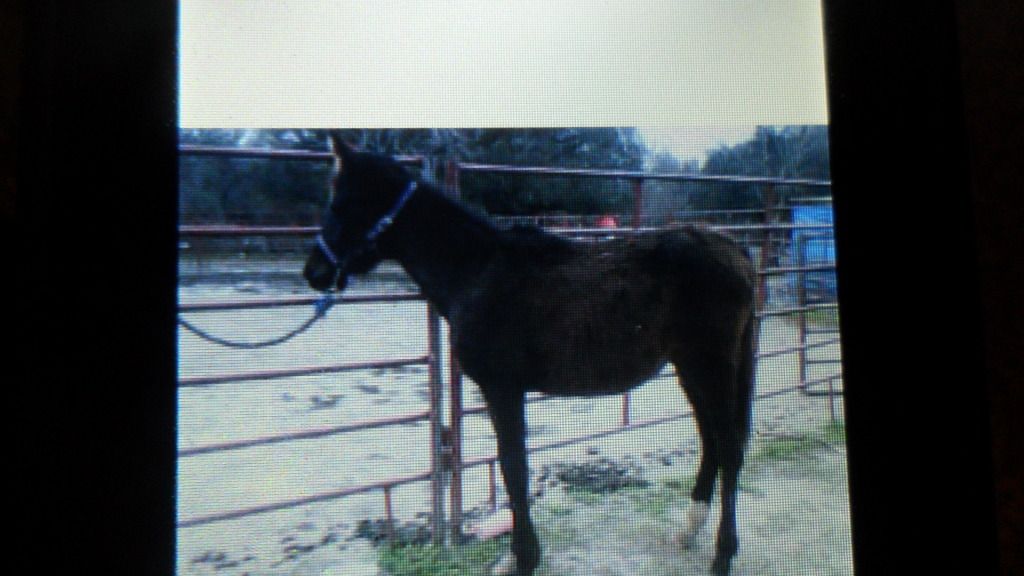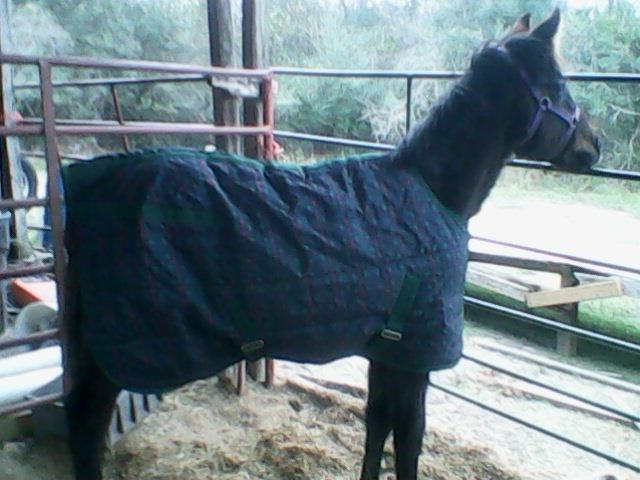 The only thing I can't figure out about her conformation is the weird bulginess of her poll. Its like her head attached higher to her neck (which appears to be a bit ewed) than it should so there had to be extra bone there or something. I can see it making some problems when she's learning to break at the poll and really flex her topline, but we'll see! I'm glad she seems to have grown into her withers a little though. I'm still holding hope that she'll grow into her pasterns too but I think that's just wishful thinking xD
Kayella, thanks! I think I would be happier with just a LITTLE bit more weight on her as insurance, simply because she has a history of ailments and I'd hate for her to go through winter (or what winter we do have if you can call it that) poorly, or get sick and loose a lot of weight, but not too much. I can't see or feel her spine, neck bones, hips, or tailhead anymore which is huge progress. Even at the beginning of summer I was still seeing that typical emanciated horse 'dip' between the spine and hips. That's gone now!
Once she turns two I might start bitting her (or just using a halter) and teaching her some simple ground driving, and I'll probably up the amount of trotting she does when being ponied if I have a horse to pony her off of at her new home. I'm not really sure what else to do by way of exercise for her other than that though. She's really quite lazy so she doesn't do a huge amount of self exercising xD
---
Everyone in your life is meant to
be in your journey, but not all of
them are meant to stay till the end.