O_o *18-20 lbs. I swear I don't feed my growing yearling only 8 lbs. XD
---
Everyone in your life is meant to
be in your journey, but not all of
them are meant to stay till the end.
Quote:
I'm so proud right now. I've been doing a little bit more intensive training with Kenzie in the past week or so, and she is such a bright horse (except when it comes to injuring herself...haha). She is now quietly walking and trotting in hand, woahing on command, backing up as soon as I start wiggling my finger at her or flick the line with her head down, yielding to hindquarter, poll, and nose pressure (we're still working on side passing and yielding her shoulder).
It's great to hear and see how quickly she is learning new things! Thats the one reason I love bringing up my own babies. It feels like it takes a long time, but its worth it in the end.
It took me a while to get to this point. When we got Flicka she was completely malnourished, like Kenzie almost at the beginning. Back then she had strategy and alfalfa and you couldn't convince her otherwise
You're doing a great job!!
Posted via Mobile Device
Cakesmom- I'd LOVE to get her grain free eventually, and that is absolutely my long term goal! I'm thinking once she's done growing at 3 or so, she should be able to transition smoothly to no grain at all. I know it will be a healthier option for her!

My2Geldings- ahhhh, me too. Kenzie is the first full sized horse that I've taken from not even really halter broke to even this point. I did all of Sour's training up until the cart training (I hired a trainer to do Sour's first 10 outings and to work with me just so I didn't screw her up) but a 200 lb animal is much different than a 600 lb animal xD I've done PARTS of many yearling's trainings, such as halter breaking the sucklings and weanlings, teaching the 1 and 2 year olds to stand tied quietly and yield to pressure, and even doing some of the 3 year old work with saddle breaking, but I've never done ALL of in with one horse so its been a really neat experience. I just can't believe how fast time is going by though...seems like she was just 14 months old laying in her stall, nearly dead...and now she's almost 23 months old!
---
Everyone in your life is meant to
be in your journey, but not all of
them are meant to stay till the end.
I think that you are right keeping her on grain for now. She really needs the nutrients.
---
Celeste
Carpe Diem!
But I'm not grain free, oats and barley are both grains. Just preprocessed free.
Posted via Mobile Device
Sorry for no picture updates or anything, I am unbelievably stressed and overloaded right now with work, family trouble, dual credit college classes, senior year, and the two horses to care for- and I've really only had time to go feed the girls and come home to do more school or head to work, and when I do that its usually either dawn and not light enough yet for pictures, or the sun is already setting and its too dark. It stinks, but its what I have to do.
Heres a quick one of her in her pen while I was feeding Sour, just chilling out under the shade trees. It shows how nicely she is keeping/putting on condition though. She's SUPER glossy (you can't really tell in the shade) and soft, and her ribs are still covered unless she's bending or stretching out when walking. I think I like rice bran!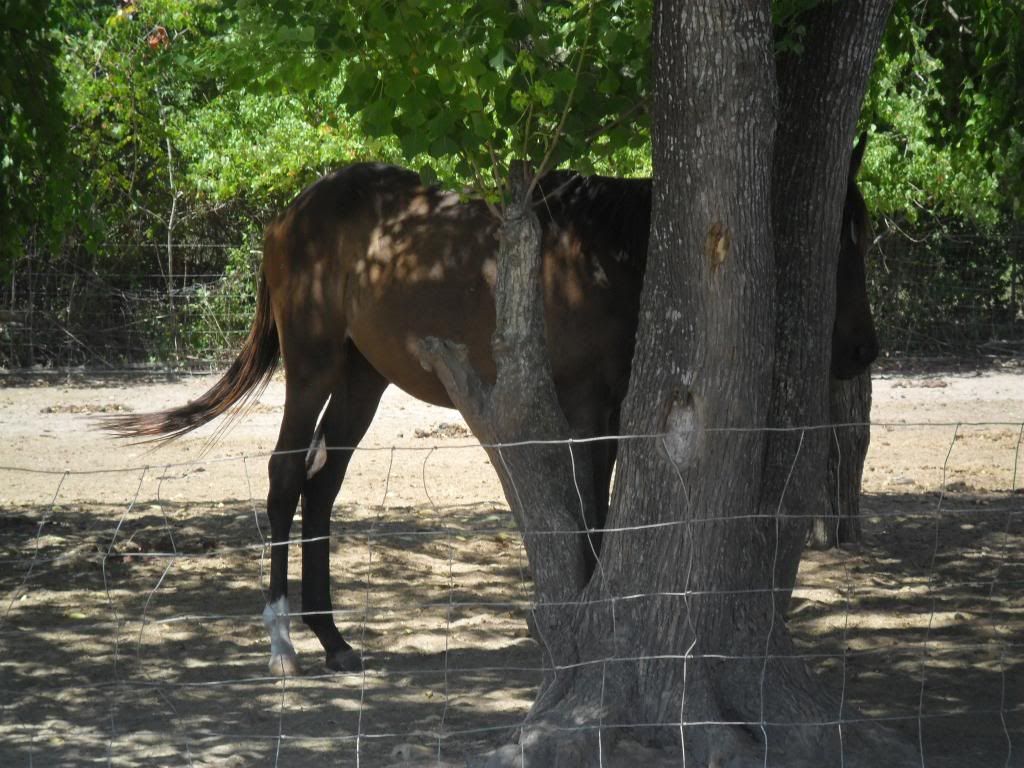 Actually, she has a bit of a hay belly xD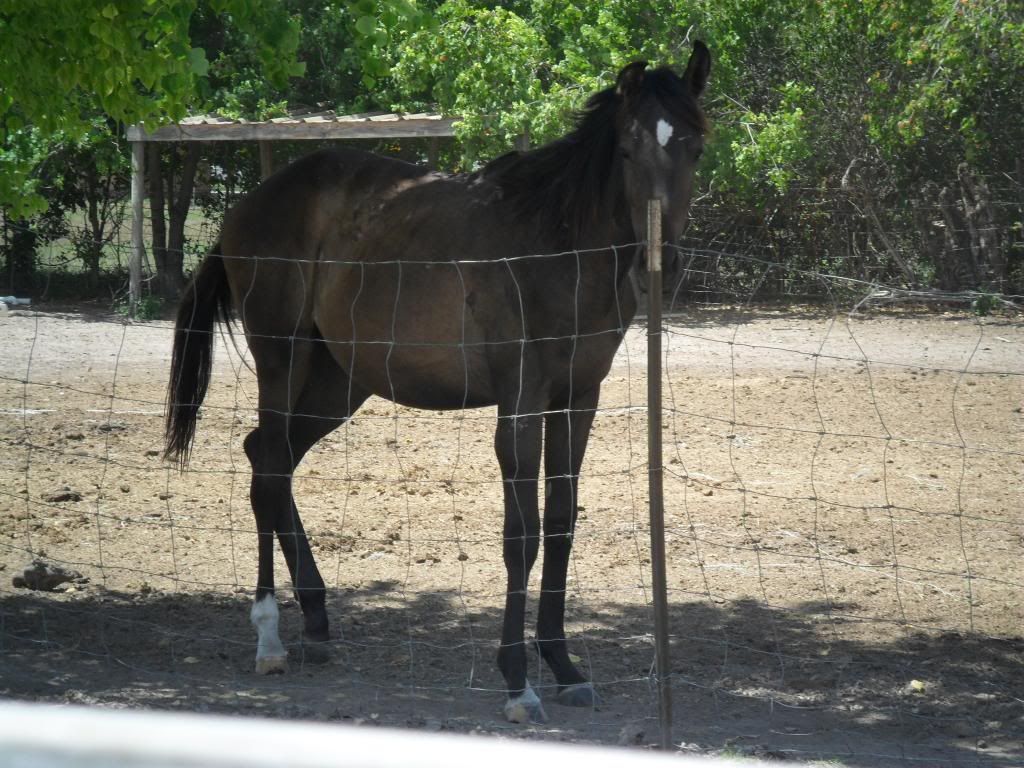 Then just for the heck of it, a picture of some flowers that I pressed last week. Not my best batch, but I think they're pretty.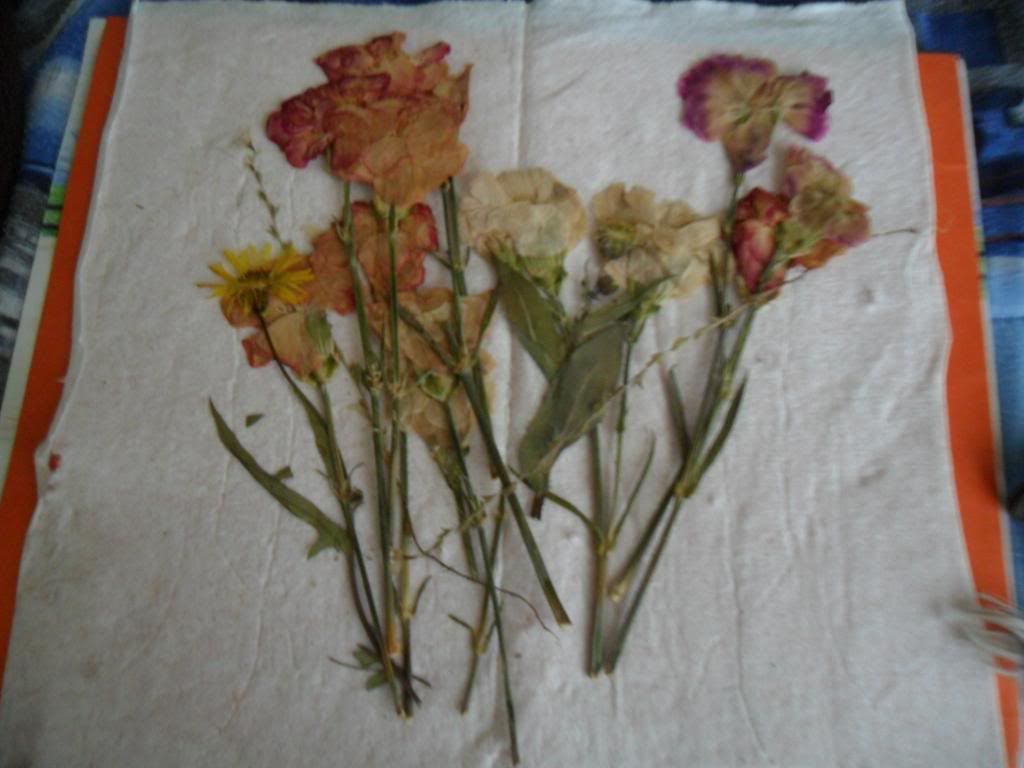 This was SO SO sweet. There is a girl who I have sort of 'taken under my wing' in the past few months who is often bullied at her school for no apparent reason, and who adores horses. I've been letting her come out with me to mess around with Kenzie and Sour, and in return she drew me an AMAZING picture of Kenzie! The reference picture she used is when Kenzie was still looking skinny, but doesn't it look just like her- funky croup, upside down neck, floppy ear and all?! SO CUTE. This girl is only 13. I'm impressed!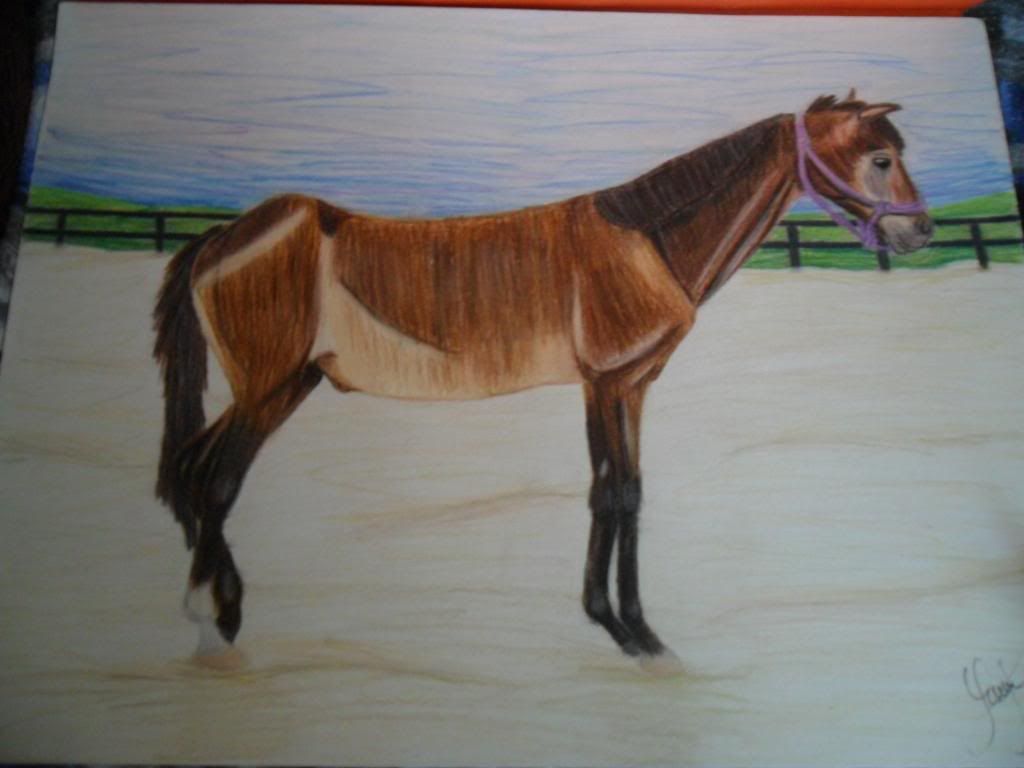 And then I got a package from a member who has been conversing with me in the past few months about Kenzie and other lovely life things; and in it was a book on training young horses from weanling to riding age, and a calligraphy set! O_O I am so excited to try using it. I've never done calligraphy before but I love anything to do with ink and art. This looks like the perfect stress reliever. What a thoughtful thing to give me. I really am blessed to have you all.
---
Everyone in your life is meant to
be in your journey, but not all of
them are meant to stay till the end.
My parents are starting to get a little suspicious of why I keep getting free things in the mail though... XD I show them Kenzie's page and tell them I honestly don't know why, and you guys are just really sweet and love to see a horse recover that really shouldn't have been able to, but I'm not sure that they believe me. Maybe they think I'm secretly selling my organs or something. lol.
---
Everyone in your life is meant to
be in your journey, but not all of
them are meant to stay till the end.
It's so sweet of you to be helping that girl! She is going to remember you for the rest of her life, you know what right? :) The drawing is precious. The flowers are beautiful too. I have a garden at home that I've thought about pressing some flowers from. I'm just not sure what to do with them afterwards lol.
I tape my flowers to my wall. It makes a masterpiece of its own! haha

I love helping the girls who are in the same sort of situation I was in at their age. I figure if I can help them get through it faster than I did, they have that much better of a chance at having a good productive teenage era xD
---
Everyone in your life is meant to
be in your journey, but not all of
them are meant to stay till the end.