aaand we have ribs again. Not too terrible so I'm not worried, she has grown another half inch and appears to be going through another tiny growth spurt again (butt high) so I figure she'll fill them in again quickly. Hopefully, anyways.
Here are a few quick pictures of her in with her 'kind' (all of the horses pictured are TBs, and one is from the original 6 that came to us almost two years ago) investigating the round bale that we had just rolled into the pen. They didn't even give us enough time to get the mesh off first, greedy little buggers!
Standing next to her (presumably) half brother, Peppin. He had to have an eye amputated after a freak accident back when he was about 10 months old, so they make quite the klutzy pair together... Its so sad though, he's only 2-3 months older than her, and SO much taller xD he's a big boy though. Last time I checked he was 16hh at the wither and 16.1 1/2 at the butt.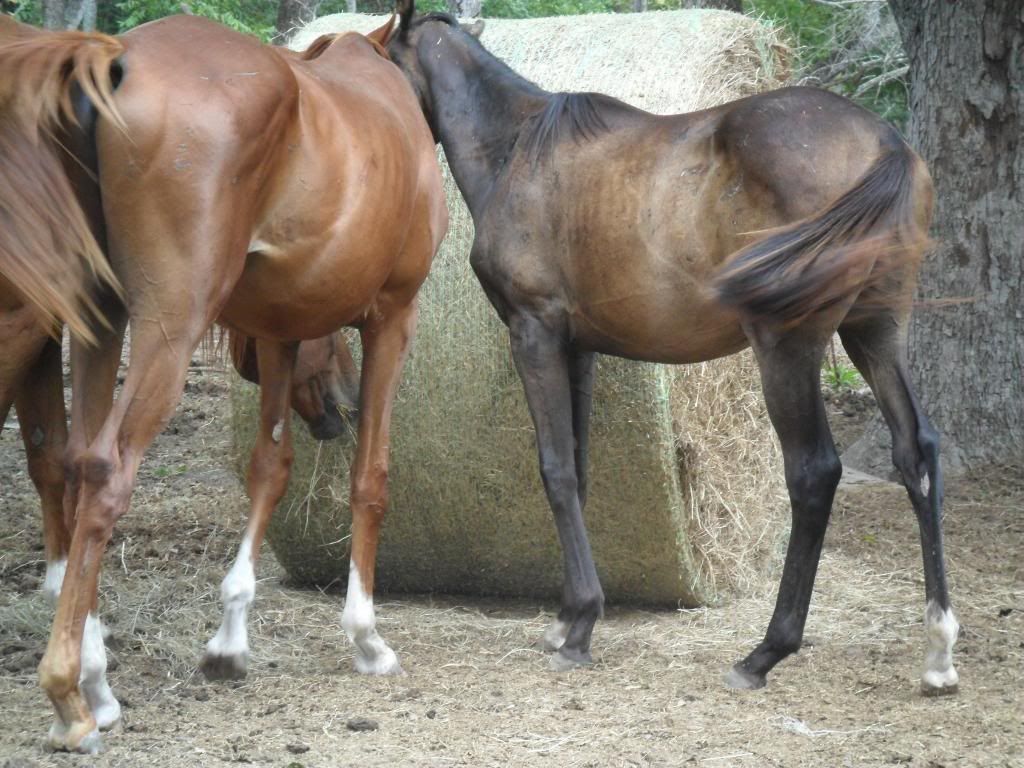 ribs...and a stolen mouthful of crap hay. This drought is really getting to us this summer :/ BO is having a tough time finding much hay at all, much less good stuff. I'm thinking about upping Kenzie's alfalfa because of that. She's getting a hay belly from this stuff.
Other than that, I do have good news (hopefully) in that the ball is rolling again with getting Kenzie moved. Thanks to some not-so-helpful people and my parents being horse-na´ve, I had a hard time convincing them I needed to move her for whatever reason, and since they technically own her I couldn't exactly doing anything. *sigh*, Oh well. We're back on the green light for moving her though and I just need to find a hay supplier, figure out how to transport hay, where to PUT hay (I keep all of my feed in my garage. 100+ hay bales are definitely not going to fit), and arrange with Family P, my friend with the trailer, and BO to get Kenzie moved. This has not worked so many times though that I'm not even going to get giddy about finally moving her 'til her feet are in that pasture. Geez.
Speaking of Family P's pasture, WE NEED RAIN ._. Their pasture isn't looking too great (no fault of theirs, just no rain) and its definitely not going to hold up to three horses at this rate. Poo.
---
Everyone in your life is meant to
be in your journey, but not all of
them are meant to stay till the end.
Alright, so I have another question for you guys regarding worming. I'm about to get another fecal done on her when I can scrape up some money, and if she's wormy I'll obviously go from there and get the correct wormer- but Kenzie is getting progressively worse about being wormed. This isn't something I've dealt with much since Sour has a really weird fetish for wormer and absolutely LOVES it...(She'll try to take the syringe from me if I'm not careful) and even if she didn't like it, she's 34 inches tall. She can't exactly evade me. Kenzie though, absolutely hates wormer, not that I blame her. Back when I was going through the worming cycles when we first got her she was weak, small, and not hard to shove the wormer down. Now though, she's probably a good 600 lbs or more and nearly 14hh, definitely strong enough (and tall enough) to evade me if she wants to. I've tried to make as little of a deal of it as possible, but the second she sees that syringe she's all wide eyes, parrot lips, and giraffe neck. I'm able to get it down her eventually, but its a lot of work and last time I ended up even having to have someone hold her head so I could get the syringe in the right spot. Obviously I'm not doing something right. Any tips on worming her? xD I know its not fun for her but its not fun for me to waste/wear half the tube either.
---
Everyone in your life is meant to
be in your journey, but not all of
them are meant to stay till the end.
Put the wormer in her feed - make the feed extra tasty.
I don't really know what wormer I had, but the vet immediately suggested - just put it in their feed.. they will eat it all up.
I had about 25 ml of the wormer, with about 2-3 lbs of feed - gobbled it down like nothing had changed..

She is looking goood :)
I thought you couldn't do that with tube dewormers? It says not to have any food in the horse's mouth when you administer the paste so I guess I figured that meant no mixing it in food either.

I considered a feedable wormer treat/pellet but they're so much more expensive, I can't guarantee she'd eat it, and I really don't like to cover up problems like this and the fly spray- I want to deal with them and have her just accept them as part of life (even if not happily) instead of tip-toe around her if that makes any sense.

And thanks! I'm pretty excited by seeing her grow up. I'm curious to see what her winter coat is like this year since last year she had NASTY dull starvation fur and looked like a little wooly mammoth. She's in way better condition now so I'm guessing her body will realize that and grow a normal coat?
---
Everyone in your life is meant to
be in your journey, but not all of
them are meant to stay till the end.
Try making syringes a fun experience. Buy one, fill it with applesauce (or something she likes) and then teach her that when she sees it, it's a good thing.

That way when you go back to icky wormer, she won't know if it'll be applesauce or the wormer.
---
"Strength is the ability to use a muscle without tension"

oooh, sneaky. I like it! xD
---
Everyone in your life is meant to
be in your journey, but not all of
them are meant to stay till the end.
I use a daily wormer, and am happy with it~ But it doesn't sound like it would be optimal for your purposes...
Yep. If syringes are always filled with something nasty, of course they won't like them. You've got to 'dose' them with tasty stuff too if you want them to at least hope they're getting a treat. I use molasses or corn syrup in mine when we're doing syringe training. I had one filly who needed twice daily bute after a surgery who would nicker at you when she saw you had a tube of something because she just KNEW it was her molasses treat (with the bute mixed in), and would lick the thing clean and not miss a drop. That's a much more pleasant experience in medication for all involved than fighting them about it. You don't HAVE to condition horses to like syringes, most horses you can just do it, get it over with, and they're mostly cooperative, but I like my horses to take things easy.

The reason the tube dewormers say no food in their mouth is because if they have a mouthful of something already, it makes it REALLY easy to spit out anything else you put in their mouth, ie, the dewormer. It has nothing to do with the effectiveness of the drug +/-food, just a practical consideration for making sure it actually makes it into the horse.
Here's what I did with both Henny and Bubba. Henny is now a pro at taking wormer because of this. Stand at their head and each under their jaw with your hand. Place your hand to where they can't turn away from you and place your finger on the corner of their mouth. Just rest it there until they stop tossing their head and calm down. Then push your finger into the corner of their mouth and again wait until they calm down. Then take the wormer. Have it laying flat against their cheek so the syringe is facing forward flat against the corner of their mouth and wait. After they're fine with that, stick the wormer perpendicular to the corner of their lip so it's in their mouth but not tilted towards the back of their throat. After they're fine with that, position it as if you were going to worm them. Once they're calm, actually administer the wormer. This worked to teach Henny how to take wormer and to reteach Bubba who had always been a pain about worming. He'd run away, toss his head and just fight us to the point where we'd just put it in his feed. Now after a little desensitizing, he'll take it no problem.
Posted via Mobile Device
Zexious- if it was something I could afford and if Kenzie wasn't so suspicious of my poisoning her food (well, at least she knows she IS going to get food now and feels like she CAN be picky...) I might try something like that, but I'm not a huge fan of pouring chemicals into her body that she may not need either, which is what I'd be doing with a daily wormer. Nothing against people who do, I guess its just a personal choice. That's why I do the fecal every few months (more when she's had a worm load) and worm accordingly. She may not even have any worms right now, but I'm always suspicious of that belly she seems to keep so I'm going to get another done before bringing her to her new pasture. Sharing is NOT caring when worms are involved! lol.

Great ideas everyone. I might try some unsweetened applesauce or something similar to give her, and I'll do some syringe desensitizing as well. One way or another she needs to learn to take her meds like a good girl! haha.
---
Everyone in your life is meant to
be in your journey, but not all of
them are meant to stay till the end.