*sigh* This is supposed to be a happy thread isn't it? I guess that's not working out too well.

So I just got a call from the P Family and it was bad news. One of their horses (the mare) is sick and running a fever/dry coughing. Ofcourse that is NOT good being that Kenzie is supposed to be moving there in about 3 days...

The vet is coming out for their mare tomorrow afternoon to check the mare and see what she has, but ten to one she is contagious. Which probably means I can't move Kenzie there this week because her immune system is still compromised...right? And if I can't move Kenzie, that likely means having to deal with BO more and pay for some sort of boarding for a few weeks. Ick. I just can't seem to leave trouble behind!
---
Everyone in your life is meant to
be in your journey, but not all of
them are meant to stay till the end.
Booooo. It's just a little bump in the road! Have you told the BO you'll be moving her, yet?
---
There on the tips of fair fresh flowers feedeth he; How joyous his neigh,
there in the midst of sacred pollen hidden, all hidden he; how joyous his neigh
You should be able to a magazine article now. You own her . You may need to change some names or just state the 'stable' to avoid any hassles or confrontations. You go for it girl!
Write that article and submit to all the different horse magazines !
It will be cheaper to pay board than to pay a vet bill. It is good that you haven't already moved her.
---
Celeste
Carpe Diem!
Yeah :/
Its such a bummer though! I hope that Family P's horse just has a cold or something, for the mare's sake too. Poor gal. How long do I need to wait after she's better (no fever or coughing, no elevated pulse or anything, etc) to bring Kenzie out there? I don't mind paying the board for Kenzie to stay with PO but I don't particularely want her staying here for longer than necessary, especially since the last thing I want is to get myself stuck here.
---
Everyone in your life is meant to
be in your journey, but not all of
them are meant to stay till the end.
Have the mare owner ask the vet questions as to how long before another horse can be added and be safe. Would they be in the same area? Adjoining pens? I hope you find a forever home for Kenzie soon so both your lives can calm down a bit.
oops, I'm sorry guys! I missed two of your posts somehow, earlier.
Kayella- yeah, I know >.> I'm so sorry to have already had to ask you about moving Kenzie then having to go back and say 'whoops, sorry. No can do!' Hopefully soon...Family P's vet hasn't come out yet (he had an emergency to deal with) so I'm still waiting to hear what he has to say. But yes, I did have to tell PO I am moving Kenzie. She was asking me about boarding and such and I had to let her know that she won't be staying. Of course, that was yesterday morning and she seemed ok enough about it, but now I'm going to have to go right back around and say 'SOOOO. Just kidding. I need to board Kenzie here.' Fun!
Stevenson- I really would like to do that if I can get some down time to write one! I'm definitely changing names though. The last thing I need is more confrontations xD
Cacowgirl- we were planning to keep the horses together if they got along with each other well, but the other option was sectioning off a piece of the pasture with electric tape and having them in adjoining pens. They'd be able to sniff and touch each other though so they could easily share germs. The mare is now in the only stall away from the gelding but still very close to his pen (just locked up) and the gelding has been exposed to it, whatever she has... probably the pasture too.
Aaaaand of course, bad things come in three right? >.> Well, we're up to two now. I came out to the farm this morning to find a puncture wound on Kenzie's hock. Great. Its super tiny (probably the size of the end of a pen) and doesn't LOOK deep but because of where it is I didn't want to take a chance. I had a heck of a time getting a vet out as always but finally got mine to agree to come if he finished his rounds in time tomorrow. I wasn't completely sure what to do with it until then so for now I rinsed the outside of it really well, got a syringe and filled it with saline, rinsed the inside of the wound as much as Kenzie let me, let it bleed a little, and wrapped it up with some gauze and vet wrap. That's a hard place to wrap and I wasn't sure that I SHOULD wrap it, but the dust is awful here right now and I really don't want it getting infected or something. There is no heat or swelling at all and she isn't limping, but I'm paranoid xD should I have wrapped it or would it have been better to leave it? I can go take it off if I need to.
No idea what she caught herself on this time, the little clutz. She's also making her lips rather rough from cribbing on wood >.> I rubbed some Petroleum Jelly on them as a sort of 'lip balm' even though I don't think she cares. This little gal just has so many darned problems! I can't seem to fix them all and have her healthy ever. ._. Oh well... I still love her ;)
Anyways, here is the puncture after I cleaned it up. There was very little blood and I'm actually surprised I noticed it, but I'm glad I did.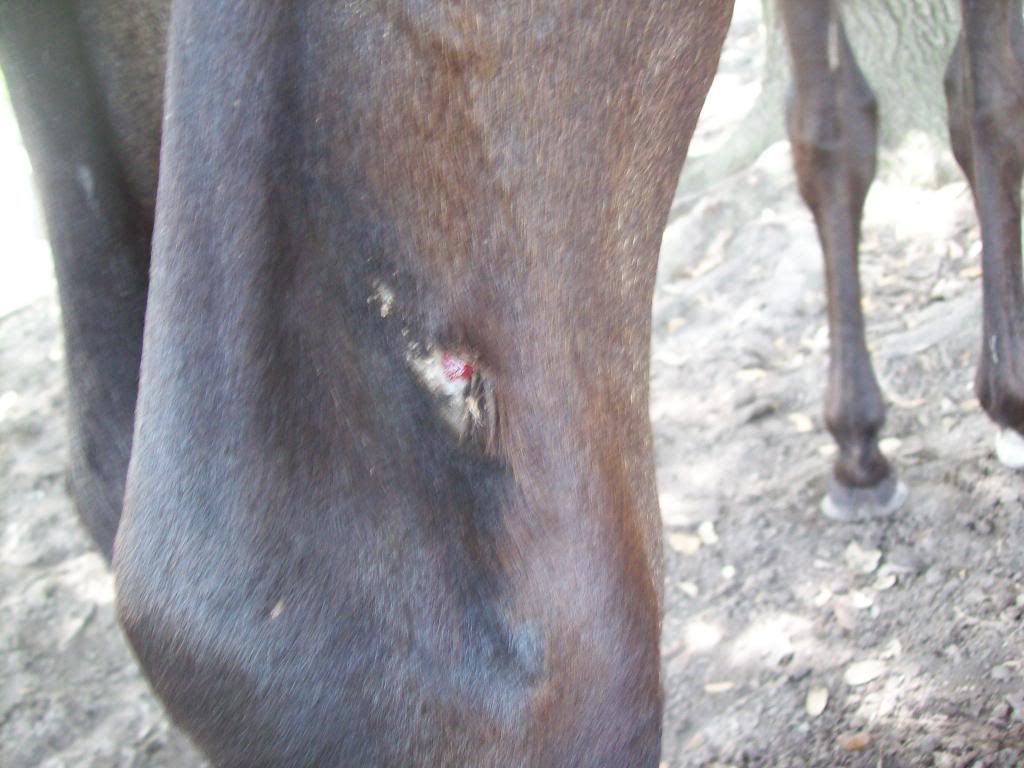 My terrible wrap job. Feel free to tell me its awful, I know it is. I did make sure it was well padded, clean, and going with the tendon not against it though. That's a very weird spot to wrap though and she was NOT cooperating. She's a doll for anything unless it involves first aid care. Then she's just 'DONE'. Also, she's apparently terrified of the SOUND of vet wrap being pulled off of the roll and freaked when I did it (oops...), bolted forwards, and was stopped by her halter. Poor gal, totally my fault. I didn't even think of her being scared of the sound. So I spent 20 minutes desensitizing her to the sound (and wasting wrap) before she finally let me wrap her leg and be done with it. But its on. Hopefully its doing good and not harm though, I'd hate to have done all of that all for naught xD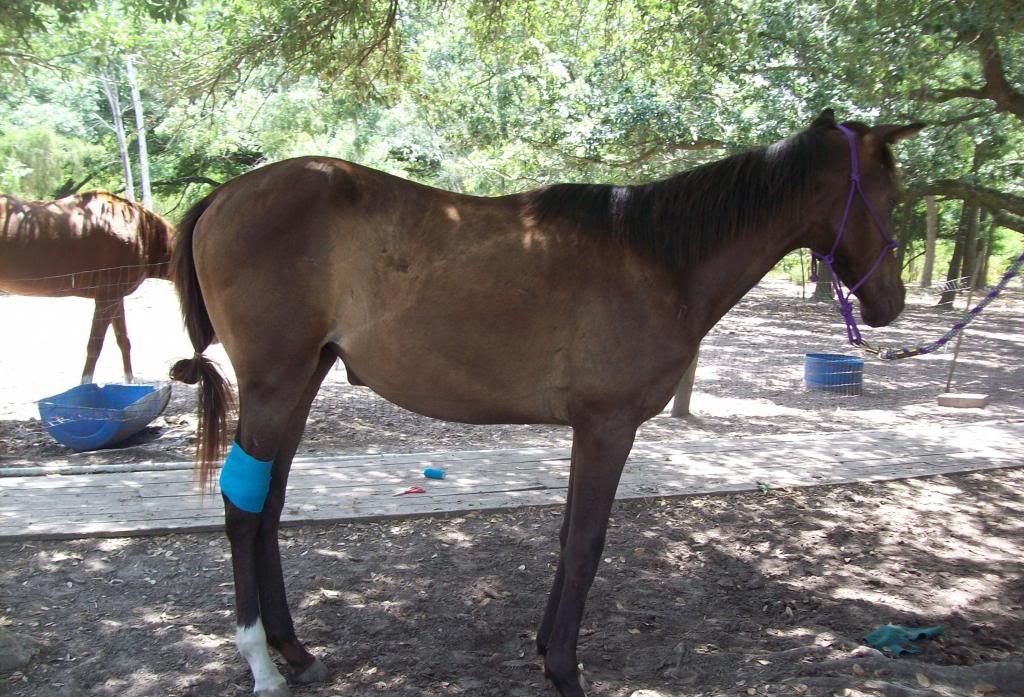 On another, happier note though...YAY, almost no ribs showing!!! I can still feel them pretty prominently, but I think lowering the grain and upping the beet pulp really helped. She takes SO long to chew the BP though. She's taking 1-1.5 hours to eat each meal as of right now. Aghhhhhh!
Just 'cause she's cute...
'GUYS. Look at this thing on my leg. Isn't it horrific? I'm sure I'll die any moment now. (no the colt in the backround isn't dead. That's Peppin, her half brother. He's 2 now, and huuuuuge.)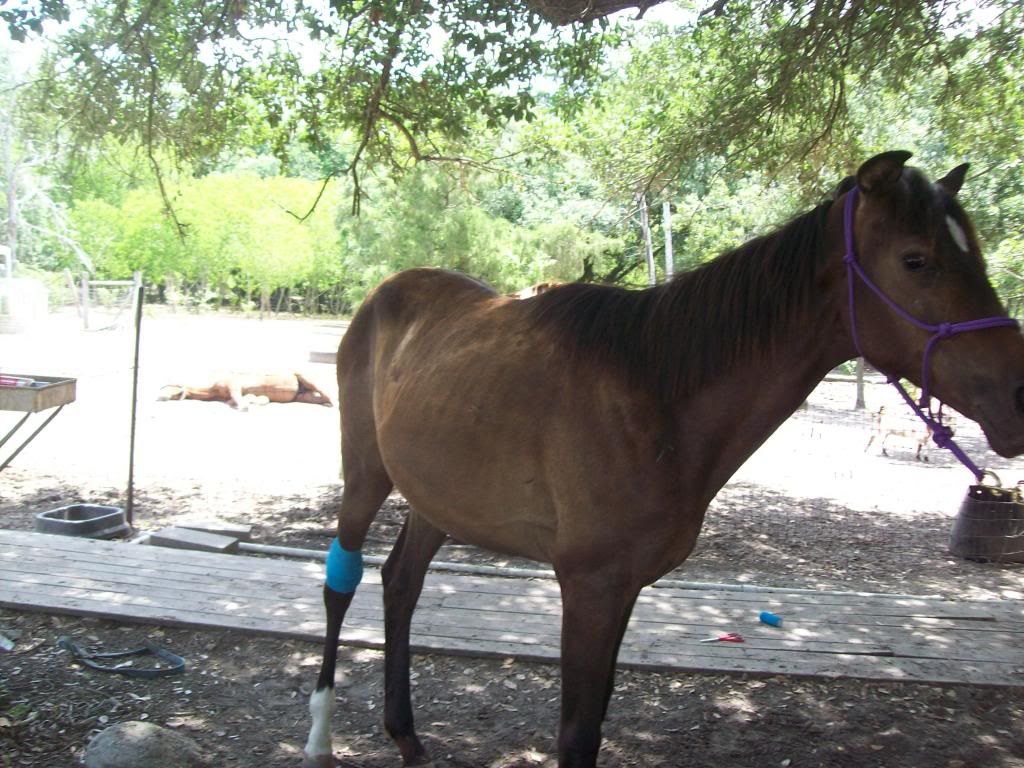 ---
Everyone in your life is meant to
be in your journey, but not all of
them are meant to stay till the end.
---
Last edited by Endiku; 07-11-2013 at

07:14 PM

.
It's like horses are always looking for things to injure themselves on, huh? No heat or swelling is a good thing, but always a good idea to get a puncture near the joints checked out!
So nice to see how butt high she's gotten. She must be growing finally
From the pictures, it looks like it doesn't go all the way through the skin. I hope that is right. If so, she should do fine with what you have done.
---
Celeste
Carpe Diem!