Would you have a horse in your wedding?
---
I'm recently engaged, and I've been thinking of ways to make my wedding really personal and unique. I'm not getting married for a few years (waiting for my fiance to get out of the Marines), so I still have plenty of time to plan. Anyway, I was thinking of including my horse in the wedding in some way. Maybe he could be the ring bearer...Or he could walk on one side of me, and my dad on the other as my dad gives me away? I would love it if I could "ride off into the sunset" on him, but I'm not sure about that one yet. What are your opinions on this? And if you have any cute ideas for other ways to include my horse in the wedding, please don't feel shy! :) Thank you!
My friend has her wedding in August and will be riding to the venue accompanied by of us on horses
.
I had my horses at the reception (as it was at home)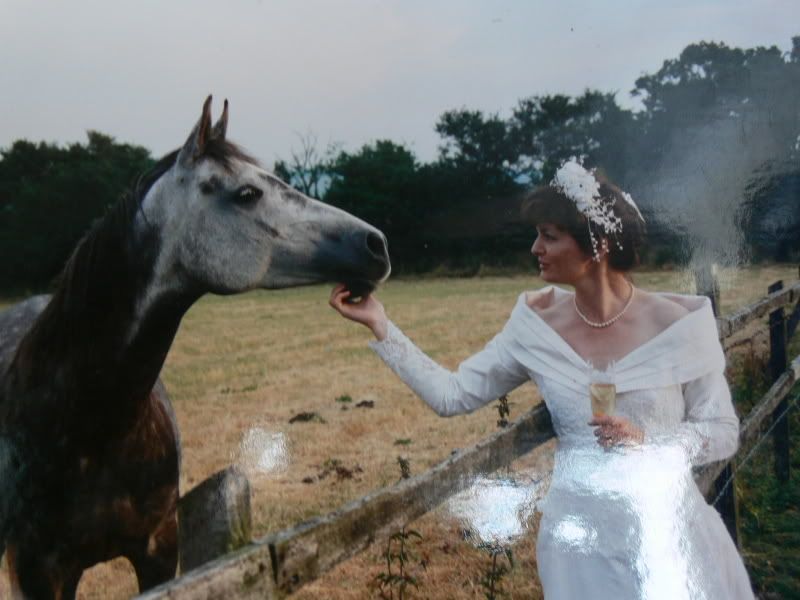 I totally want my horse to be involved in my wedding!
Whether it just be my engagement pictures, or the wedding itself, my horses mean a lot to me, and are a big part of my life. Therefore, why wouldn't I want to involve them?
I've thought about it quite a bit (more than I should, probably, as I'm not engaged!), and it would be easiest to have your horse trained to drive, so that they could wisk you and your guy away in a carriage (you'd have to rent/borrow one). Otherwise, having the horse be the ring bearer has been something I've been thinking of. Either way, you should probably hire someone unrelated to watch over your horse during the ceremony. If you have a friend that is horsey, you might ask them to lead your horse down the aisle with the ring.
I would definitely have a second plan of action just in case your horse is goosey that day. Big crowds + goosey horse = Big Problems! You'd need to be entirely honest with yourself and make sure that your horse is prepared for such a thing. You don't want to start off your new life together by having your horse trample the flower girl...
So, if the horse isn't proving to be cooperative when pulling a carriage, have a decorated car waiting around the block. If the horse is being too much of a turd to allow him down the aisle, you could have the flower girl second as a ring bearer. Just have backups.
Just remember- if you would happen to ride your horse into the reception, something could happen. You could get dumped, your horse could act like an ars, or, at the very least, you could mess up that wonderful hair that your hairdresser JUST did for you, lol!
You'd have to imagine what it'd be like to get on your horse with a wedding dress, too. How does the dress fall? Since no one really rides sidesaddle anymore, you'd be showing some leg, most likely. Are you riding in heels? Are you going to get on in front of a large crowd? (Personally, that last one would make me rethink the whole, "riding off into the sunset" thing! I really, really don't want embarassing pictures of me attempting to mount a horse in my wedding dress floating around the internet, lol!) You can pull it off, but there's a lot to think of! I think that this woman pulled it off quite well:
And here's why having a well-trained horse is essential....

On a side note: Having a long train flow over the back of the horse looks gorgeous, but I'm pessimistic. You really don't want your horse backing up, stepping on it, and ripping off part of your dress.. Especially on your wedding day.
We had our engagement pictures done with Romance. We toyed with the idea of having one of our horses involved with the actual wedding too, but the logistics of it were just too much considering we got married 3 hours away from home.
However, we did get married at an equestrian facility, so some horses managed to sneak their way in to the background of our photos
---
Flirt-Hugo-Phoenix-Romance-Fanta-Nippa-Shiloh

Trojan 09.11.02 - 26.10.10 // Kody 01.09.89-25.06.12 // Rex 05.11.95-21.12.12

Quote:
And here's why having a well-trained horse is essential....
Wedding carriage fail - YouTube
On a side note: Having a long train flow over the back of the horse looks gorgeous, but I'm pessimistic. You really don't want your horse backing up, stepping on it, and ripping off part of your dress.. Especially on your wedding day.
Poor horses! That could have ended up horribly! Looks like part of the buggy broke though. I wonder what they were spooking at?
We eloped. I think I would worry too much over my horse to have him at my wedding unless I was personally with him. Though I guess one could get married at the barn too - things didn't work out like that. We ran off and got married!
Posted via Mobile Device
---
Last edited by DancingArabian; 03-22-2013 at

08:08 AM

.
We did the horse as ring bearer thing. It was cute. He was led down the aisle with the ring pillow tied to the saddle horn, and our little niece was riding, with grandpa as her side walker. We had a wooden walkway down the aisle, mainly so my heels wouldn't sink into the dirt, and the sound of his hooves on the wood was just lovely. Of course, we practiced until they could all do it in their sleep, including the horse. In fact, he did nap while waiting for his part. And after the reception (during which I ended up giving pony rides to all the kids, lol) I rode him sidesaddle while the hubby led him. The only fluke was when everyone started throwing birdseed at us and someone showered his butt with it, and we got a little startle out of him, but that was it. I wouldn't recommend using a horse that isn't bombproof, remember many of your guests will likely not be horse savvy. I am trying to find pics...
---
"Keep a leg on each side and your mind in the middle"
Don't tell Mrs. Face I said it, but I think we may have had a Mare of Honor...



I think horse weddings are pretty neat...
Would I? No. But that's just me. I think weddings are too much to begin with, let alone have to deal with a horse and lots of people around horses. I'm more of a go down to city hall and use all the wedding money on a honeymoon. But to each their own.
---
This is what happens when you have democrats in office
if I had someone I really trusted I would ride in a carriage with my horse but it would be on private property not on a busy street with people honking and stupid s*** tied of their necks
Posted via Mobile Device