My mom's had horses since I was born. But the first horse that is personally mine is kate. And she's currently the only one we have now.
Green Broke
Join Date: Mar 2009
Location: Kansas in the summer, Kentucky most of the time
Posts: 3,028
• Horses:
3
My first horse was a double registered Paint/Pinto with two blue eyes. His name was Sky aka Sonny's Poco Robin. I got him when I was 6 and he was 3. Not the best idea! But he was SUCH a good boy for as young as he was. Unfortunately he got laminitis and eventually foundered at age 6. We traded him for a then 10 month old Uma (a horse I just sold that I had for 8 years) and Sky ended up being put to sleep the next year.

RIP Sweet Boy
---
Look like a SUPERSTAR, Ride like a FOUR STAR, Win like a ROCKSTAR
Eventers: Making BAD Dressage look GOOD!
Banned
Join Date: Oct 2010
Location: Earth, last time I checked
Posts: 1,254
• Horses:
1
I'm a Christian so I was 6 years of age and prayed for a horse. Two days later my Aunt comes to me with two horses. (True story) Both mares one was a quarter horse she was 22 years old. She was bay and a sorrel mane&tail, her name was Granny. She was the oldest sweetest horse ever, i would just sit on her all day long. But she passed away when I was 10, she had sudden healthy problem that we didn't know about until the last second. Is was sad, she couldn't stand up and saw was suddenly losing weight.
The second horse was Showgirl she was 20 and 18hh and sorrel, she was a Thoroughbred. She was high spirited, acted like a filly at times. I loved her but I loved Granny too. It was I was closer to Showgirl more, it was cool because when I was little I went to a riding school and Showgirl was at my riding school. Through people said you was a beginners horse when she was not. But I rode her fine, I broke my arm riding her bareback once. But I kept riding after my arm was healed, I mostly rode her bareback. I couldn't see over her she was so tall, but she passed when I was 12. The oil people put stuff in the creek water, she lost a lot of weight. She got sick, she got her a vet and one day it rained. She slipped in the mud and she couldn't get up she was bleeding badly and we had to put her down. Sad stories....
I miss them badly.
Quote:
Originally Posted by
westerncowgurl
View Post
i just got my first horse in may. my trainer called me one day and asked if i would ride a horse she was thinking of buying (she was pregnant at the time) so i said yes. and he was beautiful! 4 year old black and white paint named timmy i talked about him the whole way home and how i really hoped she would buy him and my dad said well if she ever decides to sell him again we will buy him, then a few days later i went to the barn and there he was in a stall with my name on the owner sheet. i was so happy i cried :P
OMG! THAT IS SOOO AWESOME!
Did your dad buy him or did your trainer buy him?
I would have cried too! Amazing
I bought my horse after buying my daughter a pony. I was too big to ride the pony so I went out and got myself a horse that I could ride!
He's great, treats me well, and is very tolerant of my inexperience. He's my first horse, I got him a the age of 52! And I rode him at the county fair one week later, and won a blue ribbon in games! He's automatic!
I think I got his pic in my barn?
---
...............
................
It's better to stand in mud, than manure!
My first horse was a breeding stock paint. Her name is Robin. I had Robin for a month and I loved her.Such a sweet horse but she would trip and she came down to her knees and it wasn't safe. My mom was talking to this cowboy guy and he said it was time to cut the ties before I got too attached. That day my mom took me over to his house to go look at this black and white mare. I thought she was funny looking because I never seen a bald faced horse before and her mane was a fro. Someone was going to look at her the same day so my mom wrote him a check with an hour and she told me she was mine and she was part of my xmas gift. I told mom she was too much money but she said it was okay.
I renamed her Gidget since her name was Beth before I got her. Gidget and I have had our battles and thought about selling her because people would tell me I didn't know anything. I remember sitting at the fairgrounds with my horse and current friends,crying. I didn't give up and I kept working on riding and learning about her.
Gidget is my BEST friend and I couldn't ask for a better horse. She is a brat and I constantly have to work with her to make sure she knows I am the one in charge and not her. Thats her personality and she will always test people. Gidget and I share a special bond and she gets excited to see me and jealous when I go play with other horses.....She never purposly hurt me although sometimes she threatens to....yeaaaa...different story. If I had to ride any horse at the stable I would choose her. I trust her with my life.
I love gidget so much that I got her tattooed on my back. I have had her for almost a year(next month!).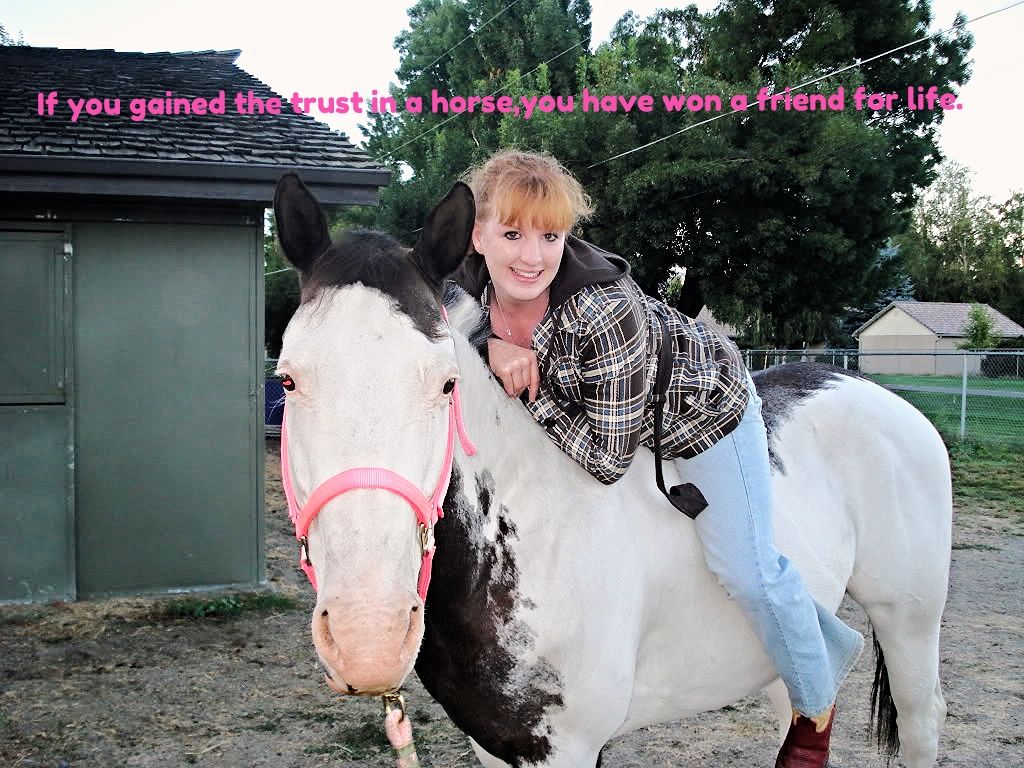 Quote:
OMG! THAT IS SOOO AWESOME!
Did your dad buy him or did your trainer buy him?

I would have cried too! Amazing
lol my mom and dad bought him for me. they wanted me to try him out without me knowing so they got my trainer to ask me to try him for her, after that i was so hopeing she would buy him so i could ride him i never even thought he would be for me.
I still have my first horse :) But its a really funny/sweet story (to me anyway!)
Well I was a wee little lesson girl at the farm I board him at. There were rumors of 3 rescue horses possibly comming to the barn. A Appendix mare, a Thoroughbred gelding, and the third (i believe was an appendix mare, but I cannot remember.) Me and a few of my friends playfully 'called' horses. LIke when you say "ooh! I call that one!" Well I called the Thoroughbred gelding, because, well I really don't know, I just felt something special about him before I even saw him. And trust me, I wasnt even somewhat AWARE of what was going to unfold in the following year. When he actually came to the farm, I completley walked right passed him (I look back and feel so aweful!!) But he was so thin and unhealthy, he really didn't 'sparkle', so to speak. But when I finnally jumped up on the gate and looked at him, I was love at first sight. :) The next week I started training him with one of the instructors out at the farm. He needed A LOT of work, since he had never seen a show ring in his life. Just a race track, and what ever posse horses see. And the horid life he had before he came to our barn of course. :( But I showed him that summer in 6 shows and came back with 12 ribbons. I thought that was a pretty good outcome for a first show season! Especially when it was my first too!!
But I leased him through that whole summer, and my greatest dream came true. My parents bought him for me that winter. I honestly had never dreamed of owning my own horse, because I just thought it wasn't going to happen!
I trust my thoroughbred with all of my heart. Which sometimes isnt exactly the smartest choice, but he would never hurt me intentionally. People also say that we have a wierd 'connection' because our emotions always match and we have the same personality!~~I promised him (yes it may sound silly, but its not) that I would never sell him, no matter what happens. I think he deserves to be spoiled after what hes been through! <3
Wow! I could go on for hours about this...so Ill just hush up now :)
---
**Mocha - 4 year old Spotted Saddle Horse Mare**
My first pony that was actually mine I got when I was 8. His name was Goldie. I begged my Dad to buy him because he was going for meat if he wasn't sold by 3 that afternoon. We were told he had a little hoof issue. Well Dad payed 50 bucks for him sight unseen. We called the vet out to check him over and it was awful. His little hooves were so overgrown he could barely walk. I know now he was most likely foundered as well.
Dad and the vet gave him a couple weeks to improve. Sadly he only got worse. I was given the choice of did I want him to suffer or pass quietly with people who loved him.... needless to say I was heartbroken. I couldn't let him hurt.
He was put to sleep on a gorgeous Saturday morning with a full belly and a deep bed of shavings. I don't regret one minute of trying to "save" him. It taught me a hard, but lifelong lesson about doing what is best for them.
My first horse was Lady. She was a 16 hand TWH. She came into my life 2 weeks after Goldie crossed the bridge. She was a gift from a wonderful neighbor who couldn't ride anymore due to illness. She heard about my pony, decided Lady was just to young to become a pasture ornament at 7 years old and that I was in need of a friend right then.
I still miss her sometimes. She taught me to ride, responsibility, and how to forgive. She died 3 weeks shy of my 15th bday in a motorcycle accident. My friend got hit while riding her without permission.
My first horse was when I was 18. My family lived in Central America for my Mom's job. She got a horse and I used to go riding on my days off from school. I noticed a chestnut OTTB who never got taken care of...(and it was self care!)..he was thin, had rain rot so bad he was almost bald and had oozing bleeding skin and super bad feet. I called the owner and asked if I could lease him. I paid her monthly for 6 months. He bit and kicked and was overall nasty (who could blame him?). I eventually bought him for $50...included all his tack. He was the most wonderful horse..we had quite a bond...found out he was trained to second level dressage and brave as can be. His name was Minute Man. LOVED that horse.