Your horse - The good vs. The bad
---
Tell us some more about your horses!
What does everyone love (good points) and dislike(bad points) about their horse? Those qualities that stand out to you, that you either love or hate.
My boy - 7 y/o OTTB.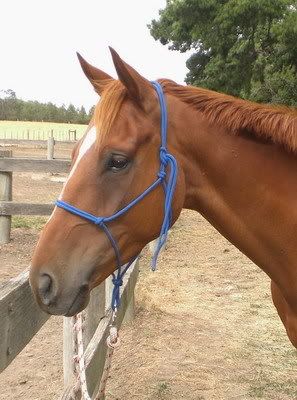 Good:
- his baby face
- he loves his cuddles
- he has good ground manners and is respectful about food
- he's green (unspoiled, and i can train him to suit me)
- he's smooth to ride
- he has a very kind and honest nature
Bad:
- he shies a lot (at things like bark and pine cones
) and can be really nervy
- he gets frustrated easy if he doesn't understand you/ what you want
- he's a hard keeper
DeeDee - Likes: shes has a sweet personality
trains easily

Dislikes: She takes advantage of my daughter when being
handled (and she is supposed to be her horse).
bull in the china shop sometimes.

Molly - Likes: Shes a ding bat! Lots of personality.
Always the first coming up to visit people.

Dislikes: Shes a ding bat!
Spooks easy
pushy

Casey - Likes: reliable
great ground manners

Dislikes: a bit buddy sour
can be hard to catch if she thinks she has to work
---
Lets go Buffalo!!!!!!!
Jubilee (18 yo TB):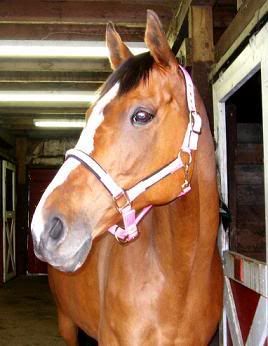 Good:
~ so cuddly and affectionate
~ extremely well-behaved; excellent ground manners
~ gorgeous
~ intelligent & willing
~ well-trained; a "been there done that" horse (great for me as a first time horse owner)
~ gentle and loving
~ funny & sometimes quirky personality
~ but predictable! (I KNOW that she's gonna pee on crossties every time I bring her in the barn, lol!)
~ sensible and keeps her head about her (most of the time)
~ calm!! (for a TB)
~ keeps herself relatively clean
~ always forgiving (even when I mess up on something when we're riding)
~ in good health (praying hard for this to be true always!!)
~ keeps me laughing; makes my day all the time
~ so adorable & I can't resist her huge lovely eyes
~ a brave & loyal companion that I will love forever!!!
Bad:
~ doesn't stand perfectly still when I'm trying to mount her
~ doesn't do well on trail rides
~ have to shoe (her hooves are brittle)
~ sometimes is stubborn about putting the bit in her mouth
~ doesn't like walking through entrance gates
~ a little speedy sometimes
---
"'For I know the plans I have for you,' declares the Lord. 'Plans to prosper you and not to harm you, plans to give you a hope and a future'" ~ Jeremiah 29:11
My like on Rebel : hes beautiful
has a beutiful head
a joy to ride
hes a giant teddy bear
if he spooks hes usually over it fast
hes so willing to make me happy
dislikes: hes got crooked front feet
hes so hot blooded that hes constantly on guard
he spooks at dumb things
hes a bull
and hes truely a blonde horse (no offense to anyone)
he likes to play catch me if you can
OLD MAN
my likes : Hes an awsome first horse
Hes done it all been everywhere
Hes very forgiving to beginng riders and thier hands
He loves His cookies
Hes a pretty boy
My dislikes: His age hes getting old to fast
---
The daughter who won't lift a finger in the house is the same child who cycles madly off in the pouring rain to spend all morning mucking out a stable. ~Samantha Armstrong

Diesel!
Good:
He's got a cute little pony nose that I love
He's willing to try just about anything for me
He puts up with me making him wear pink
He is super calm and trusting
He's got spotted little cow feet
He has cute tiny little ears
Super easy keeper
The calmest barrel horse I have ever owned
Doesn't put up with beginner riders (So I have an excuse not to let them on)
He follows me around like a puppy
Cons
He's TOO easy of a keeper. He's too easy to make fat lol
He's kind of short. I'd like him to maybe be a inch or two higher (He's 15hh)
He has no idea what to do in English and thats what I want to start doing
He can be very not cuddley when he wants to be
He can be very stubborn when he wants to be
He's built like a tank.
He has a short little neck and thick throatlach. Not a big deal though
I <3 my boy :)
Good
1. does not spook
2. runs to the gate to see me.
3.loves my little brother
4. did not like my ex boyfriend.

Bad:
1. runs away some times.
2. can be pushy
that is all i can think of.
---
12 days until Twiztid ( i get to see my Jamie) then two months until graduation.
Mister:
Likes - Loves to be with you
He has a lovely front end
Lovely and quiet
Dislike - green (I really don't have the time to train him)

Bangers:

Like - Fantastic personality
Natural self carriage
Dislike - Always hurting his legs
Not happy unless he is 3 inches thick in mud - he's supposed to be
grey
---
Only As Old As You Feel - Sometimes I Feel VERY Old
Chucky

Good:
- such a sook
- he runs to the gate to see me
-great fun to ride
-very smooth
-great manners and he has respect for me
-NEVER pushes me around
-easy to mount
-listens to me nearly all the time
-he is gorgeous!!!
-has curls in his forelock
-too many good points to list lol

Bad points:
- Hasnt got a soft mouth
- VERY forward moving
- VERY quick on his feet
- noisy when he isnt with other horses
- has white skin on his nose


Banjo

Good:
-reliable
-very well mannered
-never pushy
-anyone can ride him
-solid
-plodder
-listens well
-can do anything with him
- hard hooves

bad:
-VERY VERY bouncy
- Can be uncomfortable to ride
- Sticks his head high in the air when he doesnt want to do something when your riding him
- hard to catch
-Kicks other horses if they are within 2 meters of him all the time
-cant ride next to him on another horse or he turns and bucks at them


Pennellipi

Good:
-well mannered
-not pushy
-isnt mean to other horses
-quick learner
-stands still
-very pretty
-she trusts me

Bad:
-She ONLY trusts me
-scared of stangers
-hard to bridle
-sort of hard to catch
-has been known to kick
Great thread
---
GOOD
He is black
He has LOTS of mane and tail
Great temper
Easy to train
Very sensitive to voice
Tries to please
Loves people(mainly mom)
Answers to his name
Very intelligent, he will evaluate the situations he is in
Trusts me
Easy keeper
Stays relatively clean
Very curious horse, loves to do things
Easy to work with
Love his thick build
Pretty head
He is not herd bound at all
Very intuitive
Loves spending time with people
Obedient
He stands out from other breeds of horses
Great conversation starter. People can never ignore him, his face is just adorable
BAD
I spend all my money on him
HE IS MANIPULATIVE! he uses his adorableness to get people's attention.
There is honestly nothing I dislike about this horse. The best horse I have ever owned.
Dobe:
Good points:
very sweet nature
incredibly smooth traveler
excellent ground manners
beautiful big butt
kind, soft eyes
lots of hair
will pull anything you hook him to (even if it outweighs him by a lot)

Bad points:
spooks at anything that flaps like trash bags hung on the wire in the bar ditch
pigeon toed (doesn't cause any problems just makes him look goofy)
can be very aggressive with other horses and especially cattle

Koda:
Good points:
long flat gaits
perfect soft mouth and neck rein
lots of hair
very willing
extremely sure-footed

Bad points:
suffers from severe separation anxiety
very poor confo (poor guy is so ugly LOL)