Your opinions would be appreciated...
---
Not sure if its in the correct section. If not I apologize. But anyways. Me and one of my closest friends have start a mounted drill team here in Florida. The name of our drill team it TOUGH ENOUGH. We are, per say, a breast cancer awareness drill team. We are riding to support the many who fight, have fought, or have lost loved ones. This is our first year... and our first competition is March 13. These are the team Tshirts. I would just like to know what you guys think of them?
Here is the front:
And here is the Back: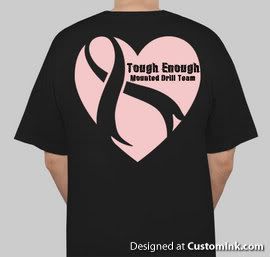 Oh... and I guess I should add... our team colors are Black and Pink :)
Speaking for myself, and as a guy, I like the design. Very cleaver.
---
I'm not arguing with you, I'm just explaining why I'm right.

Nothing sucks more than that moment during an argument when you realize you're wrong.

It's not always what you say but what they hear.

I like them!
---
"Did I not just use the word 'puzzling'?"

Thanks. The person who started the team with me is a guy. So good to hear that another guy likes them. We are also thinking of doin a competition to support the troops.. and changing the pink to yellow.
I like them! You should put the name of your barn on there somewhere too.
Well none of us are really from a barn. We all have our own places. And none of them really have names. lol. We are putting the names of the sponsors on our trucks and trailers though.