Your worst accidents
---
Well - another thread brought up warm fuzzy memories of accidents past. What is your worst riding / horse related accident? What injuries resulted?
Mine was when a horse I owned got loose and ran out onto an asphalt road - a main road - right down the drive from the barn. I was already on a horse, which was shod all the way around. Impulsively, I chased my mare. The gelding I was riding was going very fast and before I had the chance to realize how idiotic I was being, he went down. I hit my head on the asphalt and broke my glasses (which punctured me right above my eyebrow). My right ankle was crushed and my knee was torn apart as well. The gelding was fine - he hopped right up and went back to the barn. The mare I was chasing saw him and followed him -_- It was my first ambulance ride and I was extremely lucky I didn't have any head trauma. Just a very ugly black eye!
Here's photos - ye be warned! Very graphic! That's why I've only posted links.
http://a2.sphotos.ak.fbcdn.net/hphot..._1653916_n.jpg
http://a6.sphotos.ak.fbcdn.net/hphot..._5746286_n.jpg
http://a1.sphotos.ak.fbcdn.net/hphot..._7835043_n.jpg
I want to know about your accidents! Videos? Pictures? Let's hear/see!
---
EQUI
LOVE
Ouch! D: I've been pretty lucky as far as horse accidents go (knock on wood). The worst injury I've ever gotten is a sprained wrist. My wrists are weak to begin with, so when Jasper spooked and bucked me off, my wrist didn't stand much of a chance. ;) I was lucky he was a shorty! A longer fall could have made it worse.
I've had plenty of accidents, but only two "doozies".

The first one was when I was 20 and I was schooling a cross country jump and my horse Impy hung a knee. We somersaulted and he landed on me. My worst thoughts about that whole deal was when the emt's were cutting off my boots and the fact that the whole time they were getting me ready for the chopper, my horse was laying on the ground groaning. I ended up walking out of the hospital the next day, but my horse ended up on 6 months stall rest with a sprained neck. I will say that when our training resumed, he lifted his knees up to his nose over every jump thereafter.

My second one was after a ride...riding on a loose rain cooling out...a gust of wind came out of nowhere and spooked the horse I was riding. She went to bucking and I had nothing but the buckle in my hand. I landed on my head...I was wearing the old style caliente helmet and it scooched down as I landed and pushed into my nose. So I ended up with a broken nose and broken eye socket. I was a beautiful mess for a couple weeks lol.

I pray that I never have another back wreck to brag about hahaha
---
"Brutality begins where knowledge ends. Ignorance and compulsion appear simultaneously." ~ Charles de Kunffy
Green Broke
Join Date: Aug 2009
Location: New South Wales, Australia
Posts: 4,847
• Horses:
1
Streakers Cowgurl - whenever I ride cross country I have a fear of that happening! I think I would have pursued eventing if it wasn't for that fear! Must have been terrible. Glad it worked out okay in the long run.

Back in March I was going to ride my friends horse. Owner got on it first and everything, all seemed fine, then I put my foot in the stirrup, I was not even in the saddle when it took off bucking, threw me and then bolted off. I broke my arm and fractured my spine. I'm fine now but my confidence is in tatters.
I rode a pony at my old riding school that was a known bucker and had bucked me off previously (along with my instructor and other clients) but on this lesson we were jumping and he was getting wound up more and more. He took off bucking every time we popped the fence and then about ten minutes before the lesson finished he really took after and just bronked as hard as he could. According to my sister he went vertical and I just somersaulted over his head, landed very hard then got back on one of their steady oldies to finish the lesson. Three days later went to hospital as I couldn't move my left arm because of the pain and it turned out I'd cracked my shoulder blade, possibly a rib or two underneath and torn all the muscle in the left side of my back. That side is still weaker than my right and I have a lump on my back now which I think is scar tissue.

The last fall I had was off a young pony that I was riding for the first time who spooked at the scary pony-eating wheelbarrows that we had gone past about 20 times before but this time they were obviously about to leap up of their own accord and eat him. I went over his shoulder and landed on my head, nearly knocked myself out and again got back on even though the world was going sideways and finished the lesson. Found out I'd given myself a concussion but I still took him in the jumping competition a few days later and sat an exam with a concussion. Didn't get a doctor's note for it because I refuse to pay £15-20 for something that may get me a bit of leniency when my paper was marked. Still passed so I must have done alright.
---
Eagles may soar but weasels don't get sucked into jet engines.
My worst injury happened over a year ago and I'm still dealing with it. I had a photographer at the farm to do a photo shoot and we were trying to get pics of a new foal but momma's butt kept getting in the way. I asked her to move forward out of the way but there was something blocking her and she couldn't move forward. She's a very willing and obedient girl, so she moved anyhow, backwards right on top of my left foot. I had heavy boots on but she's well over 16 hands and a very large and substantial mare. She rocked back on my foot and pivoted to get off me and then moved out of the way. I screamed, hit the ground and just about passed out from the pain. I've never felt pain like that before and I pray never again. I had a severely crushed left foot and compartment syndrome from the crushing of the soft tissues and had several surgeries to remove the necrotic tissue in my foot and leg. And I'm going in for another surgery to fix more damage from this injury. This one has been the 'gift that just keeps on giving' for over a year now. I still have lots of swelling in my foot and leg and can't seem to get past the problem tissues, hence all the surgeries.
The worst part? The dam* colt who was only a month old for the pics is now a long yearling, almost 16 hands tall himself and a freakin MONSTER because I haven't been able to handle him like he should have been. He's sweet as he can be but he doesn't understand giving to pressure, gets upset on halter and lead and tends to rear (now that's an impressive sight), and he's MOUTHY as all get out. And I have US National Champs to ride in in Oct and then Color Congress where this colt is to be shown for the first time, in the very first part of Nov! GRRRRRRRRRRRR
Here's young Harley the day of the photo shoot: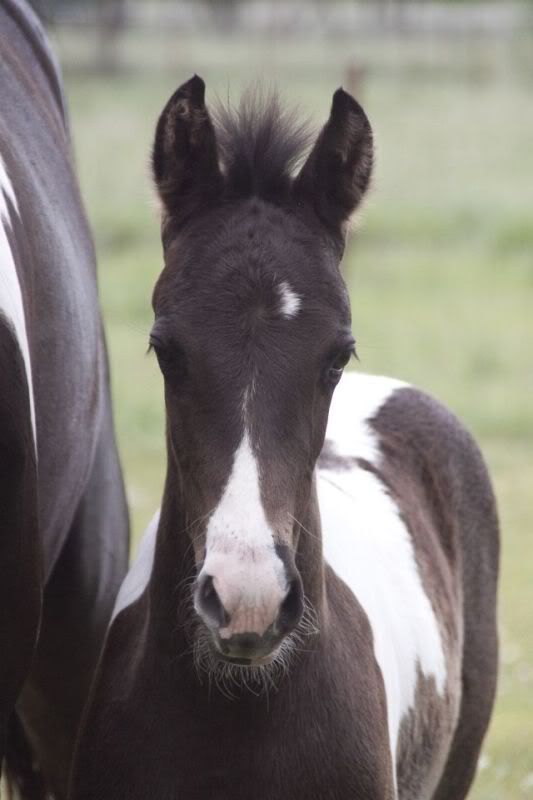 And here he is last month: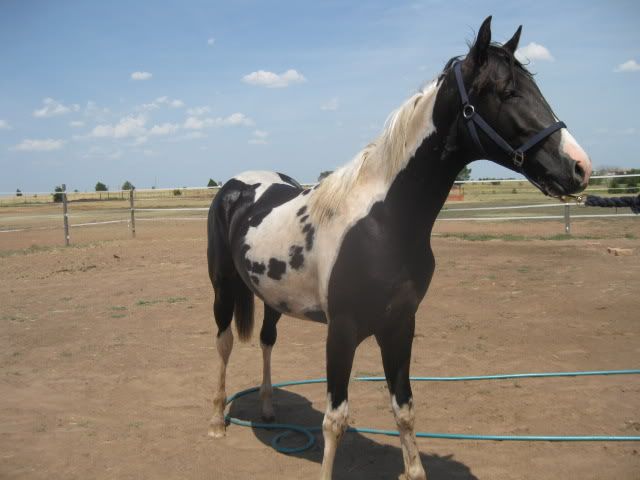 My injuries were too graphic and I won't post pics of that. Suffice it to say, that will all the pain and trouble I've had, I'm very happy to still have my foot.
---
I just got bucked off my first horse last monday
broken arm, in 2 places.... Lessons learned.
Quote:
I just got bucked off my first horse last monday
broken arm, in 2 places.... Lessons learned.
I forgot we took a pic at the emergency ward
emerg-small.jpg