Pros/Cons of a 1 horse straight load
---
Hi! I'm new here. Haven't yet posted to meet the forum but I thought I'd ask my question before I forget it. Haha

I'm looking into owning horses again and I've been looking at either a 2-horse straight load or a 1-horse straight load.
I'm sure slant is the best but I cannot find anything within my price range that is a slant.

What are the pros and cons of a straight load?
If I were to get a straight load, would a horse be more willing to go into a 2-horse?

I understand with proper training, a horse should be willing to load in any trailer but I'm trying to get a horse's prespective of this.
I've never used one, but it just seems unsafe to me. Tight, cramped space and all. And claustrophobic for the horse. I did have a two-horse straight load for awhile, and it did its job all right, but same scenario. What about a small all purpose stock trailer?
I am not sure where you are located, but as far as I know, they don't make 1 horse straight loads. Any single horse unit I have seen is homemade, which I would avoid.
I have thought about a stock! One of the 16' WW Stocks.
I think they made more of them back in the day, but they were produced by actual manufacturers (like maybe WW?). Scariest one I ever saw on the road, though was this awful three-horse monstrosity. It was a straight load....single file. Imagine loading horses in that one....
Inline trailer, yes, horrible. And extremely difficult to back.
So that's what it's called! What kind of drunk idiot designed that crap?
I'd rather have this one!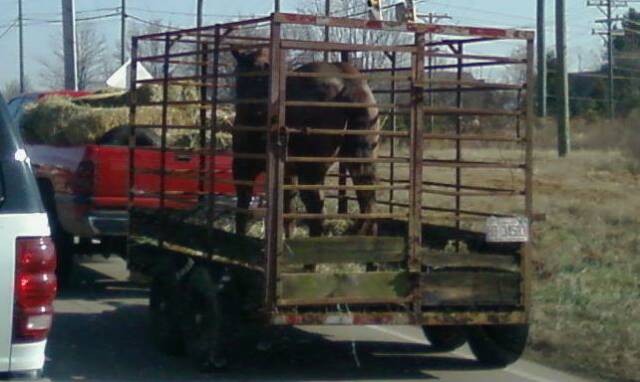 Looks like I'm going with a good stock trailer.
Posted via Mobile Device
If you get a good deal on a two-horse, and if you're only going to be hauling one, I wouldn't necessarily pass it up. At least look at it, because some people like them just fine.
I knew a person who hauled 2 horses from Manitoba to BC in a two horse inline. She bought it specifically for the trip, she went to her vet for instructions on feeding & care for this 3 day straight driving adventure. Vet said don't unload those horses until you get to where you are going, because once you do, I doubt they will get back in. Oddly enough, she had no problem selling it once she moved & no longer wanted the trailer. She couldn't pay me to take it.