Quote:
I'd rather have this one!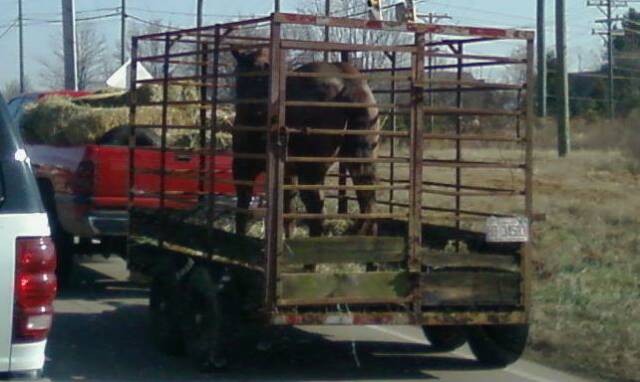 Love this one! It's perfect to transport a tiger. Or a bear.
To the topic, I definitely have seen 1-horse trailers on roads. Just last weekend while hauling my horse to the lesson: not home-made, but by the known company (not sure if it was Bee or Brenderup), so I assume there is a market out there. However I'd never get one. It's really narrow plus doesn't look very stable to me.
---
"Life isn't about waiting for the storm to pass: it's about learning to dance in the rain..."

"When we are no longer able to change a situation - we are challenged to change ourselves."

"How people treat you is their karma; how you react is yours."

That's my fear too Val, the stability issue. They're just far too narrow, in my opinion.
---
You want the truth? You can't HANDLE the truth!
I know a lady that has a one horse Brenderup and I was able to look at it last year. It was wider than I expected as I have a 2 horse Brenderup. Mine is, of course, a straight load. I don't have problems loading my horses and even horses that have never got in it load. The longest was the other day and it took Lokey about 40 minutes to decide it was ok. No problem loading him back up either!

The smaller stock trailers are nice...I know a few folks that have them and they seem to work just fine!
Lady at my old barn has a 1 horse Brenderup. She has a 15hh TWH that is narrow. You could fit 2 of him in that trailer if you cared to.
Teen Forum Moderator
Join Date: Dec 2010
Location: South East Texas
Posts: 7,157
• Horses:
2
we have a 16" two-partioned stock trailer that we just love. Great for all of our horses, from our 17.3hh TB to our 23" dwarf, Little Feather. There's lots of room and the horse doesn't feel cramped. We've never had a horse refuse (except for the young ones who have never been trailered, ofcourse) to load into it.

We also have a 2 horse slant load though, and it works nicely as well. Had a few more refusals than with the stock trailer, but otherwise it's great. Our only problem is the height.
---
Everyone in your life is meant to
be in your journey, but not all of
them are meant to stay till the end.
Endiku, what height is your stock trailer?
i dis like one horses, im pretty sure the horse would go in once (if your lucky) and never want to go in again. i had a small 2 horse straight load, never liked it. got a costom made 2 horse straight load made for the big english horses like 18hh to 18.3hh tall so my horses are happy in it and love it. im not a big fan of straight loads unless they walk themselfs in (2 of the 3 do) we are looking for a 3 horse stlant.

i prefere slants. or stock depending how many horses you have.
Quote:
What in the name of %&%& is this
Scary...
I vote against an inline every time
Dang, that's an overpriced piece of junk. Maybe they are offering $350 to haul it off.
some of the one horses I have seen, the wheels and axels stick out almost as much as a normal 2 horse, Look at some of the pics on the first page of this post. See how much wider the fenders are. The horse part is smaller and they look funny but I wouldnt think stability is an issue. Maybe some of our European friends will chime in but I imagine these are more popular in Europe where as I mentioned every pound counts and smaller less powerfull tow vehicles and much shorter distances are involved. Remember, their countries are the size of our states.
With a single trailer, there is one thing I can add. If you get one, get a double axle one. This is one with two wheels on each side. Don't EVER use a single axle trailer. A lot of single trailers seem to couple that with single axle, and that is just plain stupid.
---
Mods, grant me the serenity to see the opinions I cannot change, courage to change the ones that should change, and the wisdom to spot the trolls.