Sundowner 4h gooseneck w/ living quarters for sale
---
Hellllloooooo, as some of you might know i sold off all my horses so now its time to sell my trailer
Used 2004 Sundowner 4 horse slant with full living quarters with stud stall and separate entry mid tack. Excellent condition. Perfect for a weekend camping trip or a weekend show. The living quarters is fully functional with 2 beds (queen and twin), a 3 burner stove, fridge&freezer, shower, toilet, AC, heat, TV hookup, lots of storage, 2 tables, couch, dual sink, & microwave. The exterior is white with red and black detailing. Loading lights & horse compartment lights work great. 40gal water tank, 40gal waste water tank, 40gal grey water tank, pressure sized water system, city water hookup. Propane water heater. Length of trailer is 34ft" exactly, living quarters is 8ft". Weights 7500 empty, around 12000 fully loaded. Message me for more info and pictures.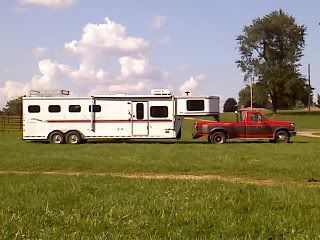 How mich are you asking for it?
---
Feeling down? Saddle up!
I have sent you a message Mbvera.
Posted via Mobile Device
Bumpppppp
Posted via Mobile Device
I want it but I doubt husband will come off the money. I really want it!
---
"Be a best friend, tell the truth, and overuse I love you
Go to work, do your best, don't outsmart your common sense
Never let your prayin knees get lazy
And love like crazy"
Well it will officially go up on the market in May! We are going to put a new floor in and just tune some things up. So you have time im sure it wont sell quickly. Plus you can always make us an offer ;]
Darn, you're close, too! Wish I had the money, I'm in the market for a trailer.