Thoughts on this trailer please
---
At the moment I haul my horses in a stock trailer, but now we have no cows we don't need a stock, and I usually only haul 1 or maybe 2 horses to an event.
I've seen this trailer advertised locally and it looks in nice shape, but also looks tiny
anyone good at perspectives? I will ask for measurements, or just go see it, but what do you think??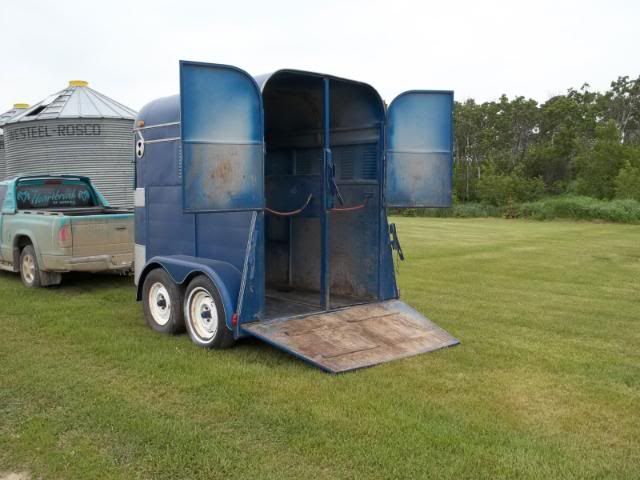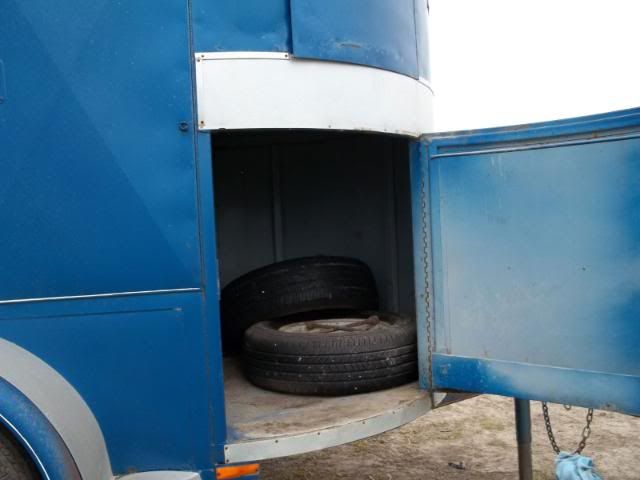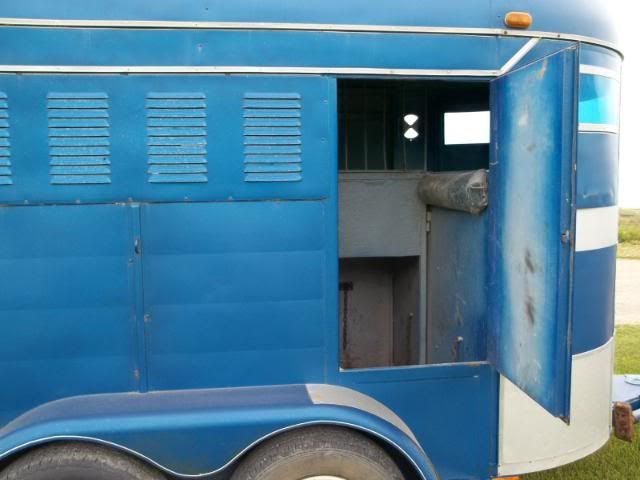 a bit different to my current monster, 20' long and 6' wide
Banned
Join Date: Jul 2009
Location: In a land far far away, or so I wish.
Posts: 12,825
• Horses: 0
I am not font of trailers with hard mangers. If you have a horse that paws at all while in the trailer they can really bang up their knees.
I sold a mare of mine a couple years ago and her new owners picked her up in a trailer like you posted.

I really disliked it. Even I felt claustrophobic just leading my horse in to it.
Posted via Mobile Device
It looks very narrow to me. I would also be concerned about ventilation; having practically nonexistent windows is the main cause of shipping fever.
I grew up with trailers a bit like this in the UK, so not so foreign, but I have grown to love the bigger airier stock trailer, and also the step up loading rather than the ramp.

I just feel bad pulling the **** great thing around with just one horse in it.

I'm also trying to be nice to my son, it looks like he would be able to easily make it work for taking his motor bike up to the hard top so he could ride more often, and maybe could also use it for moving quad bike and ride on mower!

Mmm ventilation does look a bit sparse
I've used a trailer similar to that one for years without any ill effects. Mine was 6' wide and 6 1/2' high. I agree that the hard manger is a drawback but not a deal breaker if the price is right and it is in good mechanical condition.

As for taking the quad and lawn mower, you need to know if the center bar is removable. What I used to do with the one I had was to remove the center bar and the center divider (unless I was hauling 2 horses - which was rare) and let my horse have the whole area. He would always end up riding slanted. As for ventilation, you can easily add that.
---
I'm not arguing with you, I'm just explaining why I'm right.

Nothing sucks more than that moment during an argument when you realize you're wrong.

It's not always what you say but what they hear.

I can see why you would want to pull a smaller trailer. :)

I personally prefer the stock type of trailer but would look at this one IF the center bar is removable. I have heard of to many horses that don't like the narrow opening.
Nothing I ride would fit in it. It is not a "welcoming" trailer and many horses may not like it. I would far prefer a stock trailer. A BIG stock trailer (as in tall).
I have a two horse straigt load and love it
Its the same width as my truck and hauls awesome
the size can be deceiving, like i said my trailer is as wide as our Nissan Titan and my AQHA mare and my friends 16.2hh Percheron Mare can fit in there and still have wiggle room.
One thing done differently is that the horses walk in there alone, you dont walk in there with them.
It took me about 3 hours to train my paint for this and 4 hrs for my mare, but now I haul them all over
they just walk in, you close the door, then walk around and hook their face to the trailer tie, done.
Also, my vet said that although alot of horses dont like loading into straight loads, it is easier for the horse, becuase they are standing and balancing straight forward with the motion of the vehical, not sideways
Even though I wish i could buy one of those new three horse slants
i hold positive feelings towards my old straight load.
---
Last edited by Thyme; 06-27-2011 at

11:12 PM

.
Also you can add pads to the manger part.