Jealous! Very jealous of all these rigs!
Here is mine! Bought this September just to pick up my new guy and trailer my boys around.
It has since been cleaned out, mats thru the car wash, added some white tape to make it look pretty. The front has two openings, one to the horses and one as a compartment for storage. So far, I have my tools in there and a spare lead rope. Other than that, I love this little thing. We are only going to use it for short distance trailering, anything more I'm asking my farrier for trailering. He's offered to take me to some horse shows in the area with his group.
---
Grooming - The fine art of brushing the dirt from one's horse and applying it to your own body.
You guys make me wish my trailer was bright red! Lol.

That is very interesting Faye. I might move to the UK. Cheap gas, cheap horse vehicles that would be so much easy to back up and pull into places. Lol
---
Lettin' the cat outta the bag is a whole lot easier than puttin' it back. -- Unkown

Green Broke
Join Date: Oct 2010
Location: Some times Llanelian - North wales, sometimes Hull in East Yorkshire (UK)
Posts: 3,679
• Horses:
5
chevy princess - far easier to back into places thats for sure, however believe me when I say You would never get one of those long trailers up the country lanes here. once you get out of town, if you are not on the motorway then it is likely that you will be on one way with passing places roads.
Even in towns, remember that some of our towns were built Pre 1600's (and certainly still have the road lay out of that era) so are narrow and winedy. Very often I am terrified about whether or not we will make a turn or not. I personaly would Never go for anything over 30ft in length as you'd struggle to go to anything but the biggest shows which are straight off the motorway.

I wouldnt say the vehicles are cheap. Teh ifor williams trailer, which is pretty much the basic model will set you back at least $8000.

My lorry cost £9000, which is $13500 for a 20 yearold vehicle!
---
RIDE your horse FORWARDS and keep him STRAIGHT


Those lorries are certainly cool! I wonder why they aren't popular in the US?
I've never had a truck or trailer- we board at a stable where the owner is more than willing to help out if we need the use of a trailer, so only a few people have them, because most of us don't go anywhere much. The vets always come out to our horses and we have some trails around, the few people who show have their own but I don't show.
But my dream truck and trailer would have to be:
A dark gray Ford F350
And for the trailer....since this is a dream and I have no need to be realistic, I want these two.
I'd want this Featherlite living quarters model for camping: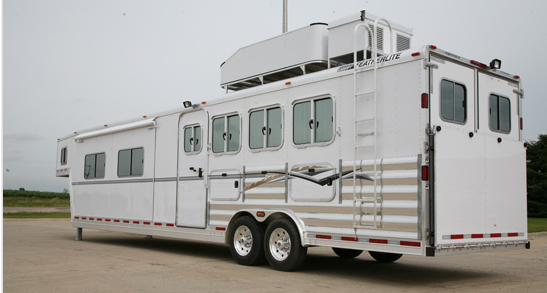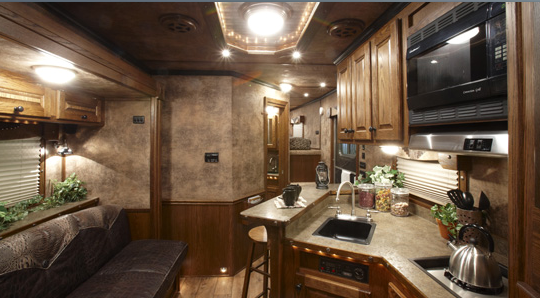 And a cute little red stock trailer for average trips:
(TBH, my mom and I fell in love with one like this in front of Tractor Supply, lol)
Those lorry things are neat..never seen them.
If Ihad a trialer with living qaurters i would seriously live in it. Id prob prefer that to an apartment.
Green Broke
Join Date: Aug 2009
Location: Vancouver, British Columbia
Posts: 2,808
• Horses:
2
Here is my truck - 2004 Ford F150:
Here is the trailer I want...I might get one over the winter or wait until spring since I won't have anywhere to put it (I live in the city...no room for it really until spring) but definitely gotta get one before summer!
2002 Hawk 2h with dressing/tack room.
---
passion is when you put more energy into something than is required to do it. it is more than just enthusiasm or excitement, passion is ambition that is materialized into action to put as much heart, mind, body and soul into something as is possible. // <3 starlite - dream - lady - georgia
Can you write off the LQ trailers as a second home?
---
You just have to see your distance...you don't have to like it.
I got two trailors, the first one is small, old, and cost me only $500 bucks, plus, its the same color as my kid's pony! The second one is a three horse slant, with tack room. It was a repo sitting on the side of the road, and I got it a few days after getting my horse and not being able to load it into the pony trailor.
I am glad to have em both. The three horse is often overkill, and I anticipate my kids pony doing more lesson local trailoring work than our two trail horses, so I am glad I got the little cheap trailor as well!
---
...............
................
It's better to stand in mud, than manure!