Sounds like a con artist.

I have a trainer that had me thinking I was crazy. I took him a horse, didn't sugar coat a thing, told him all the crazy stuff she did and how I was totally at the end of my rope. Basically told him she was Linda Blair in the Exorcist. So......first 30 days, he asks if I sent him the wrong horse, she's so sweet but nervous. Just works herself into a nervous sweat every time he rode her or worked with her, but manageable. LOL! I was impressed and it convinced me that I was to blame, so I paid for the 2nd 30 days......and the switch flipped. He called me after 4 more days and said, "OK, you weren't crazy, lying or mistaken. This mare is nuts and I'm wasting your money, please come get her." She ended up kicking at her stall neighbor before I got there and fractured her leg, so ended up being put down.

I have since sent him 3 more horses and they have all turned out wonderful! Very sane, calm and super easy to ride. Unfortunately, he's in OK not TX or AR, or I'd suggest you send your horse to him.
---
Sounds like a trainer of already trained horses to me. If he's offering to start horses I would assume he would be ready, able and willing to deal with the bucks and shananigans that can come with that. Mine just finished 60 days with a local trainer so I could watch. Mocha was cheeky and put him through some paces but this guy rode it out of him and could deal with anything that Mocha threw at him. I'd be asking for my money back period.
There's something funny sounding about this to me. He took your horse to break in and is complaining about the horse moving when saddling, kicking when having a flank girth put on and being wild?
I'd be looking to see just how many horses this guy has actually broken in.
Showing
Join Date: Jun 2011
Location: Cariboo, British Columbia
Posts: 11,775
• Horses:
3
Saying the horse is proud cut is very unknowledgeable, and saying it's wild is the reason you brought the horse to him in the first place. Lousy schmutzy trainer who stole $300 from you. Sorry this happened to you & your horse, don't give up however, there is many good trainers out there that if anything, undercharge to stay in business because most people can't pay them what they are worth. Join local equestrian & riding clubs and attend their meetings, you will tons of good leads there. They also hold clinics by good trainers so you audit the clinic & if you like what see, you can send your horse to that trainer. If might be a bit more expensive but at least you got quality training, not a hurt hoof, no training & a loss of $300!
Posted via Mobile Device
Next time you come across a trainer who claims he trained horses for George Strait, tell him to give you George's number so you can call him as a reference.
Thank goodness the worm didn't have the horse any longer. You are $300 poorer but you saved your horse!
---
If you ever find yourself in a fair fight, it's because your tactics suck. ~ Marine 1SGT J. Reifinger
Thanks for the support, everyone. I'm so upset, I can't even think straight. I've been seriously discouraged and disappointed...I just don't know what to feel right now. It's a mix between heart ache and anger. My grandmother called this man and asked for more information about how my horse was acting. When he told her the same story, she told him "Well, this is just breaking my grand daughter's heart". To that, he replied "You can get over a broken heart, but you will never get over a broken neck. I would suggest that your grand daughter stay as far away from that horse as possible".
WRONG. You can get over a broken neck. However, if something were to happen to Lakota, my broken heart would be permanent.
But like I said, Lakota has never been disrespectful to anyone on our farm, so I doubt that I will suffer a broken neck. And if I do get hurt, that's just a risk you take when you own any horse. There's no such thing as guaranteed safety with horses. -.-
---
Nothing of worth comes with ease. <3
I think to prevent getting stung, we need to set it up with a trainer that we will pay in advance for one week only, and then the second week, and so on. If the trainer has a problem with that then look for someone else. We can't just send the horse off, we need to be there, not every day but often. A friend spent a year and a half researching trainer, checking references, etc before she settled on someone and she has absolutely no regrets. Even took lessons with the trainer. Smart move.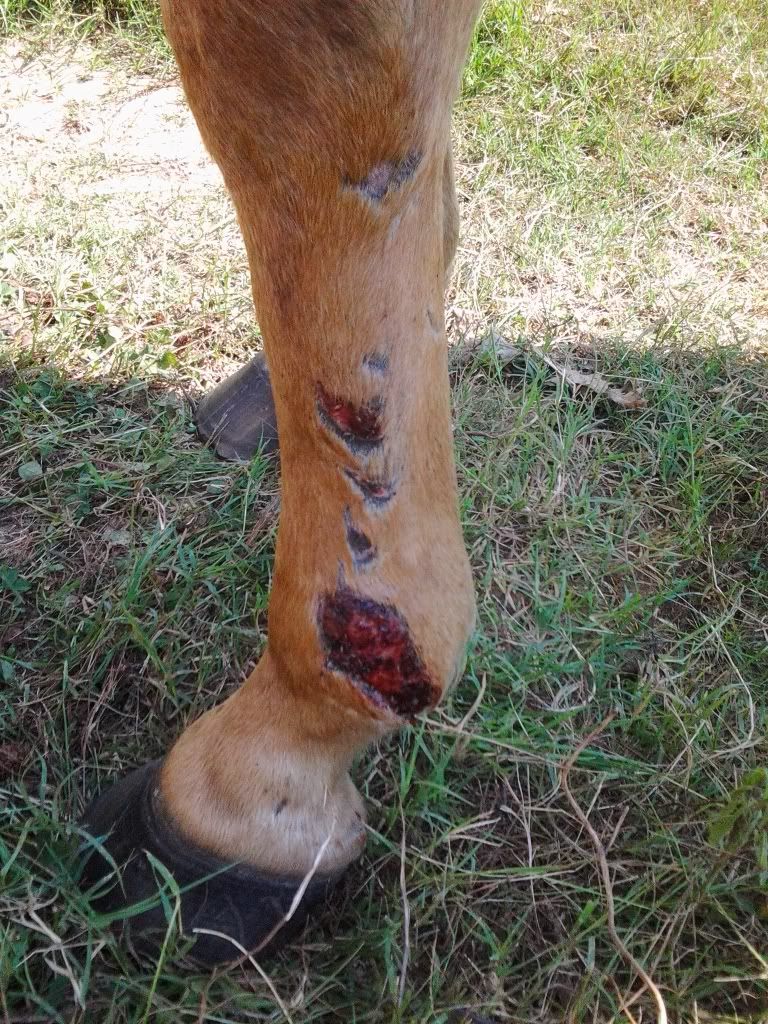 Here is a picture of his hurt leg.
Posted via Mobile Device
---
Nothing of worth comes with ease. <3
Showing
Join Date: Jun 2011
Location: Cariboo, British Columbia
Posts: 11,775
• Horses:
3
Those cuts are very fresh and hasn't even swollen yet, the horse might've done that in the trailer, or just before you picked him up.
It really sounds to me like the guy maybe hasn't trained many, if any, horses from scratch. I have trained quite a few, both youngsters and some up to 5 or 6 years old, never touched by a person; probably not more than a hundred, but somewhere between 70 or 80 to a hundred horses, most of them I have started, gotten going OK and handed them off to the owner, a few, usually my own horses, I have had the chance to really get going over years of riding. And in all that time it would have never occurred to me that, as the person training the horse, if the horse was "wild", moved while being saddled" or "kicked at a flank girth" it would have been anyone's fault but mine. Really, thats the whole ****ed point of training a horse, so that they don't do that stuff. It kind of seems to me that if the guy complained about that stuff while allegedly trying to break in a horse, HE has some problems, not your horse.
As for the cut, he may not be responsible for that, horses more than any other animal, it seems, can always find a way to hurt themselves somehow.