1st Night ride, 4th bareback ride, 8th ride total
---
I've ridden Jaxxon eight times now. We've been mainly working on the walk/trot/halt, and he's gotten very good at it.
My cousins rode down a little while ago and wanted me to ride with them for about an hour, so I grabbed Dakota's bridle and hopped on behind my younger cousin to go find him. We rode around to the green gate, and I heard one of my horses nicker, and couldn't tell which horse it was... so while they went on, I hopped off and went to catch Dakota (I figured if one of my horses was around, the rest were too). Instead, I only found Jaxxon.
After debating on it for a few minutes, I figured 'Why not?' and put Dakota's bridle on him and fitted it to him. Jaxxon had never been ridden with Dakota's bridle, and he'd never been ridden at night or with Buttercup and Patch.
He did so well. I'm so proud of him. We trotted a bit with my cousins, and not one thing startled him, not even the flash on my camera. He was just fine to follow or take the lead. We rode around the Loop twice, up to my house and back, and to the stop-sign twice before my cousin's had to leave and I decided to take Jaxxon down the road by himself back home, instead of letting him go with the other horses.
He was excellent, didn't try to get back to the others, didn't call for them, just perfect. On the straight going towards my house, I decided to try and see if he'd canter for me bareback, since he was doing so well. HE DID! He was very willing, and it took me a few seconds to get used to his canter (it's so different from my other horses, but he's a different breed, so it's to be expected). Neither of my other two horses will canter bareback (Gypsie likes to take off and not stop, and Dakota likes to kick up his heels and play-buck), so I was extremely proud of Jax that he did it so willingly, and he slowed down so well!
I'm not going to ask for a canter again for a while. In fact, now that Jax has what I call 'the basics' (walk/trot/halt) down, I'm not going to be riding him much until next Spring/Summer, so he'll be three when the harder work starts. Instead, I'm going to be working on ground-work a lot this winter, lunging, building muscle and a topline, in-hand backing, flexing better, disengaging, etc... and maybe ponying if I can get my mare to tolerate him that close, lol.
He's coming along so nicely!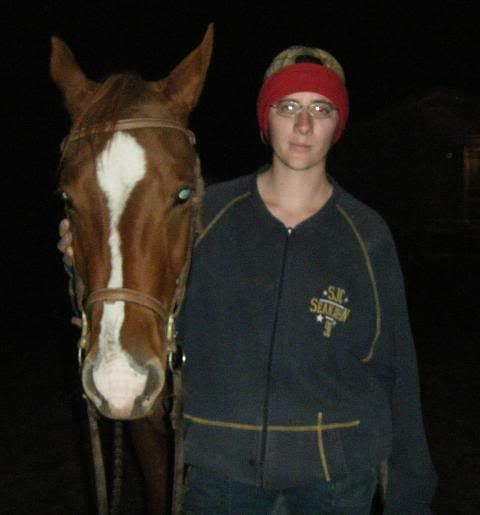 ---
Horseshoe Loop Farm: Home of Gypsie (22 y/o TWH mare), Dakota (10 y/o TWH gelding), Codie (18 y/o Walkaloosa gelding) & Harlow (9 y/o APHA mare)
Green Broke
Join Date: May 2009
Location: Winnipeg, Manitoba, Canada
Posts: 4,510
• Horses:
2
That's awesome!! It's always nice when it goes so well! Haha, Jynxy came along BEAUTIFULLY but bareback has actually been her "problem" area. I've always ridden my horses bareback, and she was having no part of it last winter! I could get her to walk and a bit of a jog, but the second I asked for a canter, she would SLAM the brakes on and start crow hopping! I gave her another year to mature, and actually tried again last month and got a rough canter out of her but at least she didn't pitch a fit! We're slowly starting bareback again now that she's three and a half, a lot more balanced and it's going well so far! Mostly walking, a bit of jog, she's had the last while off to gain weight so hopefully it continues going well!

He sounds like a fun horse to work with, congrats!

---
Quote:
I hope God tells her to smash her computer with a sledgehammer.
That's wonderful. Sounds like your doing a great job with him.
---
The wind of heaven is that which blows between a horse's ears. ~Arabian Proverb

Thanks!

I'm still reeling with proudness over Jaxxon! Haha!
---
Horseshoe Loop Farm: Home of Gypsie (22 y/o TWH mare), Dakota (10 y/o TWH gelding), Codie (18 y/o Walkaloosa gelding) & Harlow (9 y/o APHA mare)
Great job. He's a cutie.
Posted via Mobile Device
Thanks!

I'm going to give all three of my horses a 'spa day' tuesday, instead of riding and training.
---
Horseshoe Loop Farm: Home of Gypsie (22 y/o TWH mare), Dakota (10 y/o TWH gelding), Codie (18 y/o Walkaloosa gelding) & Harlow (9 y/o APHA mare)