Acheiving Self Carriage; Balance
---
I feel like a majority of the time I am fighting against my horse's natural way of going. As an arab/cross, she tends to trot short and choppy, canter with her a leaned front shoulder, and carry her head higher than I imagine is deemed acceptable. There are moments where her back softens and rounds a bit and the head does drop slightly, and she is aptly rewarded for whatever try she musters. I've tried side reins, a chambon, trot poles, flexion and suppling exercises, and the improvement just seems so reliant on whatever device I choose to use. How can I convey to her, drive the point home, that I don't want to restrict her, but I do want her moving in a more efficient way? Right now I am doing alot of canter-trot-canter transitions, and while although I do see improvement, it's not remarkable.

I work with a trainer once a week (not enough, lol) and am planning on going with her to a training barn for 60 days. I just want to work on this a bit in the interim, and get your ideas. Thanks!
You're on the right path with the trot-canter transitions. They're the best transitions you can do to help a horse use it's back :)
It would be great to see a video or even just photo's of you riding her in trot and canter. Because I could go on forever about what you could do to help the problem, but it is possible it is something simple that you're doing with your position that is making all your efforts seem useless.
But as a generic answer:
1. Make sure she is using her hind legs. If she's not working those back legs you don't have a hope of getting to to use her back and stretch into the bridle.

2. Keep the rhythm. Try riding to music to help keep her going at the same tempo. A horse that is constantly going slower and faster will not be able to use its back, swing the hind leg through and reach into the bridle. The rider must keep the tempo by using their seat. You cannot keep tempo with rein unless you're horse is a natural 'rhythm machine'.

3. Straightness. If you put her onto a 10m circle in any pace, do her shoulders 'slide' to the outside so it feels like you're riding a motorbike around a bend? Without straightness you will have great difficulty getting the hind legs to engage and the horse will not be able to come onto the bit. Keep your weight evenly on both seat bones, put her back on the 10m circle and ride with slight outside flexion. The shoulders will come back into line and the body will straighten. Ride in slight counter flexion until you get the feeling of a straight horse, then put her back in correct (inside) flexion.

4. Teach her to leg yield. Leg yielding is a fabulous tool for teaching a horse about an outside rein and to step under with the inside leg. I frequently use leg yielding with any horse I ride, and teach it just about straight away. It is a fantastic way of picking up canter on a circle, teaching bend, etc. You'll see a difference ;)


I could go on... hence video/photo's would be great!
Kayty-- good idea with the music! I'll have to try that one myself!

As for my advice on this, try riding bareback some. It's helped me get the feel of my horse tremendously.
---
Do not go where the path may lead, go instead where there is no path and leave a trail...
I'd say a majority of these problems are observations I make while lungeing her. I want to get her body movement right with her alone, before I add further confusion with my weight and far from professionally apt seat. Here are some lungeing pictures from January of this year. This is close to how she is now, minus whatever was accomplished after we starting using the side reins in late February. Mind you, we didn't really start any significant canter-work until late March, and now that she is actually starting to find some rhythm, reliability and comfort in that gait I recently added the transitions. The last picture is how she runs in the field, which is, lol, proof that this is an ingrained habit. As for video, I have a camcorder and will record some footage, interested in hearing your thoughts.
The chiropractor and various others do chalk some of the problem up to her conformation, which is fine - I'm not looking for some forced frame or nose-to-the-ground lope like a WP horse. To me, the issue is more her hind, and especially the concavity of her back, because it seems like riding her in this state would be a bit harmful and distribute an awfully lot of stress over time, with her not actually carrying my weight, but bracing/bearing my weight.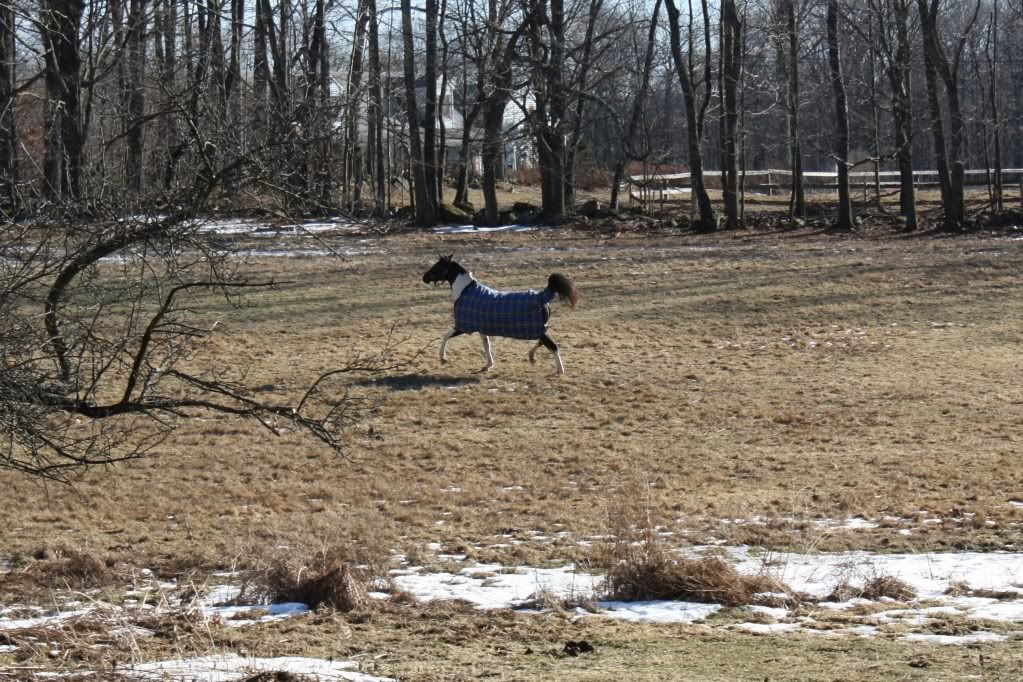 Love the photo of her in the field!
I think you're right in that she's protective of her back. My horse is a bit like that, and I found the use of a sheepskin (real wool) half-pad, right next to her skin (not over another pad to keep it clean
) a big help. Also I had to make an extra effort at first never to lean forward-- which was hard for me.
I taught her to yield to the halter, then to the rein, left-right-and down, from the ground. Then from the saddle. TONS of walking. Now she will often go TOO low, so I have something new to work on. But she's learning to round her back, and that's the main thing right now.
I am not worlds greatest rider, but my last gelding did many of the things your mare is doing. It is probably a combination of weak topline/ingrained bad habits/and your seat and aids. My gelding would brace and bulge and stick a shoulder out or twist his face, sometimes even shorten his stride and hunch in order to avoid rounding and going on the bit. With more practice and building of the top line, this improved substantially on it's own. With more riding hours, training and instruction, I learned that I was stiff in the hands, and the more stiff I was the more his movements affected my posture and balance. He would throw me onto his forehand which defeats the purpose of collection all together, and is usually what makes a horse feel so "choppy". Once I took more lessons and rode more often, I had better relaxation and was able to prevent him from falling onto his forehand through my seat, and I was able to relax more and be more giving through my hands. I did 3 months of training, and got my horse and myself in great shape an really connecting with one another. I think you are on the right track by doing the same thing.

I would like to see the lunging pictures with the side reins. And have you checked the saddle fit?
Ok yep, I don't think it's a protecting her back issue, she just doesn't know how to use her back.
I would put an outside side rein on her for starters, and run your lunge rein through the inside ring of the bit and clip it onto a roller or girth of your saddle. If you can invest in a roller that would be ideal as she doesn't have the added weight of a saddle on her back while she's learning to pick her back up.
The outside rein needs to be firm enough to encourage her to stretch into it, if it's too loose there will be no contact other than her getting banged in the mouth every stride, so it needs to be reasonably firm but not to the point where it's pulling her head in. Without an outside in lunging, whether its a side rein, draw rein, etc. your horse is not going to benefit greatly other than maybe building up some fitness and learning to resist. He will build muscles in the wrong places and become very crooked. The purpose of lunging, particularly when trying to teach a horse how to use itself correctly, is to engage the hind legs by creating energy behind, which will travel up over the horse's back and through to the bridle. The 'front door' (outside rein) must be shut in order for the horse's back to engage and swing, if there is not outside rein the power you create behind will simply come straight out the 'front door' and you'll wind up with a horse who travels overbent to the inside and drops the shoulders to the outside. This will give you a crooked horse under saddle and you'll wind up with back and joint issues in the long run.

Now the running inside rein, if you are lunging directly onto the bit or only a cavesson, you have little influence over the inside flexion, the horse can easily drop it's shoulder and you will again wind up with a crooked horse. When the horse is more educated in its way of going, you can start lunging directly to the bit, but I always like to start my green/young horses with a running inside rein. You can control how much inside flexion you want and to a degree you have more control of the bend of the horse's body as well. You're not going to hit her in the mouth using a running inside rein either, which is going to help her confidence in taking the bit and stretching into the bridle. If she goes to take off, you can simply take that inside rein and pull her head around to her shoulder to stop her, where as with the rein connected directly to the bit she can just drop the inside shoulder and run on ;)

To put that all together, you've got a steady outside rein, an elastic, giving inside rein and a driving aid with your lunge whip, which you can use just like your legs if you were under saddle. So to drive her, use the whip behind her and stand level with her girth, if not a little behind the girth. If she's not travelling forward with those hind legs, walk a little towards her hind quarters and flick the whip at her until she goes. Now you want to engage that outside rein and ask for a little inside flexion, So as you're driving her up, you want to take a little contact on the inside rein, gently asking her to bend her poll to the inside. You may find that she'll want to resist that and stick her head in the air, so to combat this, bring her in on a slightly smaller circle around you, and point the whip towards her girth, like an inside leg, while feeling your inside rein. As soon as she gives (you'll see her inside hind leg come up underneath her and her whole body will give) allow her to move back out onto the larger circle.

Voice aids are your friends ;) Teach voice aids, she needs to know walk on, trot, canter, woah and steady. That way, you can do transitions on the lunge without having to touch her in the mouth. Do plenty of transitions, trot-canter-trot is by far the best for teaching her to use her back. But there is no point in asking for canter if she is not able to track up and give in trot first. So stacks of walk-trot-walks to get her mind thinking and making those hind legs work.

Basically your lunge work needs to reflect your riding. If you allow her to run around with her head up on the lunge, that's what's going to happen under saddle. But if you set your expectations higher, and work really hard on getting those hind legs going, the back will come soon after and as soon as she's worked that out on the lunge, if you use the same aids under saddle she will get it ;)
Thanks Kayty. I do customarily lunge in a roller, and I have tried the running inside rein. My trainer suggested that I lunge her in both side reins - and the running inside rein. They are kept quite slack though, very slight contact. I was looking for a bit more improvement before I tightened them up, but I will try the one outside rein and the running inside rein, and shorten that outside rein a bit. Her head does bob quite a bit when I use the side reins. I make it a point to encourage her whenever I see her neck relax and her head drop, so she knows thats a good thing, but it's almost as if she'll keep it that way, go three strides, and then pop it back up, go three strides, drop it back down. I'm going to attempt what you've mentioned. It sounds very similar to what my trainer advises so I imagine you have a background in dressage. This has been such a work in progress, starting with the hooves, teeth, chiro work - now everyone agrees we're ready to really start tackling this. She's good at voice aids, and doesn't object to being lunged off the bit.

Am I wrong in thinking this training is best done from the ground?
Haha yes you guessed right I'm a dressage nut ;)

The coming up and down on the bit is normal, as long as she starts to realise that lowering her neck is comfortable. You just have to constantly keep in your mind when lunging and riding, that the hind legs are the engine. You can't get anything unless you start the engine, so worry first and foremost about having active hind legs, the rest will come.
As for using both side reins, either way works, but I find an inside side rein just gets in the way if you're using a running inside rein, it doesn't really have a job there if you're controlling flexion with the running inside rein :)

Look it depends on the horse as to whether this is best done on the lunge or under saddle. And also depends on your skills in lunging. But I think you can make less mistakes lunging that will affect the horse's confidence than you can under saddle. You're not going to gob her when she starts to lower if you lunge as above mentioned, where as when you ride it is all too easy to hit them in the mouth as they start to reach down. I've done that myself, didn't expect the horse to lower, wasn't paying close enough attention to my job and as he lowered I didn't give and he hit the bridle, took another week to get the lower and stretch again but he was an ultra sensitive type!