Advice Needed
---
*NOT SURE WHAT PLACE TO POST IN HOPING THIS IS THE RIGHT SPOT*
I'm looking for advice on what route to take with my mare. Some back ground information. Gracie is a 5-6 y/o 3/4 perch 1/4 QH cross. She mainly looks full perch but Ill never know for sure because shes a PMU. Heres where I need the advice. I've owned Gracie for over a year now and she is my second horse. I bought her because at the time I had a "thing" for drafts doing lower level dressage and jumping. Working with Gracie has been a chore itself. She is a very stubbern mare but I'm finally getting her to open up and am harnessing her energy in a positive way. Now that I have worked with her for a while I'm realizing shes not the horse I need. I'd like to be showing dressage this year and I don't think Gracie will ever be a "solid" low level dressage horse. It's not that she couldn't do it it's that she does not enjoy it. Her heart is in trails and jumping. So I'm at a stand still. Do I sell her? Continue training her with the help of my trainer? Or *no rude comments for this* breed her to her well bred TB stud and raise her baby to be my next show horse. IF IF IF I bred her I'd keep her and baby.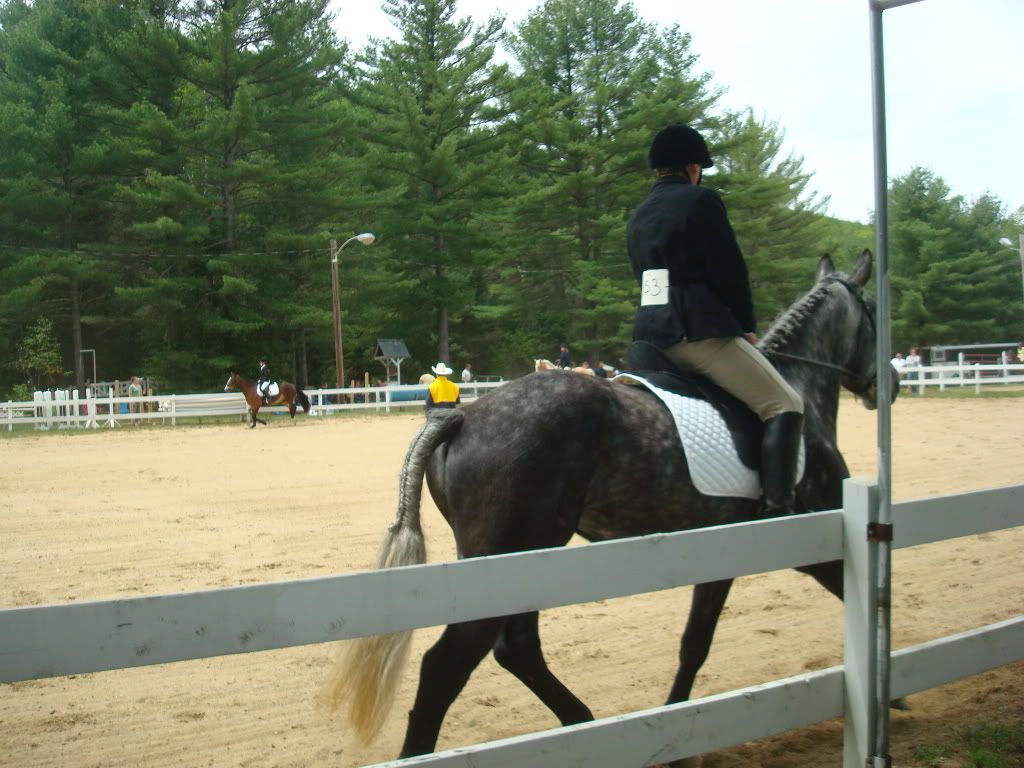 These are a few pictures to give you all an idea of who Gracie is!
---
Last edited by Rebellion; 02-11-2010 at

09:43 PM

.
Green Broke
Join Date: May 2009
Location: Winnipeg, Manitoba, Canada
Posts: 4,510
• Horses:
2
Sell her. Buy what you need. DO NOT BREED HER. She has nothing to offer a foal, and it seems pretty ridiculous to sit around and wait for 5 years before you can even think of competeing the resulting foal. And that's if it actually turns out any better then her. Add the cost up of that breeding up with all required vet bills as well as raising the foal for 4 years after it's born before you can even show it. Now take that money and actually buy yourself something useable for NOW.

Low level Dressage is not that ambitious. You can pick up just about any nag for a couple thousand dollars and compete successfully with the right training. Breeding for a low level Dressage horse is a pointless waste of time, and breeding for an upper level Dressage horse, don't even consider THAT mare.

---
Quote:
I hope God tells her to smash her computer with a sledgehammer.
Thanks for the advice! I got the idea of breeding because my farm breeds and shows perch/tb crosses. I'm not just looking for a lower level dressage horse. I'd like to be able to show hunter/jumper also. I dont need an upper level horse yet as I have my trainer PSG dressage horse to ride and show so I'm taking advantage of that for the time being.
Amateurs shouldn't breed their horses. There's so much more that goes into "well he's pretty and his papers are solid, and my horse is pretty and her papers are solid....". I also agree that breeding for something in the low-levels of something defeats the purpose for breeding for a specific discipline.

Consider this: what would happen if she passed on her inclination for trails and jumping to her foal? Then you'd be out a stud fee, five or six years of wasted time, energy, and effort of breaking and training, or the thousands of dollars you paid someone to get the foal there, and instead of having one horse who doesn't like your chosen discipline, you'd have two.
I wouldnt breed her to just anything. I've raised my first horse from a baby up and I loved the time and bond I shared and built with him. I worked with a trainer to train him and hes turned out great! I'm not saying its what I would do. It was just a thought because I love her and it would be cool to have something out of her as my next show horse. I really enjoyed training my own horse (with a trainers help). I'm turning to all of you for advice because I'm at a complete stand still.
Also, I wouldnt breed to a stallion just because it had nice papers and it was pretty. I'd breed to something that complemented her. Honestly I dont think I would ever breed her it was just a thought that had been put in my head.
It was an exaggeration, I think if you admitted that the only reason you wanted to breed her was for looks, you'd have more than one problem on your hands.

I've deduced from your previous posts in HAF's topics that you're going to do what you have your heart set on, and there's not much we here can do about it. I wouldn't expect too many "go for it" answers on this one, though.
Ohh dont drag me into this lol :P
Hi there.
I think I have to agree with MacabreMikolaj.

I feel it would be best to try and sell this girl and move on to something that floats your fancy. If it were me I would continue to ride and work with her, and be actively looking for another horse.

Have fun
Halfpass
PS, Welcome to the Horse Forum!