Advice for new member with a new horse
---
Hi There, im new and was hoping to get some advice from some more experienced members.
I bought my first green horse this weekend and would like to train him myself so he responds in the way i would like (with the aid and guidance of my trainer of course)
He is a 6 year old leopard Appaloosa stallion(soon to be gelded) roughly 15.2hh. he is also a rescue, we think he was abused because he is very unsure of him self and very afraid of men-he had bitten his previous owner, hard, which is why he was given up.
(Please excuse his appearance- he thought rolling in mud would be fun. will post more pictures once i have cleaned him up)
His registered name is Spotted Eagle, but i think i want to have his short/barn name be Chief- as he can also be registered as an American Indian Horse. also, what colors do you think would look best with him? hes just grey with chestnut spots.
he has been under saddle both with and without a rider, but only in a round pen, and he needs a lot of work yet. any tips or advice on how to boost his confidence and training in general?
this may sound really wierd, but in just looking at the picture of you standing next to him, I see that you are in a weak position with him. You have your back to him and by the short length of rope and your proximity to him, you are almost pulling him into to you. He has his shoulder pushing into you and that is exactly how a dominant horse will move into a less dominant horse.

I would stand in front and off to the side of him and don't allow him to go past you or come up on top of you. If he has some issues, and has done some biting, all the more reason to have a clear leadership position with him and this starts at leading .
He is going to be drop dead gorgeous. I look forward to hearing about his progress.
Don't automatically assume he was abused just because he's insecure and bites. Even if he were abused, you should treat him like any normal horse. It's the same with abused dogs-they are scared and unsure of themselves, and you are only making it worse by giving him special treatment.

Good luck with him, though =)
---
i just talked to the woman who rescued him yesterday-he was in fact abused

and about the picture- it was taken while we were moving. he was getting antsy with the other stallion near by and i was in the middle of turning him in a circle to put him behind me-though its still a bad position.
Personally, I would not worry about getting on him for a while.

You need to get the biting under control immediately, I would come down on him like a ton of bricks the moment he thought about it or made a motion to bite. Not only is it extremely painful and can cause HUGE amounts of damage(take it from someone that despaired of ever breaking my gelding of biting, I was covered in bruises for a YEAR) but many states call for a hefty fine if your horse bites someone. Being an intact stallion that obviously hasn't had a lot of work done with him you are going to have to start from square one, on the ground, and show him you're the boss PERIOD. Since he is six and barely under saddle I would almost guarantee there are some massive holes in his training, have you ever trained a horse from ground to saddle? Even after he is gelded he is still going to be studdy, has he ever been bred?

Honestly, starting on the ground and giving him firm leadership will go a long way toward improving his confidence. Immediately praise what he does well/correctly and make it hard for him to do the wrong thing. Does he lunge at all? Back, disengage, etc...?
Oh, and I think green would love lovely on him!
Foal
Join Date: Dec 2010
Location: Missoula, Montana - Transplanted from Anchorage Alaska
Posts: 83
• Horses:
1
Wow, that is one beautiful horse! I'm not really qualified to offer any advice since I'm new here as well, and I too have just adopted a rescue horse who was mistreated. (I'm sure he was physically abused, but since I didn't see it, I can only take the word of his trainer). He is afraid of people, especially men, and hasn't been ridden in at least 2 years or more. He is a 9-year-old gelding. I have had him approximately 2 months. One of the members here gave me some advice that is working really well. She said to "take your time" and just get him used to having me rub down his entire body with my hands (he is even afraid of a brush). My horse doesn't show any signs of being mean/aggressive, so I'm not having to deal with any biting or invading my space issues. You will get lots of great advice here, so you have come to the right place. The two things that have helped me so far is the "take your time" advice and also to approach your horse with self-confidence, always. Don't baby him and do not feel sorry for his past. That part is over now :) Good luck and please post your progress.
i agree with green! i finally decided on a shade a little brighter than hunter green.
and for the biting, he hasnt tried with me (yet), but he did threaten to nip my boyfriend. and i know from experience about biting too, i had a biter as a lesson horse for school and i came down on him after he got me >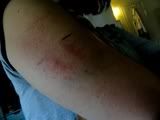 i dont plan on getting on him at all until after he's cut and has re-learned ground manners. i do not believe he has been bred.
I have helped train before, just not on my own(mostly) like i want with him.
my main thing is that right now, he needs his ground manners re-taught, and i'll work from there. he has been lunged (though not very much), he does back up(with a little pushing), he doesnt much care for picking up his feet so i have to work with that too. from what i've heard from the girl who (kind of) trained him before me is that he does saddle and bridle readily, but i'm not quite concerned with that yet
Remember to take your time, don't get antsy, and don't get mad. If you get mad walk away and come back later. Best advice I was ever given from a trainer. The fact that he was abused just means you have to gain his trust again. Simple things like spending time with him and caring for him will help that along. The fact that he is a stallion means NOTHING. I have met so many people who have Stallions and can do anything with them. I have asked them what they did to make their stallion so calm and manageable and all have simply said, "I trained him like any other horse." I have come to figure out that if you treat a horse like a "stallion" no matter the gender it will act like a "stallion", but if you treat it just like you would any other horse it will be fine. I also asked how they managed the horse around mare in heat and I was told that they just taught the horse that there is a time and a place for breeding and under saddle in a group setting was not the time or place. My best advice is to take your time and don't get mad.
Banned
Join Date: Jul 2009
Location: In a land far far away, or so I wish.
Posts: 12,825
• Horses: 0
Quote:
Originally Posted by
AllThePrettyHorses
View Post
Don't automatically assume he was abused just because he's insecure and bites. Even if he were abused, you should treat him like any normal horse.
Best advice ever!