Progress Report!!!!
Since the last time i posted, theres been a lot of progress and a big milestone was reached yesterday!! We've been working on ground manners. on a lead rope, he no longer tries to walk ahead of me, he stops promptly when i say "whoa", he trots(with a little encouragement) and he backs easily. Haven't been able to lunge him yet cause our round pen is very muddy and he needs his feet done badly in the front, so im going to wait till thats all cleared so he doenst hurt himself. he is much less aggressive, but is still pretty un-sure of himself. we had our first grooming session yesterday (but he's still dirty and its too cold to bathe him yet) just need to teach him to pick up his feet. Saddled him, he did ok with that, but didnt like the tightening of the cinch too much. i got on him and had a friend lead us around the round pen =] he doesn't get the whole steering thing or that a nudge from my foot means go, but its a process =] the woman thats helping me train him says i've done well and that he should be good by summer =]
first time grooming =]
All Saddled up =]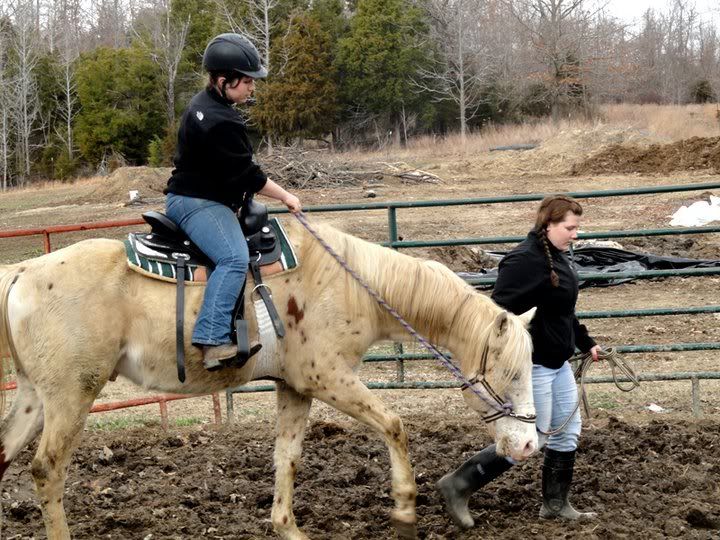 First Ride!!
he did very well on our first "ride". i practiced mounting and dismounting, practiced bending his neck a little, had my friend hold him while i wiggled and changed positions in the saddle. he didnt like me changing positions so much, but he still did well =]
oh, and he did try to roll with me on him- that was the only bad part. but i corrected him the best i could and we continued what we were doing =]
Wow, that is one heck of a project! I can't even imagine wanting to take that on, haha! I'm hoping all the "newness" comments are relating to the forum, not horses/training generally!

Dark hunter green is my favorite color for horses, they all seem to look really good in it :)

I hate to be this person (really) but pleeeease don't tie your horse with a stud chain! If he pulls back he could literally break his face :( Take off the chain when you have him tied.

Good luck with him! He's lucky to have found someone to take the time to work through his issues!
---
that's some gnarly terrain.

one piece of advice, exchange your offside billet with a latigo or synthetic wrap.
Yes, the newness is regarding to the forum, not my experience with horses. I've been riding for about 10 years now, and am majoring in equine management in school. I've helped with training for a few years but he is my first project that im doing mostly by myself.

and as for the chain- i didnt tie him- the woman who is helping me did (she is his previous owner and owns the facility) I wasn't comfortable with it myself, but she insisted it was fine. next time i will use just a lead rope. thank you =]

yeah- it is really rough. im used to really nice indoor arenas and really finished places- im still getting used to it. its a lot better than when they first bought the property- but it still has a LONG way to go. im working on convincing her to move the round pen over to a more level spot, but in the winter they only use the round pen for turnout with the stalled horses, not so much training =/
wow..he looks alot better..

but PLEASE do not ever tie a horse like that!..like Deerly said the chain will break his face..and if he pulls back how exactly are you going to get him untied?? there isn't anything way you could get that off that tree fast..

other than that it looks like he is coming along very nice..I would really push to get that round pen moved..that footing doesn't look very good..
---
I am Sparkly Meanie Doodie Head and I approve this message!
He looks great and you seem like you are doing a great job.

Yeah the footing may suck and I don't agree with tieing him in a chain but I understand how some people can insist on things thier way and seeing as it sounds like the BO/old owner is where you are keeping him you have little say in what she does but I would say as long as you are there do what is right by you. He is your horse now and not hers. Maybe offer your help in moving the round pen, even if they only use it for turn out a horse can slip in the mud, if she still says no just do your best till it warms up.

I can tell you are doing your best to right by your boy, you may just have to stand up to the BO a little bit. I have been in your shoes before with my boy. Things got a lot better once the horse and old owner where not on the same property. I also understand tho that it can be hard to move barns when your means are limited, that's why Dally is in AZ and I am sadly in NM
---
"It's a lot like nuts and bolts - if the rider's nuts, the horse bolts!" ~Nicholas Evans
thanks- I've been working hard with him every chance i could. =]
another thing about the old owner is that its also my boyfriend's(we're planning on getting married in a few years) aunt and going to be my boss this summer (im going to be teaching riding lessons there) so its a little intimidating to stand up to her =/ but it is getting better, im feeling less intimidated and more comfortable speaking my mind, shes letting me train him my own way, just giving advice now and then
(just a note) i dont know if you can tell, but thats a quick-release slip knot. just pull the end and the rope comes free. thats the way i've been taught to tie horses. though i will be using just a simple lead rope from now on. =]
i'm going to see what i can do about the round pen. they have another one but they took it down a few weeks ago cause the tractor had to get through and never put it back up.
Progress Report- and bad some bad news
Progress first- He had his first bath last week, we got him all nice and clean for the first time. i never knew my horse could be so white!
-That same weekend, i found out he could jump =] i took him on a lunge line and had him cross a little creek (he could have stepped through it or even over it if he wanted, but he jumped it!)this made me so happy, cause i wanted to train him to be a jumper
- Finally got him to pick up his feet last month, his feet WOULD have been done weeks ago, but the ferrier keeps postponing, its getting frustrating
- WOULD have had him gelded two weeks ago, but the vet sliced his hand open and also postponed, the procedure was put off until this coming tuesday
-the round pen has been moved, it is now nice and even
-i ONLY tie him with a lead rope
-He let me get on him bareback =] he didnt like me getting on, but once i was up there, he went back to eating grass
BAD NEWS ='[
- my mom is starting to tell me that i cant work as an instructor because it Might Not* pay as much as the boring desk job she has for me at her office.
*it all depends on how many lessons i give a week. i could make half as much or 2x as much, but she doesnt want me to take the chance
- He kicked thru a wall in his stall, supposedly playing with his Jolly Ball. he tore a decent chunk of flesh away from his gaskin, you can almost see bone. the barn owner/my boss (who was a vet tech for most of her life to this point) says it looks worse than it is, and as long as we keep it clean and medicated, it should heal fine. no bones were broken, no arteries severed. she said it would take a month to close up, but im not sure if she said that to make me feel better or what. a vet vet is coming out tuesday anyways to geld him so hes going to look at that too. this also totally halts our training progress, and im afraid that since we have to stop training, that we'll end up beginning back at square 1. once he starts to put weight on it again, Trina(boss) said i should take him on short walks, keep improving his ground manners.
I have a few questions though
How long can i expect for the wound to actually heal? as in, close up, and stop causing him discomfort? (if you look at the picture of him eating grass, see that big brown spot inside his left hock? the place he was cut is just above there)
Will this undo all of his training? we've been working on vocal cues, personal space, halts, trotting on a line, backing..
will this impair his ability to jump in the future? i cant tell you how excited i was to find that he could jump last weekend, and he looked GOOD doing it.
---
Last edited by irishbutterfly; 04-15-2011 at

10:41 AM

. Reason: i noticed that you could spot where he was hurt
well he looks great and aside from some minor setbacks sounds like you are heading in the right direction.

even while injured and after gelding you can still work on ground manners and tying and what not. i can't believe he's a stud btw (i didn't read back to the very first page yet) but he's quite even tempered and def a cutie!

as for the injury, as long as no ligaments or tendons were damaged, it should not matter in the long run. my one horse tore his leg open to the bone and it took almost a year to fully heal (about a month or two to close up) and not only does it not affect him now - he was NEVER lame on it. go figure!

anyway, best of luck with him and keep us posted on what the vet says on tuesday!
btw thank you for making a well written, clear, easy to read post! my eyes (& brain) thank you! :)