Afraid of clippers
---
My horse is afraid of the clippers. We want to start getting her used to them on a regular basis so that she will lose her fear. My MIL suggested that we use them on her horse and let Lily watch because horses learn from each other and she will be much less nervous when we approach her. We know she won't be fine, but MIL thinks she'll be more tolerant than if we work with Lily alone. To be honest, I'm skeptical but what do I know?!

Is this true, will she be more comfortable just by watching other horses get clipped? If so, is there a certain way we should clip in front of her? I can see her becoming more comfortable by getting used to hearing clippers around her, but does it matter if they are on another horse?

My plan is to approach her with the clippers until she gets nervous and then keep them there until she relaxes and calms down and then get a little closer or end the session on a good note. I am going to try to be consistent and do this over time. Basically baby steps until she realizes that they won't eat her up. I'm not in any hurry so I don't care if it takes a week or 2 months.

Any advice?
Green Broke
Join Date: May 2009
Location: Winnipeg, Manitoba, Canada
Posts: 4,510
• Horses:
2
We're going through the same issues with some of our youngsters, and we're just taking it slow. It's really the noise above all else that freaks them out (though some really dislike the vibration) so what I'm trying next for the real tough cookies is taking these miniature "refinement" Wahl clippers you can pick up for like $12. They just run on double A batteries, but they're tiny so my plan is to turn 'em on and leave 'em in my sweater pocket while I do my normal routine. Make the noise normal.
Having her watch another get clipped might help her get used to the different noises clippers make.
The best thing to do it rub her everywhere with it without them on. Let her smell them, rub her face and her nose. Then stand in between your horse and the clippers, and turn them on. If she immediately reacts, don't push the clippers at her. Maybe even draw the clippers farther away. Once she relaxes, move the clippers towards her shoulder or neck and the moment she reacts, draw the clippers away. Repeat until you can work up to placing the clippers on her shoulders or neck. When she flinches or jumps, draw the clippers away. What you are doing is presenting something scary, and when she gets frightened it leaves. So there is no need to be frightened. With repetition she will associate the clippers as something she can tolerate. But don't push it. If she truly is afraid of them it will take a bit of time.
---
In riding, a horse's energy is like a river- guided by the banks but not stopped by them.

turn them on and just stand there, and let her listen to the noise and dont turn them off till she is fine with the noise. And like koomy said, rub them all over her without them on, and then turn them on and let her see them and smell them while there on. the main thing is the noise, it scares alot of horses. its just going to take time and patience.
---
quarter horses.....simply the best
My Thoroughbred had such sensitive skin that she wasn't a fan of getting clipped, and I just took my time. Letting her see them without them being on, then turning them on, but not touching her really sensitive spots til she was okay with the rest of her. Then moving from there. It would help her get over the sound factor if you have her around other horses getting clipped, but when you work with her, work with an attitude of "you're not going to get upset, you will do exactly what I want" instead of acting nervous and thinking she's going to do something, it will help keep her a little bit calmer.
Yearling
Join Date: Jan 2008
Location: British Columbia, Canada
Posts: 1,284
• Horses:
4
Long story short, George my oldest got an electrical shock from a hot wired fence straight down the clippers onto his nose. (don't ask, hubby did a bad thing LOL)
He was never that great about having his muzzle clipped, but that just sealed the fact that clippers are indeed evil.
You've posted some pretty wacky ideas that your MIL has given you, but she's not out in left field this time, neither is your idea.
Also, pick your time. An hour or so after breakfast or lunch when her belly is full and she feels lazy is good. Don't do it close to feeding time.
There's also nothing wrong with rewards. George is a food hog, so I would load my pocket up with flax treats and give it a go. Even if I got the clippers anywhere near him he got a treat. He's still not a 100%, but for the most part he'll suck it up as long as the treats hold out and I pick my time.
Go slow, start on the legs if you have to. Make sure the clipper blade is nice and sharp so your not pulling on hairs.
Here are a couple of pictures from 2 years ago when I was just starting to get him over it. George has the halter on and Kooter doesn't.
Here I've just placed it on his blaze:
Here I'm clipping Kooter and George is pretending he doesn't notice. LOL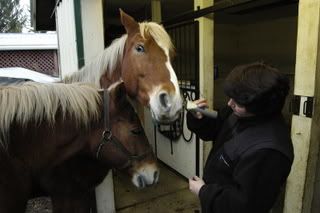 George is still trying to hide:
Here I'm reaching under Kooter to touch George.