Baby Colt
---
As I posted in another thread, I have a new baby colt. He is the first baby that I've owned and I was wondering what sort of things I should be doing with him?

I am already putting a baby halter on him (with supervision of course) and I am rubbing him and touching him all over.

He'll be 2 weeks old tomorrow. I don't want to do too much with him, but then again I want to do as much as is possibly allowed with a young foal.

Any advice? Tips? Tricks?

Anything would be super helpful.

Thanks!
I would continue to touch him all over, get him comfrontable with his feet bein touched and jsut give hima good pat down, and kinda work up to his face and stuff.. just get him very familar with you and stuff.. For now i think you should just keep doin that, but if he is really startin to get confrontable with him bein touched and stuff, maybe you can start sackin out abit.
---
I love my horse. She is the wind beneath my wings.

John 3:16 (READ THIS PLEASE!)
Pick up his feet and mess with him! :) What Brandon said! lol.
---
WHATS REALITY?
Ok will do!
Thanks so much for your replies.
As others have said, just keep him used to people being around him. Touch him all over (I mean ALL over - ears, nose, belly, around his stifle and sheath, between his bum, legs, etc etc, you want him comfortable with ANY place being touched.) You want to instill good manners in him early, so no nipping or rearing up at you (it's "kyooot" now, but it won't be when he gets bigger!) Get him used to you putting your fingers in his mouth (handy when it comes to deworming him!) and get him used to you picking up his feet.
If you want, you can start getting him used to things around him as well, like blankets, tarps etc.
Other than that, just let him be a horse, there will be time enough when he's older to do the training thing :)

ETA:

Good luck! Have fun with your bundle of joy!
---
The lovely images above provided by CVLC Photography cvlphotography.com
You can do loads with new foals! Get him accustomed to everything you would do to a full grown horse. Teach him to lead, touch him every where, pick his feet up, play with his mouth and ears. Brush him, show him everything!

Get him used to the people world now. You can never show them to much.
We need some photos!
Thanks so much for your replies everyone! They have been so helpful!
Here are some newer pics of him: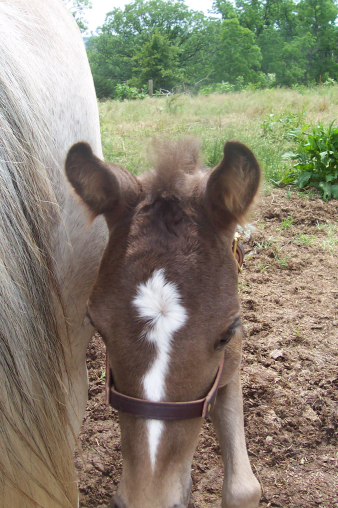 He most definitely has the Tennessee Walker ears - Like his sire.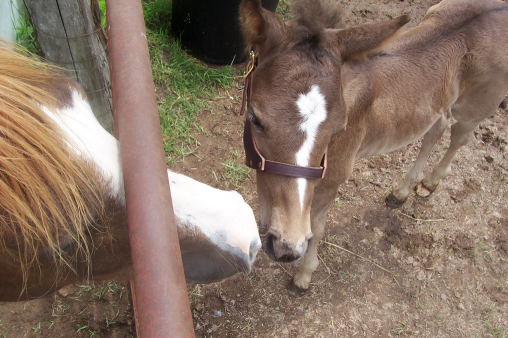 Bruno and half-sister Shicotah. (same dam, different sires)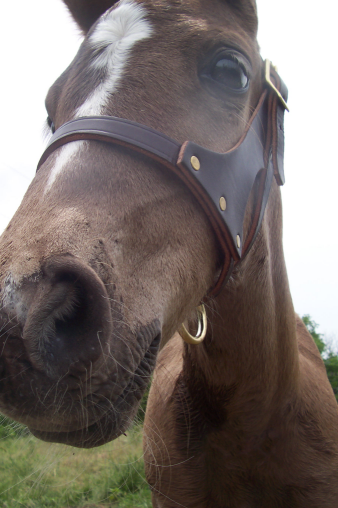 What a cute little face!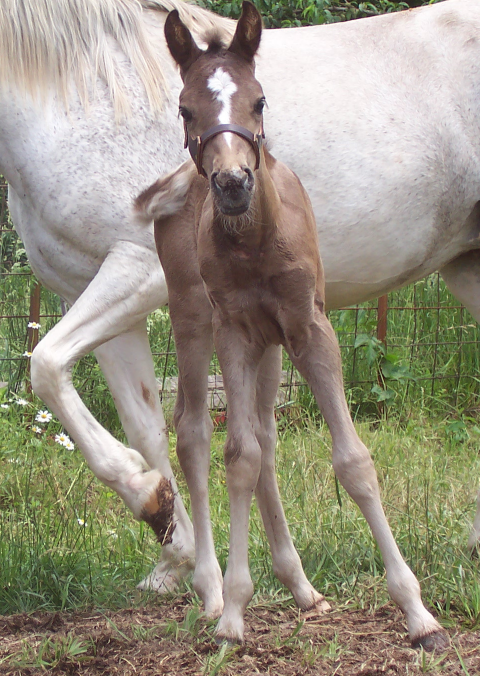 Bruno and his cute little halter.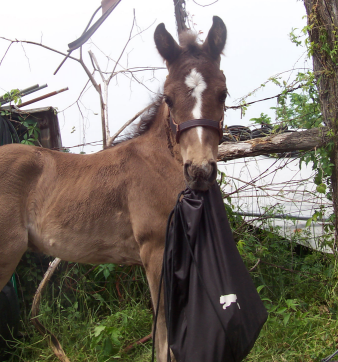 Bruno and his new bag.
OH my gosh to die for. I love that little guy. He is so cute!
Thank you!!!!
I absolutely love the mark on his face.
I guess it would be called a blaze.