Back to basics: restarting my Arab mare! Long post!
---
Last November, I bought an eleven year old Arab mare from a supposedly private seller, who claimed that she was moving abroad in the next month and hence needed to rehome her quickly. Home was more important than price, so she offered the mare to me for what equated to meat money. (Yeah, I know, gift horses, etc...)

The mare was described as being a sensible hacking horse, bombproof in traffic, but had done very little else due to the seller having been too busy with work, etc. Never bucked, reared, bitten or napped, etc, but could be forward going and sharp, so not a complete novice ride. Fair enough, I can handle that.

Well, nine months on, and I now know that the seller was in truth a dealer. And that the mare was used as a broodmare, and occasionally hacked out for half an hour or so. Say once every three or four months. (The seller admitted this a few weeks after I bought her, btw.) Cue emergency vet exam in case of foal - thankfully no!

Contrary to what the seller claimed, my mare does not have a rub on her flank from a non-slip pad. What she has, according to my vet, is a melanoma. Which we are now treating, at our own expense, as insurance regard it as pre-existing and won't cover it - fair enough. Just sad that she never got treatment for it before. Especially since she has since admitted that she knew it wasn't a rub but in fact a melanoma.

Regarding lunge work, well this little horse is terrified of any sort of whip, especially lunge whips. After much desensitising, she now copes with the presence of basic riding crops, but freaks out if they are used on her or if she hears the noise of one. We are still working on the lunge whip. She will sniff one now, and doesn't totally panic at the sight of them, though she still goes rigid. Today, she actually stood still and let me stroke her withers with one. So progress is being made.

My mare has now lost her winter coat of course. Beneath it were several horrible scars - covering the insides of her hind legs. They look as if she was caught up in something: most likely barbed wire. She gets very stiff through her hind quarters if she is kept in too much.

She also has a small scar running down from beneath her right eye. She was extremely head shy at first, but over the past two weeks we have finally progressed to being able to touch her ears, poll and face.

At the moment, she is having time off in the field due to her having been trimmed too severely by the farrier. I told him just to check her over and rasp her hooves but he trimmed as if he was going to shoe her - she is barefoot. So she is footy on hard surfaces.

My OH and I have been talking things over with the vet and our instructors. First off, the vet has stated that she can only ever be ridden with a special thick pad, that has a section cut out of it to protect the melanoma from rubbing. He doesn't want to try surgery as it has a 50/50 chance of making thongs worse rather than better. If the melanoma starts to show signs of irritation, then we are to quit riding her entirely. She could be bred from again though.

Our instructor thinks she is a very tough ride, but that there is no badness in her. Basically, the horse doesn't know most of the basic stuff that she should for being used as a riding horse. So she thinks we either need to sell her, or reschool her properly.

Well, as you can guess from the title, we decided to reschool. She is pretty much unsaleable as she is, unless we lied about her health and other issues to another gullible person...not going to happen. There is one lady who might want to buy her as she owns her half-brother. She wants to breed from her, and depending on the melanoma do long distance riding. But she isn't sure if she wants to buy or not. And the longer she takes to decide, the less inclined I am to sell to her. It's been two weeks since she came to view her, btw. I'm sort of writing her off as a no-show by this point, as still no word on her decision either way.

So this is going to be my thread about reschooling her. We are taking her right back to basics, from the ground up. I'm selling all my dressage equipment and we will be training her to western riding instead. I have an old western saddle that we have used on her once or twice before. She is far happier in it than in the dressage saddle, which she flinches at the sight of. With the western she is completely relaxed.

Wish us luck! Tips and advice very welcome...oh, and she respects my space now too, if anyone remembers how things were before!
---
A moment of patience is worth an hour of wrath...
Good luck on restarting! I have a 19 y/o Arabian gelding who I am in the process of restarting. I had my trainer show me lots of ground work exercises that also relate to under saddle work. I'm not to fond of sending an older horse to be broke, so I'm going the natural route myself and its going good. Remember patience is key!
Patience is so important! I will be having trainers to help us but I won't risk sending her away, as she takes ages to bond with people and learn to trust them. Also, you hear some horror stories about trainers around where I am...just don't want to risk it.

There was a girl who was riding her to exercise and school her, but she got impatient when our mare didn't understand some of the basic stuff, like flexing. She also hauled on her mouth too much, so I have stopped having her ridden by her.
---
A moment of patience is worth an hour of wrath...
I bought an ex-broodmare who was also supposed to be trail ridden at a rental stable and ridden by children. I got her home and she was hot, hot, hot! Pretty good with another horse but a hyper, nervous, barn-sour mess when ridden by herself. But she never did anything dangerous and I stuck it out and now we have a wonderful bond. I love the heck out of her! She has a lot of fire and presence which other riders either admire or dislike. Some folks roll their eyes and others think she is beautiful.
What reminded me of your story is that a couple years after I bought her I met the guy who sold her to me and we talked for a while and he told me how he hated her and never would have bought her but he was just the trainer for the man that bought her at auction and he wasn't present at the time she was purchased. He said she used to "throw herself down" and must have been drugged to have been ridden through the sale.......all these horrible things. And I was thinking, that's not the story I heard when I went to buy her! And she's never done those things with me, to which he claimed credit for training her out of it.
She also turned out to be pregnant, but that's a whole 'nother story.
Anyway, she is a fun, fabulous riding horse for me and I just adore her. She has gone from my back-up trail horse to my favorite riding horse. So I hope your girl turns out the same way. I personally would stick with her for a while unless she is dangerous or something. You guys might just bond and be meant for each other.
I never sent her our for training either. I just rode, rode, rode her and rode her some more. I think we have really bonded and are understanding each other now. It's been 2 1/2 years.
Wow, there are some awful sellers out there, aren't there? We had a while when I thought she was too much, due to her behaviour on the ground, but we have gotten through it thankfully.
---
A moment of patience is worth an hour of wrath...
LOL, I bought an ex broodmare, she hadn't been ridden for 7 or 8 years, she was 17 when i bought her. Someone sat on her and ride her once before I got her, did some ground work, got on, rode, and even took some ribbons at a dressage show on her, sweetest and nicest ride out
Yeah, I lucked out
Golden Horse, I am jealous, lol!
---
A moment of patience is worth an hour of wrath...
LOL, I was just lucky, and had someone looking out for me, who knew how nice this mare was.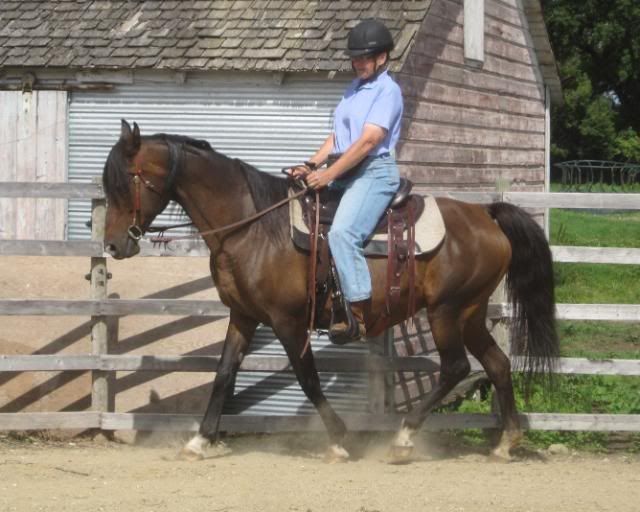 This was my first ride on her having done 4 weeks of ground work
Lovely mare! It's great to hear these success stories too!
---
A moment of patience is worth an hour of wrath...
My gelding had not been ridden for four years when we started our work. He was very lazy. It really helped him when we ride with other horses. He refused to move forward unless he was following someone. Also it helped to pony him up to me and my mare while my fiance sat on his back. I love him to death!
I agree with you about the trainer horror stories. Everyone put here does barrels and I had so many people tell me to force him into it. I think if you take your time with your gal you will grow a lot closer! Post a picture! I'm sure we would all love to see her!