She let me cut out the worst of her dreadlocks yesterday so she doesn't look quite so ratty.:)
---
Last edited by Nightside; 12-04-2012 at

08:58 AM

.
When I first got my horse, she was 8 months old and afraid of all human contact. One thing that played into that was probably the fact that she was taken from the herd with her parents and transported halfway across the country in 4 days in a trailer. She ran from anyone and everyone. Couldn't touch her. Nothing. She was petrified.


She was placed in a smaller individual field. I would go there everyday even if it was just to stand/sit in her field for at least an hour. My boyfriend would sometimes come. We had treats, grain, and/or hay. It was almost 2 weeks before she let anyone touch her - and it was my boyfriend that had that moment of contact with her first (I was jealous haha). It was just a light touch before she took off running.
We just tried to associate ourselves with something good that she likes (treats/food). She would sniff then take off sometimes but we were persistent - not pushy. Eventually, she let us touch her some more. We'd get in a few pets before she shied away again... Taking our time, we eventually got to the point that I could get a halter on her. Once I got the halter on her, I started leading her around. I'd praise her a lot, pet her tons and tons, and talk to her when she was nervous. People would come to her slowly and pet her. She would shy a bit but eventually got used to it.


It's a long process but worth it in the end... So the gist of my little story is to have a super amount of patience, sit/stand/walk around in the field without interacting with them so they can see you're not threatening, associate yourself with good things (if you have to put grain out, keep some distance so they will eat, but time after time slowly make your way closer so they become more comfortable around you). Hopefully after a while you can feed them things out of your hand, which will gradually lead to being able to stay close to them and touch them. Once you're able to get a halter and lead on, just walk them around so they get used to you and their surroundings.

That's my experience at least... I hope this helps a little
I'm glad to see that method works! I know someone else who got ponies from the same place and they were bragging that they wrestled a halter on one and had it starting to lead. I guess the cowboy way still gets results but I'm happy with slow and steady.
Posted via Mobile Device
No real updates to report, just a cute picture!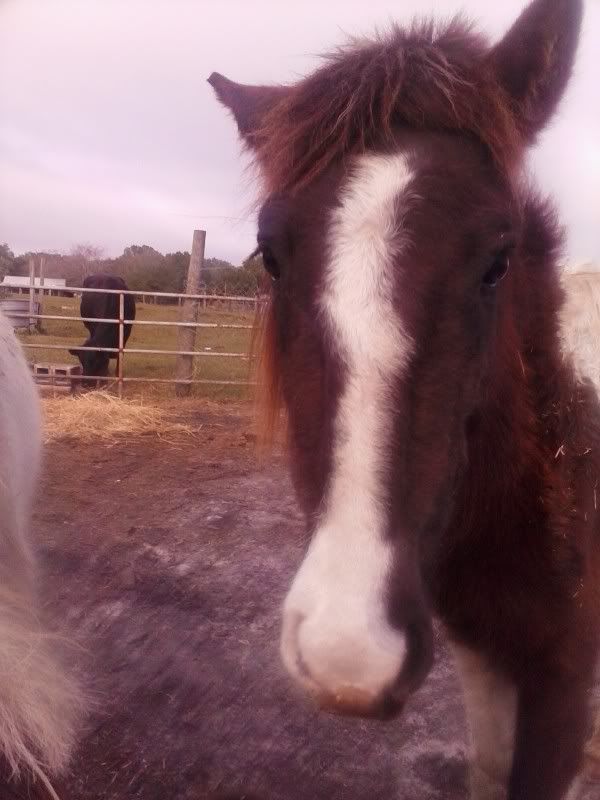 Posted via Mobile Device