Hmm. I wonder if there are any female trimmers in your area? As a barefoot trimmer I meet many horses who have histories of disliking men. Their owners are surprised at how well they behave for me, as for their previous male farriers they were usually quite upset and badly behaved. Of course I don't mean to generalize at all, but if he does have that much trouble with men, if you can find a woman trimmer it might make the process easier for everyone.
I agree with smrobs. Even if you don't tie up the foot, just moving it with the rope helps get the horse used to having feet handled and held up - and it's easier on your back, and keeps your bum out of biting range.

Don't be too hard on yourself - I would bet a pocketful of horse cookies that he 'sensed' anxiety from your friend and that was part of his problem. He may not be perfect for you when the farrier comes, but he'll be better than he would be for your friend. Good luck!
Talked to Cam (the owner of the stable) today. He asked me if Aires had his feet done and I explained what had happened. He was absolutely amazed and kept saying "But he just had them done four months ago and he was perfect!" I mentioned what someone (can't remember who, sorry!) on here said about it being studdy behavior and it was like a lightbulb went off for Cam. He agreed that it more than likely was and then asked me to go get Aires so he could watch me pick up his feet. I got him and "tied" him to the tie ring they have (he's really good on that) and picked up his left front and started cleaning it and slapping it all around the hoof and coronet. He just stood there half asleep. I moved on to his left hind after about a minute or so and picked up his hoof. He promptly tried to kick me, so I smacked him HARD on the rump and tried again. He did much better the second time, but I still couldn't get it to where I could clean it. Did the same to the right hind and got pretty much the same reaction. Moved to the right front and again he was half asleep as I slapped his hoof and coronet and cleaned it. I did that twice, all the way around. Then Cam says "Let me try." He went to pick up Aires right front and Aires didn't completely freak, but you could tell he was NOT happy. He jerked his hoof out of Cam's hand and moved away from him. Cam smacked him (WAY harder than I would have) and Aires immediately moved over to me and adopted his pouty face. I was really having a hard time not laughing out loud. After that, Cam and I started talking about what to do and he decided that he's going to call the vet ASAP to have him gelded and hopefully trim his feet while he's sedated for the gelding. So, hopefully in the next couple of weeks he'll be gelded and then the REAL fun can begin!

I went riding today on one of Cam's horses. His name is Reno, he's a chestnut paint about Aires' size and he's actually Aires' neighbor. There have only been a couple of horses that I've ridden that have had gaits as rough as Reno. His trot is SOOO vertical and bouncy. I would have been able to post to it just fine, but the saddle they have for him is HUGE (probably 18"...there was about 6-7" between my crotch and the pommel) and the stirrups were just about an inch or two too long. The problem is that I couldn't shorten them because the next hole was close to 4" above the one they were on and then they would have been significantly too short! So, I had to bounce along with his trot, which was extremely painful because the saddle had absolutely no padding...at all. And then, as we were coming back, we have to cross the main road to get back from the trail to the stable and my friend (on her little arab mare) crossed first, but I had to wait. When I did go, there was a motorcycle coming, but it was still a quarter mile off, so I knew we had enough time. Well, apparently Mr Motorcyclist decided to be a jerk and actually sped up! He flashed his lights at us and then revved his engine when he was about 100 feet away (I had kicked Reno into a trot, but it wasn't enough). That freaked Reno out and he started galloping toward the stable. Granted, I wouldn't have had ANY problems sitting a canter or gallop in a decently-sized saddle with appropriate length stirrups, but I was in a saddle made for a VERY large man. I ended up almost halfway up poor Reno's neck, but somehow maintained my seat well enough to settle him back down into a walk. I am SOO sore now (mainly from the saddle not fitting me and the spook) and this ride just served to affirm my desire not to ride a western saddle...ever. lol
---
Do not tell me I can't...because I will
show
you that I can.
Aires is acting more and more studdy, so Cam is going to call the vet tomorrow to schedule an appointment to get him gelded. It's nothing major that he's doing to act like a stud, but the little things are getting annoying (tried to bite me AGAIN today, when he hasn't tried to bite in quite a while!). He's still really good about his front feet being messed with, but is a jerk about his back feet. He does well in the round pen now, but if I'm lunging him, I have to use the whip to keep him away from me. My friend has started helping me by turning Aires out during the day or lunging him for a little while (nothing strenuous since his feet aren't trimmed), and he does wonderfully for her (aside from his studdy behavior in his stall). I am not opposed to other people working with him because I don't want him to be one of those horses that only one person can handle at all and with everyone else he's a complete jerk. I want him to be okay with other people messing with him, but he still knows that I'm mom/boss.

You don't have to read this part if you don't want to...it's just a little rant about a friend of mine...
On a slight side note (that is also a mini rant)...I have another friend with a 16yo arab/QH gelding that she got as an untrained 2yo. I appreciate that she is trying to help me and give me advice and support, but I really wish she would stop trying to act like Aires is the same as her horse, Tam. She seems to think that Aires has the same personality that Tam did at that age, but he doesn't. Tam was (and still is) VERY hot and somewhat difficult to work with, even as a gelding, and spooked quite often. Aires is insanely level-headed (I've had older horses spook on me more/harder than Aires has in similar situations) and easy to work with. I mean, seriously, just because it took them a year to break Tam doesn't mean it's going to take a year to break Aires, but she's acting like it will. And when I say it took them a year to break Tam, that was from the time they started working him on the ground/lunging him until the time they had a saddle on him and riding him. She keeps trying to convince me that it'll take AT LEAST six months to get Aires under saddle at all. Keep in mind that she hasn't met Aires yet and she apparently doesn't believe what I have said about his personality. It's just frustrating when she asks about his progress and I tell her (I have two horse friends that I can talk to: her and my other friend that boards at the same stable) and she starts off on some tangent about how it took this long to do the same thing with Tam and how they had to do this and this. I get that, but Aires isn't Tam. And she keeps insisting that he'll have shoes on eventually. I'm sorry, but if my horse's hooves can handle it, I MUCH prefer them to go barefoot...and Aires has proven that his hooves are hard, slow-growing and durable (last trim was four months ago, they haven't chipped at all, and I've seen horses with the same amount of grow-out after eight weeks that he has after four months). It seriously just frustrates me that she can't stop comparing her horse to mine. It's like someone comparing their child to yours (another pet peeve of mine). I've tried explaining to her that she can't compare Tam and Aires because they're totally different breeds and personalities, but she won't listen. GAH! *end rant*
---
Do not tell me I can't...because I will
show
you that I can.
That's great he's going to be gelded soon. Sounds like it will make your life easier.
About your friend: perhaps she's not comparing them. There are just people who are incapable of "horse talk" without bringing up their own horse. I know a couple people like this: you say something about your horse, they say "That's nice. MY horse..." I found it really annoying until I realized what was going on. Now I just ask them about their horses.
Okay, so haven't had internet in a few days (moved to a new place). Anyway, leaps and bounds taken recently! Aires will now pick up all four feet and let me clean them without much fuss at all. Today he got a little pissy with me when I tried his right hind, but it was only at first. He pulled it out of my hand, so I just picked it up again and cleaned it like nothing had happened. He stands tied now (I can walk away and he just stands there). We're also getting very good at lunging. He knows what I want when I click my tongue (trot) and when I kiss (canter...although this one is a bit of a pain, I think mainly because he needs his feet trimmed, so I don't make him do it much for now). We have no more biting at all.
Here are some pics from lunging him today (my friend was taking the pics)...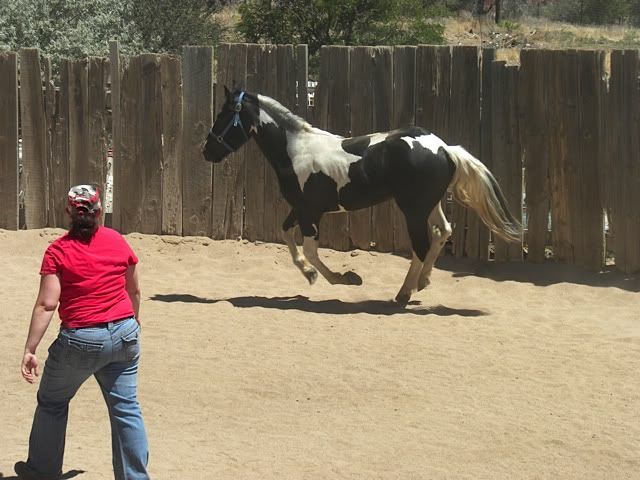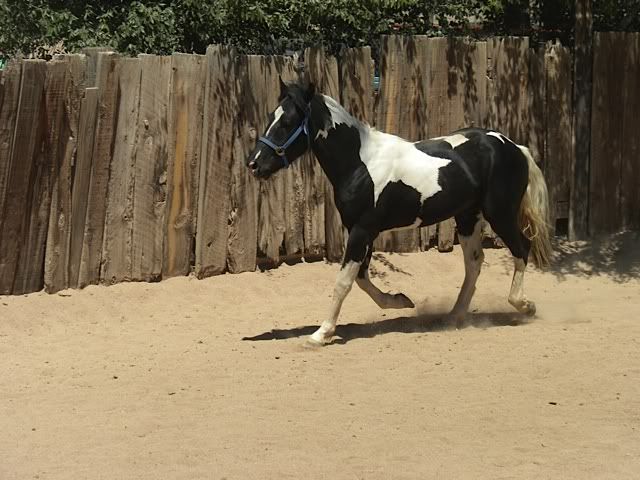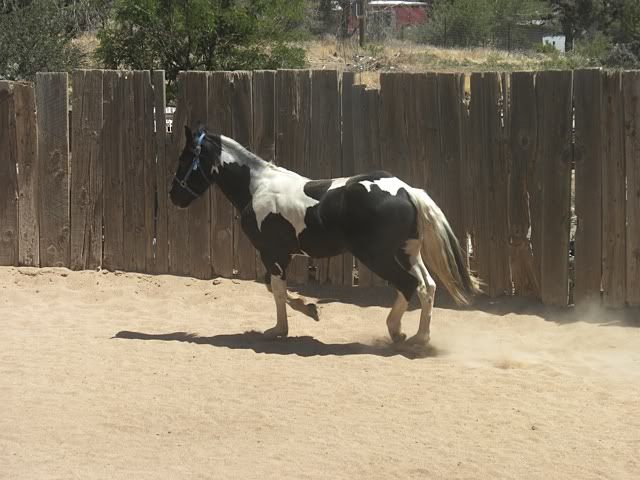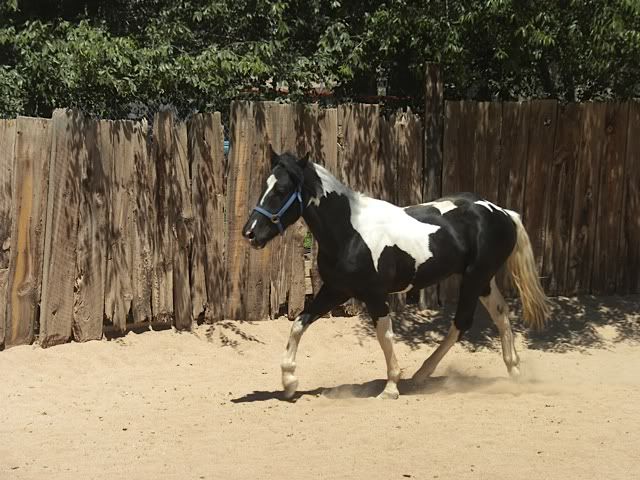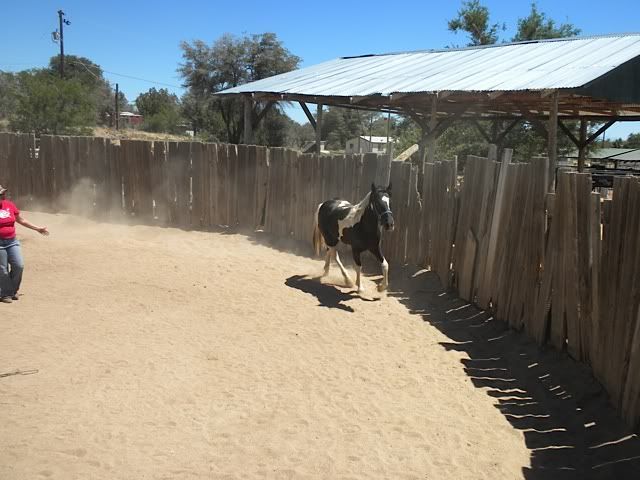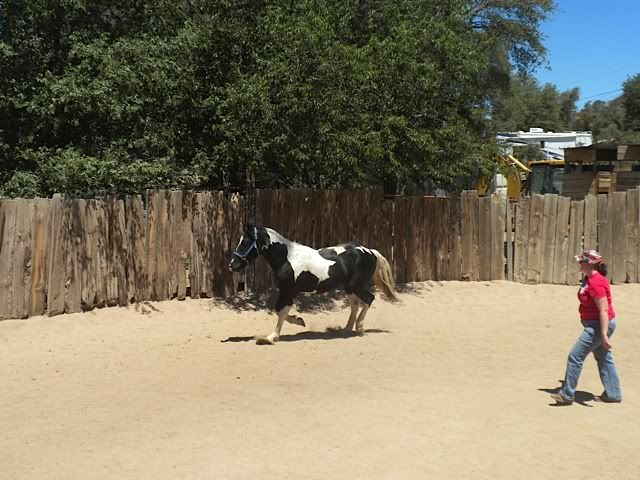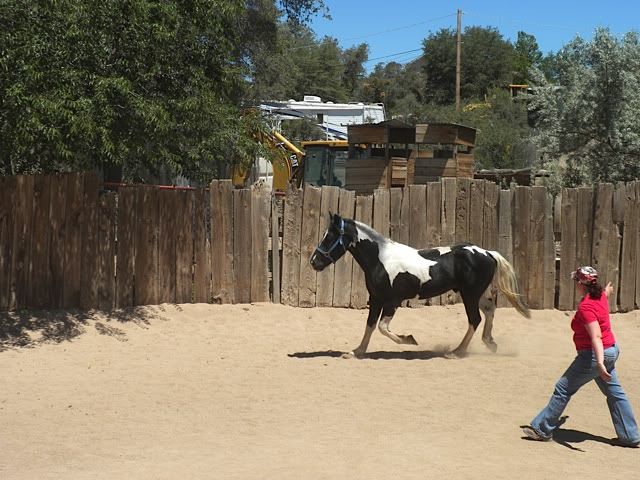 ---
Do not tell me I can't...because I will
show
you that I can.
More pics...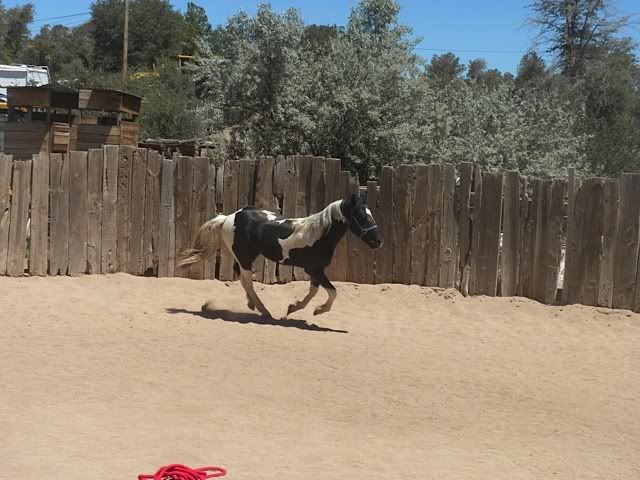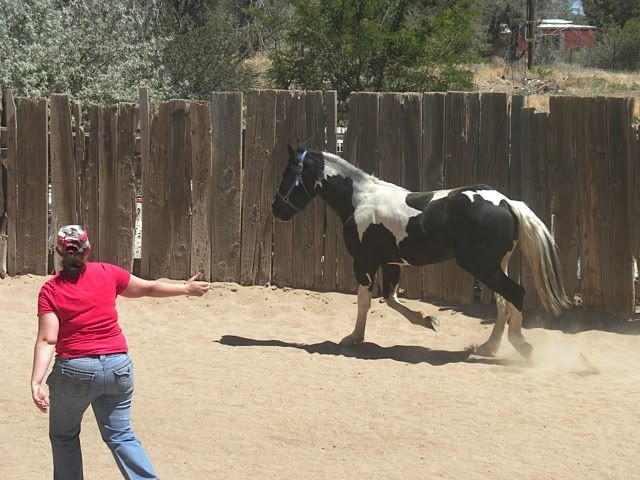 Good boy! He comes in on his own once you stop him (say "Ho" and he stops, then turns in and walks to you):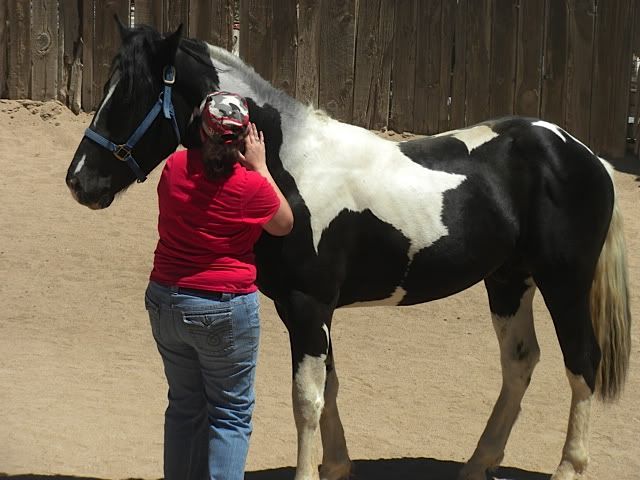 Bending my fat butt over to get the lunge line (which I don't like...I'm used to a webbing lunge line):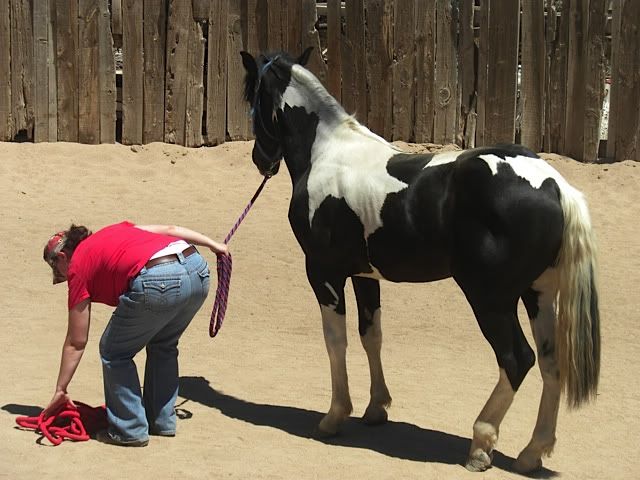 Walking back to be brushed down: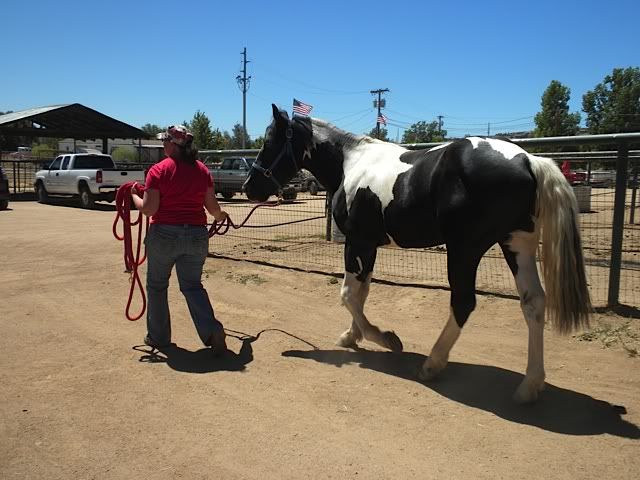 Oh, and happy news! The vet is supposed to be out either today or tomorrow (they just said the first part of the week, couldn't give us a specific day/time because they're just squeezing us in) and Aires is going to be gelded! YAY!
---
Do not tell me I can't...because I will
show
you that I can.
Well, Aires got gelded today. I couldn't be there because I had to work.
It apparently took them quite a while to halter him in his stall and they finally had to call my friend with the arab mare to come back and halter him for them. After they got him haltered he was a complete angel. They completely gelded (as opposed to leaving him proud cut) and now I have a whole slue of things I have to do with him for the next 7-10 days (walking him 30-45 minutes a day, turning him out for 1.5-2 hours every day, etc). Tomorrow I have to walk him 30-45 minutes twice (once in the morning and once in the evening) and rinse off his back legs (going to be an adventure since he's never been rinsed off before).
---
Do not tell me I can't...because I will
show
you that I can.
So glad he is finally cut! Hopefully his 'studdyness' will go away soon. He is such a beauty!
We went for an hour long walk this morning down to one of the trailheads around the stable. He was absolutely PERFECT! He "spooked" once and it was because these dogs started barking at us and he couldn't see them, but all he did was take one step sideways. Then when he saw the dogs, he was like "Oh, nevermind" and just kept going. We went out with my friend's 16-year-old arab mare (she was riding while we walked) and she kept joking that people just watching us would think SHE had the two-year-old and I had the 16-year-old. At one point on the way back, I flipped his lead rope over his shoulder and just let him walk next to me (without holding the lead rope). He didn't even notice.

Cam and Jen (the trainer) are hoping to get a saddle on him Friday. I'm going to skip work so I can be there.
---
Do not tell me I can't...because I will
show
you that I can.