Bit training question
---
Alright, so I'm starting to firmly plan out my three-year's training. I would
like
to start him under saddle around August-September, but don't really expect to until next Spring or even Fall. It really depends on how he continues to improve.
He's rather like a young mustang that takes time to build trust and confidence in people
I want him absolutely 100% on the ground before any saddle work. Including lunging, leading, bathing, standing tied, desensitized to things like cars and mailboxes. I already have that stuff planned out, now I need to move on to my saddle work!
Now! For the question.
I want to train him to both a bit and a hackamore.
What kind of snaffle would you guys recommend? What is the lightest hackamore possible, without being a halter? I'm not fond of the rawhide and rope noseband ones, I really prefer the wider, fleece padded ones myself.
Foxtrotters seem to be traditionally ridden in a port-shank, but I prefer a soft, responsive mouth in a gentle bit than a forced softness in a harsh one.
---
Wait! I'll fix it....
For hackamores, you could go with a Bosal or mechanical hack. Both work off pressure on the nose, and both CAN be severe in the wrong hands, but I'm positive you'd be fine using either.
In the western ring, it's traditional to start a horse with a Bosal, then move to a snaffle, and finish with a curb.
Some start off with a rope halter, then introduce the bosal then move on, it's completely up to you and your preference.
A mechanical hack will have one distinct advantage - knowing your left from right rein, it acts like more of a bit in that sense. A bosal isn't as direct, both reins are attached to the same place, so the signal for "left" and "right" isn't as clear - which is why starting in a rope halter (which is a little more flexible) might be best.
When you are ready to move to a bit, it's your horse's mouth comformation that will make the difference in what he'll work best in; if you can get a dentist out to check his teeth before starting any sort of work, that will be to your advantage. They will be able to tell you what kind of mouth your horse has. If he has a shallow palate, chances are he won't like a single joint bit much because his tongue will have to depress lots to avoid the joint hitting the palate. I personally prefer to use some sort of double joint bit - to avoid any nutcracker and palate effect. If you can get your hands on a Myler, it's well worth the money.
As for cheekpieces, when starting a youngster, having a Dee or Full Cheek is great. The longer cheek allows for lateral pressure on the side of the face, which makes turning just that much clearer. Example: you pull on the left rein. The left bar of the mouthpiece is engaged and then the right cheekpiece applies pressure to the right side of the face, which encourages the horse to look left.
When you're ready to advance to a curb... well that will be a few years from now at least, and you'll have a good idea of what he's comfortable in :)
---
The lovely images above provided by CVLC Photography cvlphotography.com
Just to add... when looking at bits, look at them from the top as well as the sides. Most horses will prefer a bit that has a curved mouthpiece: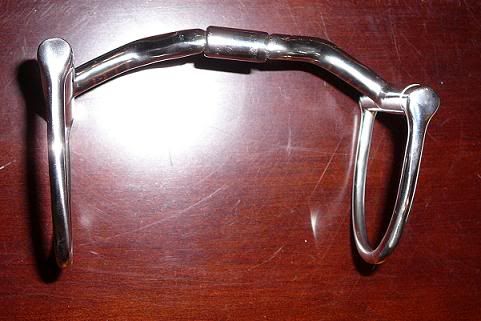 Than one that is stick straight.
Mylers have a nice curved mouthpiece. Most copper roller single joint snaffles you see are examples of the stick-straight mouthpieces you'll encounter.
---
The lovely images above provided by CVLC Photography cvlphotography.com
Sidepulls are good to start in as well, espcially when you want to transfer between snaffle and hack. The sidepull puts pressure on the left when you pull on the left rein, much like a bit. When you use a bosal you get pressure from the right when you pull on the left rein. If you do decide to use a bosal I would suggest doing it after you have sometime and training with a snaffle. The bosal becomes great after the snaffle as you can start introducing neck reining etc. in it.
I currently use this kind of hackamore on my trained riding horses. Though, I want to say that the shanks on mine are shorter, and I have a curb chain (a flat one, not just a regular chain) instead of the leather piece:
http://www.discountsaddleryshop.co.u...0hackamore.jpg
Also, should I look for a bit with copper in it? I've heard this encourages the horse to salivate and 'listen' to the bit. I met up with my neighbor who was riding his new horse (a handsome solid paint gelding) with a solid copper mouthpiece and really no shank what-so-ever. He was really slobbering all over the place with that thing, not a white foam, but really thick horsie drool.
---
Wait! I'll fix it....
Some horses love copper, and it does encourage salivation. Some horses prefer the taste and it does effect their ride, as they're happily sucking on the bit and relaxing their jaw. I say go for it if you want to!
If you are showing, be sure to check that a copper bit or a bit with copper inlay isn't illegal.
---
The lovely images above provided by CVLC Photography cvlphotography.com
I would also work on line driving before you think about getting on. That way the horse will know how to react to mouth pressure.


although I would not reccomend all of the treats. That will just teach the horse to be too mouthy and the horse will have a bit in its mouth.
---
Brittany
JDI has given you some wonderful advice. I personally don't like the mechanical hacks at all because they do have the potential to be so harsh and because I don't believe that cues are not as clear in them. I start all of my young horses in a loose ring snaffle and work from there. However, one thing that may make it easier is to wait to switch headstalls until you have him going pretty good. It is hard enough for them to figure out what you want without you confusing them by switching between a bit and hackamore all the time. I would look at getting some kind of Bosal or Loping hackamore (similar to below) and work your way from there. Good luck and we all want pix when you start. :)
NRS - National Ropers Supply - Western wear, horse tack, horse trailers, team roping, cowboy boots & hats