Bitless Bridle for sensitive horse?
---
Hi, I have a 6 year old mare (pic) who doesn't seem to like any bit we tried on her so far. I have now been riding with a Mullenmouth Eggbutt (
MULLENMOUTH EGGBUTT | Western Shoppe
) for almost a year now which was the only one she accepted the best.
But she is a sensitive horse so she still fights it..
I thought about trying a bitless now.
has anyone had a similar problem? how did you solve that?
is there a specific bit or bitless bridle i could try?
Bitless uses pressure on the head, poll and face, so although there isn't any metal in her mouth, a sensitive horse may not like that any better.

When was the last time you had her teeth checked? She may need floating, especially if she was fine with the mullenmouth prior and isn't now.
---
You want the truth? You can't HANDLE the truth!
Besides having her teeth checked she may not even be bit broke. Put a snaffle, single jointed in her mouth, remove the reins and let her wear it for a few hours a day for a week. Then with groundwork teach her to bend her neck with slight pressure. She may only give an inch or so at first but be patient and she'll start to figure it out. Do not force her as that changes her mindset. Don't confuse her confusion with being stubborn.
Speed Racer pretty much covered it. ESPECIALLY with the point that she may not like a bitless bridle any better - I've experienced that myself.
My mare doesn't like most bits due to some medical issues with her mouth but she also cannot stand any sort of bitless bridle/sidepull that sits tighter than loose on her face. We've had the most luck with a rope halter that has rings that reins can be attached to but even then, she does not like it when I pick up contact while she's wearing it.
On the bit side of things, she goes acceptably in a mullen mouth but she does sometimes gape her mouth and root to avoid pressure. The one bit I've found she REALLY accepts is this one:
It's actually a "Saddleseat pelham" that I asked my former farrier to cut the shanks off of for me.
Now it's basically a hanging cheek/Baucher Fulmer ported snaffle and my girl lovess it. I think, in my case, she just needed some room for her tongue. :)
Also, my bit has a curb chain on it but there's no reason for it, other than my mare really seems to like the stability it provides. There's no leverage at all to this bit.
---
Fabio - 13 year old Arabian/Lipizzan gelding

~
Rest peacefully, Lacey.

---
Last edited by Wallaby; 09-19-2012 at

11:13 AM

.
I agree with the other posters, bitless is not always gentler. Getting her mouth checked and restarting her in a bit is a good idea. A horse should be able to work in all sorts of different tack.
That being said, I use a bitless on most horses. Unless your horse knows what pressure on the poll means (put their head down) normally poll pressure will be met with them tossing their head up or shaking it. So unless you plan on teaching them what poll pressure means (which I suggest anyway) I suggest using a bitless that doesn't include that.
I personally use what's called an Indian Hackamore, even though it's neither of those things.
It's the red part in this photo, it attached to any halter. It has a firm nose band that applies pressure on the soft top of their nose. The ropes criss-cross under their chin and you attach the reins to that, when you pull a rein it pushes their nose from the opposite side. My horse was very sensitive to the pressure on her nose so I added a nose-fuzzy and it worked wonders. Also only get the one with metal rings where the ropes the reins connect to run through, the fabric ones are very sticky and cause a delay in the 'release' that horses need.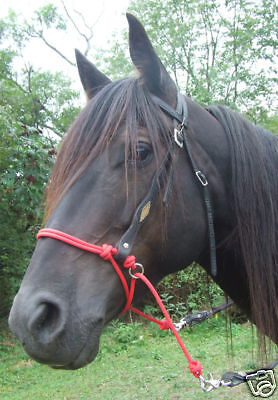 Something I have found over the years is that horses usually don't "don't like a bit" but rather that they don't like the way I'm using it; and I have found the same is the case with a hackamore (it's the only bitless bridle I have ever used). Probably it would be a good idea to: 1) get the horse checked out for any physiological stuff that might be messing with its ability to deal with a bit, i.e. sore mouth/teeth etc, and if its all clear try to look at: 2) the horse's foundation training and: 3) the way you are using the bit. If it's a 6 yo and you bought it from somewhere it may have had someone prior to you make a mess of it, or perhaps not really train it properly. Also have a good look at what you are doing with the reins and see if that is the cause of the problems; because if there is any problem in points 2 and 3 a bitless bridle probably won't make much difference, the same problems will probably just resurface.
As for a bitless bridle you could use, no idea, I have only ever used a traditional hackamore. If you wanted to try that I would totally recommend it, providing you learn to use it, use the right configuration for the horse at any given time and train your horse for it; its not as simple as just shoving one on the horse and away you go.
I do prefer bitless generally - from the homework I've done I agree with what Dr Cook has to say on the matter(google Dr Cook bitless). I'm not against bits though & think they can be used well on 'sensitive' horses too. I do believe in teaching the horse & getting them going well bitless before introducing a bit though. So saying all that, I agree with what everyone above has said too.

As for types of bitless, I wouldn't use a mechanical leverage device(so called 'mechanical hackamores') and I don't much care for the heavier, rigid rawhid bosals, but otherwise I think it's much of a muchness & dependent on riding style as to what type might suit the horse & you best. Eg. if she's trained & ridden English style, side pulls & x-overs may be better, while if she's western trained, a rope halter or actual bosal hackamore is good.
Loosie - I love the Dr. Cook's bitless too - but I've found that it applies a lot of pressure to a horse's poll, most of my horses are trained that poll pressure means put your head down (not like a false frame, but more to help shift them out of flight mode when I'm leading if needed) but horses who have never experienced poll pressure will often have their head in the air avoiding it, or be tossing their head around alot. It's a fantastic design for horses who know how to interpret the cues, but because it uses feels so different from a typical bridle I feel few people really know how to train a horse to be comfortable in one. Except one therapy barn I worked at, all haflingers, all in Dr. Cook's. All responded SO well and they didn't have to worry about the students being too rough. The only other thing I find, is that the release of pressure isn't very immediate on the Dr. Cook's, which is fine for a trained horse who doesn't need and extreme obvious release to say 'you did it right' but not great for starting a horse in.
I really like the Indian hackamore because it usess the same cross under principle as the Dr. Cook's but it only effects the nose area. I also find with that the release is slow unless you have the type with the metal rings and good quality rope, some ropes are sticky.

I also believe the the top of a horse's nose can be more sensitive than the inside of their mouth, there's only a thin layer of skin there and a number of sensitive pressure points. While a horse's tongue is a very strong muscle, capable of absorbing some of the pressure. So there are many bits that horses would prefer to bitless. Look for mullen mouth bits, or Myler bits, those all have a great deal of tongue relief which is what most horses fuss about.

I also agree about getting the horse's mouth/teeth checked.
I also agree with loosie about avoiding the Mechanical sorts, those don't have very clear communication but they can be very intense, I watched a small woman break a big bull-dog quarter horse's nose with an ill-fitted mechanical hackamore. I would also avoid rigid rawhide bosals, they are just very strong if you want to neck rein try with something less strong first.
I like the designs of most sidepulls and x-overs barring the things I've already mentioned.
I love this thread. I am having similar problems and was about to post asking for some input!
---
Everything that happens, be it the good, the bad and the downright miserable define who we are.
Instagram: TopazCowgirl

I use a rawhide bosal on my horse and he loves it. He doesn't like bits. If your horse is more sensitive and is trained in western, I would recomend a softer, more supple bosal. I have seen lots of those for sale pretty cheap. As far as mechanical hackamores, I have also heard that they can break horse's noses if they are not adjusted correctly.