Bowing
---
So me and my friend are having a contest on bowing. Her and I both think of bows differently. I think for it to be a bow they have to be on one knee. she thinks their head has to be in between their legs and sitting back a lot. I was wondering what the fastest way to get them on a knee is. He is a huge(18hh) six year old who is very food motivated. I have been putting a treat in between his legs and I have been standing on the same side every time. He has gone on his knee three times and I have been doing this like three days. I want him to get down more often, but know he is getting greedy. Last night he took the treat from me before doing anything.
So I guess my questions are: 1) What is the fastest and most effective way to train him how to bow? And 2) How do I continue with training but get him to be less greedy?

Thanks in advance!
---
I think he already knows how to bow, you just need to put a cue to it. I'm teaching my horse the same thing. I stand on her left side, and rub the chestnut on the inside of her left leg. She knows there's a treat under her, and to bring her leg forward and reach to get it. She hasn't gotten on her knee yet, it's still a work in process.

As far as him being greedy, I think that's the result of handfeeding. My horse NEVER takes a treat from my hand, I GIVE her the treat. When I walk up to her with treats, she keeps her nose away from me, and lets me bring my hand to her mouth. It's a lot like the "leave it" command for a dog. If you hold a treat in your closed hand and the dog licks and licks, and eventually gives up and takes his nose away, he gets the treat. Same thing with horses. Except you can't let them lick your hand, they'll probably try and take a bite. o_O So instead, have a treat in your hand, but make sure he respects your space. Bump his head away from you when he gets too close. When he keeps a reasonable distance when he knows you have a treat, praise and treat then.

You can try cueing him with the treat, and when he does get on his knee, bring him back up. You can either treat then, or ask for another bow, and give him the treat while he's in his second bow. He can either get a treat after a bow, or during every other bow, and eventually increasing the amount of bows he has to do before he gets a treat.
---
"Great spirits have always encountered violent opposition from mediocre minds."

I go on the left too. I slightly tap the inside of his leg with the treat and say inside. When he puts his head in between his legs I say down and start pulling the treat more towards the middle of his stomach. I have no pateince so I get really upset when he is close and then decides he cant do it so he just stops trying and stands normal.
---
---
Last edited by Icrazyaboutu; 08-25-2009 at

07:19 PM

.
ok so he just bowed twice in the last half hour! How do I make it so he bows more often?
---
Please keep in mind that it isn't easy or natural for a horse to bow. Don't make him do it all the time, because it is HARD on him.

And you know how a song on the radio comes on and you hear it for the first time and it's an amazing song and you love it? Well, the radio station plays it a million times a day, every day. It gets overplayed and you don't enjoy it anymore. Don't overplay the bow, because your horse will just end up resenting it.

And don't lose patience. If you get impatient with your horse, you're not going to get anywhere. Next time he decides he doesn't want to do it anymore, just take a deep breath, relax, and ask for it ONE MORE TIME and let him be done. Besides, if you asked me to bow ten times in a row, I wouldn't want to do it anymore either.
---
"Great spirits have always encountered violent opposition from mediocre minds."

Im out. I dont wanna do the contest with you anymore. I can think what i want is a bow
Quote:
Im out. I dont wanna do the contest with you anymore. I can think what i want is a bow
o_O
What both of you guys think is a bow is a bow. They're just different kinds. A human bow is the male equivalent of a female curtsy isn't it? It's all the same thing. =]
While icrazyboutu is thinking of a probably more traditional bow on a knee, domino is thinking of how I'm going to describe as a puppy play bow, bum up in the air, chest really close to the ground and front legs straight out in front, is that right?
Personally, I think both bows are great, and I'd love to teach my horse both, but since we always bring her head between her legs to stretch her back and she started bringing that leg forward, I started trying to get her on her knee, hopefully both knees.
---
"Great spirits have always encountered violent opposition from mediocre minds."

Green Broke
Join Date: May 2009
Location: Winnipeg, Manitoba, Canada
Posts: 4,510
• Horses:
2
It took me about three sessions to get my filly down on one knee. I still haven't worked her up to a cue, and I only work at the bow maybe once a week or so. I want to get her comfortable being down on one knee, not jumping right back up again.
But here's how I taught her. She's so food motivated, it was pretty easy. My Arab mare won't have anything to do with it. Haha, and if I don't lift a leg, she bows in her own way! We're working on hugs now to. I keep the sessions very short, and very simple. She's reached the point where if I stand at her shoulder, she'll lift her leg and stick her nose between her legs, she just hasn't figured out how to go down herself yet.
Proper bow:
Her way to bow! LOL: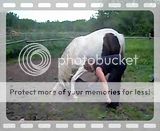 ---
Quote:
I hope God tells her to smash her computer with a sledgehammer.
---
"Great spirits have always encountered violent opposition from mediocre minds."

Dozer tends to do the second one more often.
---
Similar Threads
Thread
Thread Starter
Forum
Replies
Last Post
Bowing---:)

Domino13011

Horse Pictures

10

09-01-2009

08:39 PM

Ruby's tricks. Bowing?

Ruby Tuesday

Horse Training

6

11-09-2008

08:58 PM

Bowing and jumping

horseylover1_1

Horse Training

6

04-13-2008

10:04 PM

Bowing?

katybear985

Horse Training

2

01-26-2008

10:01 AM