Breaking in Lakota
---
For all of you who don't know Lakota's story: I've owned him for over 3 years, and I'm the one who taught him everything he knows on the ground. When he turned 4 years old, I sent him to the trainer to be broke to ride. The trainer sent him back 2 weeks later telling me that he is skittish, unsafe, unbreakable, and told me to stay away from him at all costs. Well, on July 25th, I got on Lakota for the first time. I did all of the desensitizing on the ground, then hopped up in the stirrup. I leaned across his back for a minute and patted his other side, flapped the stirrup around, etc. He stood perfectly still. I did this a couple more times without any trouble..And then I decided to get on him. I don't know what I was expecting..Maybe a mental break down, a huge bucking fit? But when I sat in the saddle, he just stood there. Then he calmly walked a few feet with me. I grabbed the lead rope and said "whoa" and he stopped and stood there for me to dismount. I don't think that I could have been any happier. I was shaking so hard that I could barely breath. I wanted to talk, I wanted to cry. But all that I could do was laugh and smile and shake. Lakota just stared at me like I was a moron. After this happened, I decided that I just can't sell him. He's my soul horse. <3 I've decided that I'll be the one to break him to ride, with my dad's guidance and my brother's help.
I managed to stop shaking for a few seconds so I could get some pictures.
lakota under saddle.jpg
riding lakota.jpg
I'm going out to ride him again today, so please keep us in your prayers/thoughts!
---
Nothing of worth comes with ease. <3
Good luck!! Just keep calm and take things slow :)
---
Fly Without Wings
Good luck, stay safe 😳
Posted via Mobile Device
Thank you! We went on our second ride today, and he did great again. He was a little bit jumpy,so we had to do more desensitizing. But after that he was awesome! :)
---
Nothing of worth comes with ease. <3
Oh, and I left my emotions at the gate this time! No more shaking/crying/laughing. lol
---
Nothing of worth comes with ease. <3
Don't get scared if he jumps. A horse that doesn't spook is dead. He is still figuring stuff out. Sounds like he trusts you, so if he gets scared, just go about business as usual. Keep yourself safe, but keep yourself at ease. YOU are the broke one in this scenario. He is counting on you to keep him safe. If you get scared, he should be scared too.
Posted via Mobile Device
Congratulations!

You might try to find out the exact circumstances your trainer had trouble with. Because it will still be somewhere in Lakota's memory. Just so you're forewarned.
It's probably just because I was so focused on Lakota, but I wasn't scared to get in the saddle or anything yesterday. We took everything slowly and did a lot of desensitizing. I learned that I'm not very good at getting on at the right side of the horse. lol The trainer said that he was really jumpy/spooky and dangerous. Of course, he was spooky and jumpy yesterday, but that doesn't surprise me. I've spent the last 3 years getting to know this horse. I know how much pressure he can take and when to slow down while I'm teaching him something. I really think that I'm the only person that Lakota 100% trusts and that's why I'm making more progress with him than the trainer did.
---
Nothing of worth comes with ease. <3
Here is a video of part of our ride today. Yes, he spooked at the beginning, but that's just part of it, right? I guess even more desensitizing is in his future. :P I did fall off today, later on in the ride. It was so quick that I didn't even have time to react. One second I'm in the saddle, and in the blink of an eye I'm on the ground. Luckily, nobody got hurt and I got right back in the saddle. Anyway, here's the video! Yes, I know that my brother looks like a redneck, but we don't care. lol And you'll have to excuse my mother's commentary. We scared her to death. x)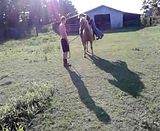 ---
Nothing of worth comes with ease. <3
P.S...You have to click on the image to see the video.
---
Nothing of worth comes with ease. <3
Similar Threads
Thread
Thread Starter
Forum
Replies
Last Post
Lakota's Journal

Jennakaaate

Member Journals

1

04-15-2013

03:36 PM

Lakota - my baby

Lakotababii

Horse Memorials

22

07-15-2012

09:20 PM

Lakota and I

Juby

Horse Pictures

7

11-25-2011

01:48 PM

My Pretty Lakota!!

HorseLovinLady

Horse Pictures

13

10-20-2011

06:56 PM

Lakota and Me

TheRoughrider21

Horse Pictures

2

10-11-2010

04:00 PM