I definitely feel for you, and good on you for persevering with him even though you've come off a few times. I know how hard that is! I bought a new horse about 3 weeks ago, and I had this problem as well at the start. Out on the trail he would be fine at the walk/trot, but when I would ask him to canter, down went the head and off with the bucking!

I didn't use the one rein stop, because I am a bit like you, when you do it from a canter it really unbalances the horse (in my experience anyway) and it really unbalances me! First thing, I didn't let him stop. Stopping/slowing is a reward in its own way, as they get to do less work. Each time his head went down, I would hold one rein tight and pull release with the other, to bring his head up, and drive drive drive with my legs! I would also growl at him, 'get out of it!' is my favourite phrase… The first few times I was actually booting him to get him forward and out of the buck, but after that I just had to bring his head up and drive and he would be fine. The way I see it, a horse physically can't do much more than hump its back if it has its head higher than it's shoulder and is moving forward. By doing this he learnt that he doesn't get out of work by bucking, he is driven into the canter. My horse was doing it because he was excited… He has only ever done slow, long rein work in an arena, and to be out on a trail with contact on his mouth and horses in front proved very exciting! He has already dropped the habit now, and I have only had him 3 weeks. So it's maybe worth a try, if it sounds like it might work with your boy.

Good luck!
First off... whatever works for you. There are many ways to skin a cat, so my 2 cents is not the "only" way to do things, it's just my 2 cents. That said...
Quote:
Originally Posted by
RusticWildFire
View Post
if I can and make him at least walk for a while to make sure he knows that's not a way to get out of riding
Walking is getting out of riding. WORKING and getting a sweat on is work. For example, if you ask for an easy trot and get bucked, the easy trot is the "reward." Anything less is getting out of it. Bad behavior should result in 10x the amount of work as doing what was originally asked. Note that this is not "emotional" or "punishing." It is simply answering bad behavior with hard work. You want the horse to associate meaningless labor with bad behavior.
"Holy crap, I don't feel like trotting today, I think I will buck this numbskull off."
Two things happen here...
"What's the worst that can happen, either she doesn't get back on or we end up walking home."
OR
"Oh, wait. Last time we did that I had to do a working trot for a mile! Maybe I am better off with the simple trot."
Sure - it doesn't happen like this. But I am only trying to make a point.
Quote:
And the new bit I might try also. He's on a D-ring snaffle. I may switch to the Tom Thumb Snaffle..
Again, whatever works for you. However, I personally have a problem with using equipment to solve a training problem. Better to fix the problem than hide it with a band-aid. FIX the training/behavior issue FIRST. THEN, if you still want to use a TT bit (which is a curb bit, NOT a snaffle bit) by all means go for it. Just don't look at is as a solution to a behavior problem. If all you do is change the bit, the problem is still there - just temporarily hidden by the bit.
There are no free fixes. You want to change a behavior, you have to fix it with training.
Thank you both for your help. All good ideas. From all of this I'll be able to figure out a plan that works I hope! I definitely don't want to put a band aid on the problem I do want to fix it. I hope it doesn't look like I'm trying to find a band aid for this.
It all does make sense.


Also, every site I've looked at I find tom thumb snaffles..
Isn't a snaffle a bit thats linked in the middle and a curb a straight bar?
---
TM Tardy's Chick "Hunter" - 13 yo Paint
Remmy - 18 yo Morgan/QH cross
Gunner 3/31/11, Heidi 7/2009 Miniature Sicilian donkey

A snaffle is any bit that doesn't have leverage. a curb bit is any bit that DOES have leverage.
This is a picture of a snaffle with a straight bar (or mullen mouth). Snaffles can have breaks in them as well.
This is a picture of a curb (also shown with a mullen mouth)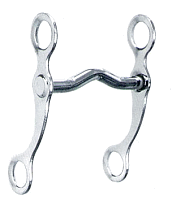 I'm not a TT bit fan. I find them to be rather harsh.
Here's an article all about them if you're interested..
Trouble with Tom Thumb
Oooh jeez. lol I read the thing wrong when I looked it up. This is what threw me off earlier though in the first place when I was surfing around looking at bits.
http://store.acetack.com/drbitwi6tomt.html
http://store.ryansproducts.com/5tomthsnhobi.html
I know lots of people don't use them..especially for training as they are rough on the mouth. Thats why I don't have one on him now. I use it on my older horse as you don't need to be rough with him. I'll take a look at the article though
---
TM Tardy's Chick "Hunter" - 13 yo Paint
Remmy - 18 yo Morgan/QH cross
Gunner 3/31/11, Heidi 7/2009 Miniature Sicilian donkey

---
Last edited by RusticWildFire; 10-12-2008 at

09:12 PM

.
One of our horses does this, he's just overenthusiastic and having fun- I hate it. He's not in any pain whatsoever, and sometimes he'll go for months without doing it, but you always have to watch for when he gets going and throws some "happy" bucks. This sounds like what your horse is doing, and I'm definitely not saying that you're stuck with it. Just be sure that he gets an instant punishment when he does it, and make sure not to just get off (unless you're seriously worried about getting hurt), getting off is an instant reward, you don't want your horse to remember "buck= she gets off".
---
Weanling
Join Date: May 2007
Location: Adelaide Hills, South Australia
Posts: 356
• Horses:
2
Alrighty then.....
Please remeber this is only
my
opinion based on
my
experiences.
It sounds to me like he is a lazy but over excitable boy. He doesn't want to work sometimes and unfortunately he has learnt how to get out of it.
First if you know the signs, usually lowering the head, even if you
think
he's going to try it, give him a swift kick and growl at him, 'get up' is my favourite
do not for one second give him the benefit of the doubt as he will take advantage of the situation. In other words, get him before he gets you!
Ride with a crop, if he bucks, smack him on the butt and drive him forward big time. IMO if you smack the shoulder you're not telling off the right part of the horse
If he bucks again, smack him again and so on. He's a smart boy, he'll figure it out pretty quick, what bucking means.
Always be aware of your body position, if you are not paying attention and are that slight bit too far forward, you're opening the door for him to throw you out it.
Twister does this...hence the name. :roll: He is a good boy and will work his tail off for you but he gets excited and goes into " I wanna be a rodeo bronc when I grow up" childish play...he's coming 8 this year!

We have to be constantly aware of his head position. I've noticed that if we can ride beyond the buck..it's really a one time event.

We have to put him through his paces, W, T, hang on we're going to canter....lol. When we hit top trot speed we have to make sure we're riding deep and keep driving him into the canter with his head up. We need to make sure we have a good rein length. Too much rein and down his head goes. He can't buck if he's really riding out. We have to make sure we aren't giving him time to pause and think about how much fun he's having between Trot and Canter. If there is a pause between gates this horse will pull the reins from your hands and give a "whoo hooo...I'm happy" buck. We have even seen this in the pasture. He just gets excited the faster he goes.

So my advice is to be prepared to drive him through the paces with a "working" frame of mind. If there is a lull or break in the transition, be aware that the buck could come. There is a difference in hey, my friends, coming along for the ride and My friend and I are working today. Once we hit canter we go at it a while...maybe 1/4 mile? Then bring Twister back down throught the paces and he's a happy well adjusted boy ready for the trail.

Hope this helps. (Btw, we could lunge the pants off him and he'd still buck at canter....I prefer to just get on and mean business for the first 20-30 minutes)

Good Luck!!!
---
Be strong and courageous, and do the work. Don't be afraid or discouraged by the size of the task, for the Lord God, my God, is with you. He will not fail you or forsake you.
1 Chronicles 28:20
---
Last edited by Dumas'_Grrrl; 10-13-2008 at

10:32 AM

.
Quote:
Twister does this...hence the name. :roll: He is a good boy and will work his tail off for you but he gets excited and goes into " I wanna be a rodeo bronc when I grow up" childish play...he's coming 8 this year!
thank goodness mine isn't the only one ~8 years old that is doing this! haha. Doesn't feel so lonely now.
Naw, in all honesty thats really what I think it is.
Combined with what Frog said...
Quote:
It sounds to me like he is a lazy but over excitable boy. He doesn't want to work sometimes and unfortunately he has learnt how to get out of it.
I don't know though if part of it could be too that he feels a little unsure of himself cantering yet. He hasn't done much work at the canter yet. I could be wrong though.
I'm just gonna have to go home and work with him and try all this stuff. He's good for giving his head and stuff, really flexible so I'm going to try and work circles and giving his hind end over and stuff then keep his head up when riding.
I kept his head up Saturday and he was walking really fast and tried to take off trotting when I didn't ask but no bucks. He was just WAY excited about the new environment on the trail. He hadn't been where we went in a few years so I think he enjoyed it a little too much.
Also, I think I need to work on relaxing a little more again. Since he's been bucking and such I know I get a little tense and thats not good! On the ride I just kept taking deep breaths and talked to him a lot to keep both of our minds off of it!
Anywho now that I'm rambling, Thanks again everyone! I'll let you know how it goes when I get to try it all :)
---
TM Tardy's Chick "Hunter" - 13 yo Paint
Remmy - 18 yo Morgan/QH cross
Gunner 3/31/11, Heidi 7/2009 Miniature Sicilian donkey

I just wanted to add...

I see this in a lot of topics. A tom thumb is not ALWAYS a curb bit. Here in Australia a tom thumb is quite a kind snaffle, often used on ponies or with younger riders. Here is a picture:



The bars on either side stop it from pulling through the horses mouth. So there IS a such thing as a tom thumb snaffle, and it is quite a kind bit. Just wanted to clear that up :]