Yearling
Join Date: Nov 2010
Location: Rocky Mountain House, Alberta
Posts: 781
• Horses:
1
Cant get left lead
---
Well My Tb has always been stiff on his left side
now the thing is when hes on the lunge he gets the left lead
but when i ride him and i ask for left he always runs into a ride lead.
ive tried shoulder in, it works sometimes but not all the time
and sometimes when he gets the left his back end isnt right(right lead canter)
He is gettin better and when he finally gets the left lead i make him do 10 circles on that side and also canter on a straight line

i just wanna hear some suggestions
It's more than likely you that is is causing the problem - which is very common. If your horse can get it without you on his back, and cannot get it with you on his back, it's probobly you.
I have a friend who cannot get the right lead, no matter what horse she is on - so when I work with her, I tell her to do this:
Do a 20 meter circle at the trot. Get a nice rhythm and make sure you get the horse infront of your leg. Now, take your inside arm and stretch it out to your side, while turning your wrist like you do when you turn a door knob, while supporting with your outside rein. Open your inside rein... Do not allow the outside shoulder to pop out.
Sorta like this picture. See how the riders right arm is stretched out to her side, opening it up.....like that...but do not open your outside rein, make sure you keep it in its proper place.
Opening your inside rein like this aids your horse to bend and you to soften.
Turn your shoulders to the inside, and ask the horse to bend around your inside leg - then ask for the canter.
You want your horse bent like this, see the dark green rein...see how it is opened up, with the riders hand having their palm faced up, thumb to the outside....*aka, opening a door knob*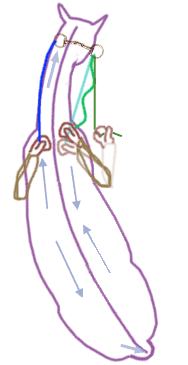 Of course, this is a picture of the horse going to the right - so the horse would be bend the other way, going to the left.....
When I get her to do this, regardless of what horse she is on - she gets the correct canter lead.
It is about balancing yourself by over countering your body to make yourself correct, then, when you are balanced, your horse can be balanced and beable to use themselves to get the correct lead.
Upper body tall, inside leg asking ribs to bend, shoulders turned to the inside, inside rein opened with the hand having the palm facing up, arm spread out to your side, look to where you are going, stay over your horses center of gravity, sit deep and ask for the transition.
I hope that makes sense...........:/
---
---
Last edited by MIEventer; 11-27-2010 at

08:35 PM

.
Yearling
Join Date: Nov 2010
Location: Rocky Mountain House, Alberta
Posts: 781
• Horses:
1
i also have a problem i cant always get my right leg back to far because i fell of my horse 4 years ago and dislocated my hip so its hard some days

\but i will try that and see how it helps
I would find out whyhe's stiff.. don't push anything until you know what it is.