Coming two year old with ear pinning issues.
---
Hi everyone! I have had this question for a while now been wondering, so I thought what the heck, just ask lol!!
It's about my colt, Vegas. I have had him since he was only 1 month old. I bought him and his dam together and then sold the mom after he was weaned. This colt from day one has been very curious, laid back and brave. His mom would try to nicker and run away with him and he would just walk right up to us ignoring mom. He knows to be respectful most times on the ground. He will test every once in a while, but he gets corrected. He leads well, backs, moves front and hind quarters. He even is learning sideways. I do have a few questions though. The main one is ear pinning. He almost always walks up to me in the pasture with his ears pinned. He has never acted aggressive as in, not done anything besides pinning his ears. Is he doing it to me or to my other horses? He is one of the first to come up to me. The others usually follow. I also have a mini donkey that I know gets on his nerves lol. They(my other two horses and the mini donk) are always pinning ears at him and each other especially at feeding time. They get after him and he doesn't fight back(sometimes with the donkey he will) , he still does the little, "I'm a baby don't hurt me" mouthing. So I guess my question there is should I be doing anything about the ear pinning. I have ignored him, got after him and sent him away which seems to make him a little nervous around me. I have recently started giving him the opposite reaction and scratched on him and loved on him, acting all happy to see him anyway, which he loves and he seems to be surprised like oh I wasn't expecting that! But then I walk away and he follows me with his ears pinned again lol. Could he be doing it to the others like saying, this is my human go away! ??? He seems to do it mostly in the pasture, sometimes when I lead him, but not very often. We have nicknamed him Grumpy Gus instead of Vegas haha! So what do ya think?? What would you do? He is respectful with everything else except lunging, which I have not done very much of or for very long because he is still young. When asked to go any faster then a trot, he has a few times blew up by squealing and bucking a couple times kicked out towards me. I have gotten after him and continued until he settles and is ready to listen and then I end the session when he is loping off with manners. He has done everything so far that I have asked of him on the ground, he also loves attention. So I thought maybe he has been grouchy because I haven't got him out much here lately because of the weather and I have been working with my new horse more instead of him. I don't know??Oh and I guess I should say he is a quarter horse, foundation bred, he is gelded and he will be officially 2 yrs old May 10th. I do mostly Clinton Anderson's method with him.
Here is a few pics just because he is so handsome :)
Walking in the woods, he loves!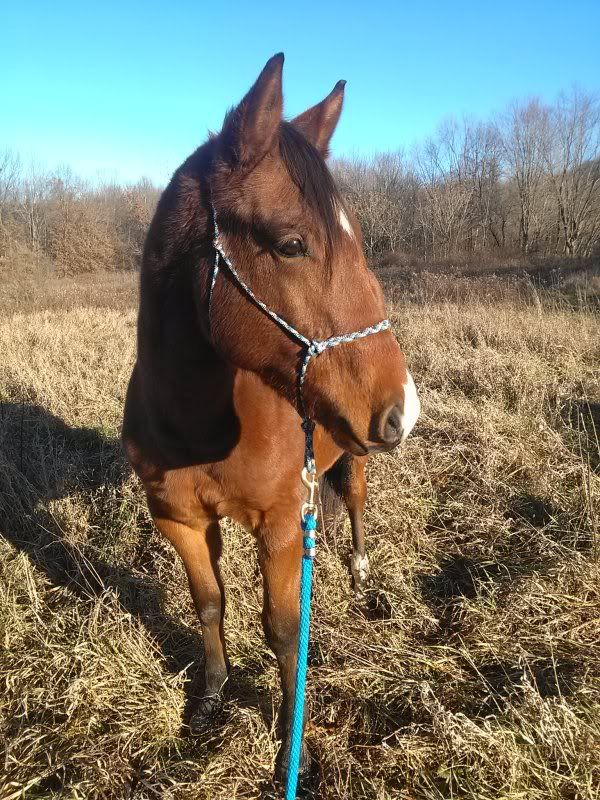 His ears are up here!!!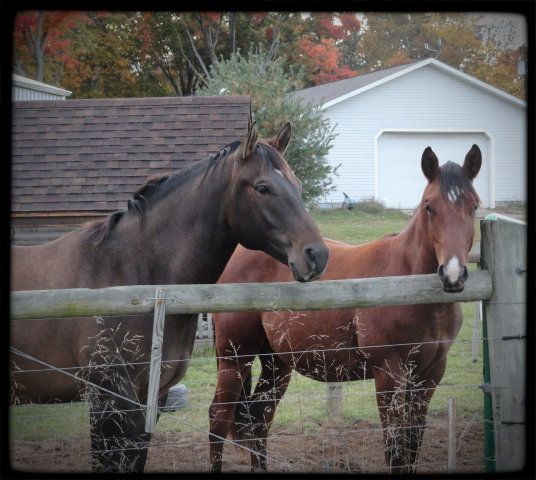 He let me decorate him for Christmas and seemed to enjoy it haha!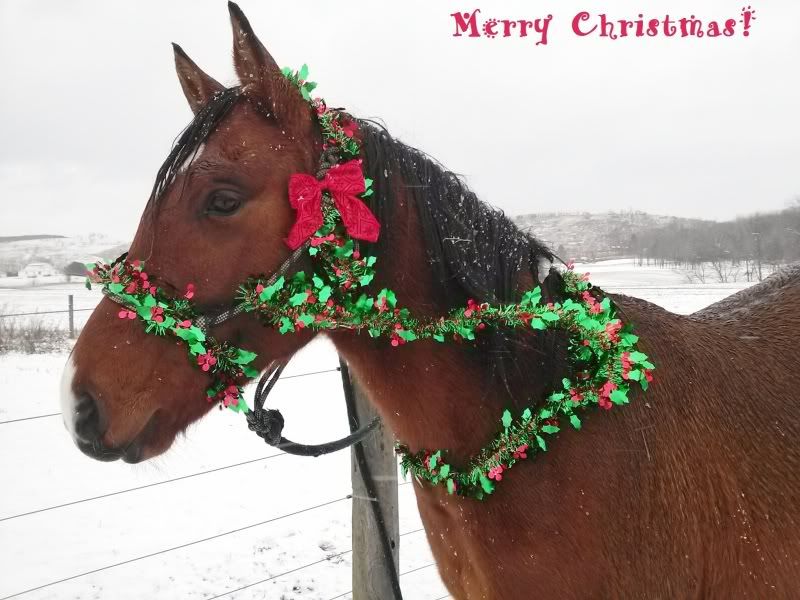 Some horses just do that. As long as he's respectful, its not a problem.
Posted via Mobile Device
Yearling
Join Date: Oct 2012
Location: Brandon, Manitoba Canada
Posts: 1,045
• Horses:
4
Could be he is listening behind him if the others are coming too.....if he isn't being disrespectful I would ignore it for now but if he starts being disrespectful chase him off like you have.....very pretty boy!
---
My horses are the joy in my life.....
Thanks guys! I will just ignore it for now. He is very respectful. He could be listening to the others, I thought of that too.
He's got some big 'ol ears too...Maybe it's hard for him to hold them up ;)
This is something I don't ignore ever.

He is expressing dominance, just in early stages.
---
Horses make me a better person.
I have a question. Are his ears truly pinned or are they just pointed back?
Pointed back
Vs actually pinned
I've noticed that many people have difficulty distinguishing one from the other.
---
Always remember that feeling of looking at a big, open country over the ears of a good horse, seeing a new trail unwind ahead of you, and that ever-spectacular view from the top of the ridge!!! Follow my training blog:
http://robertsontraining.blogspot.com/
Ok I thought about what you asked smrobs. And I thought I'm pretty sure thy are pinned. So I went out with my camera and took a picture. Here is what I got: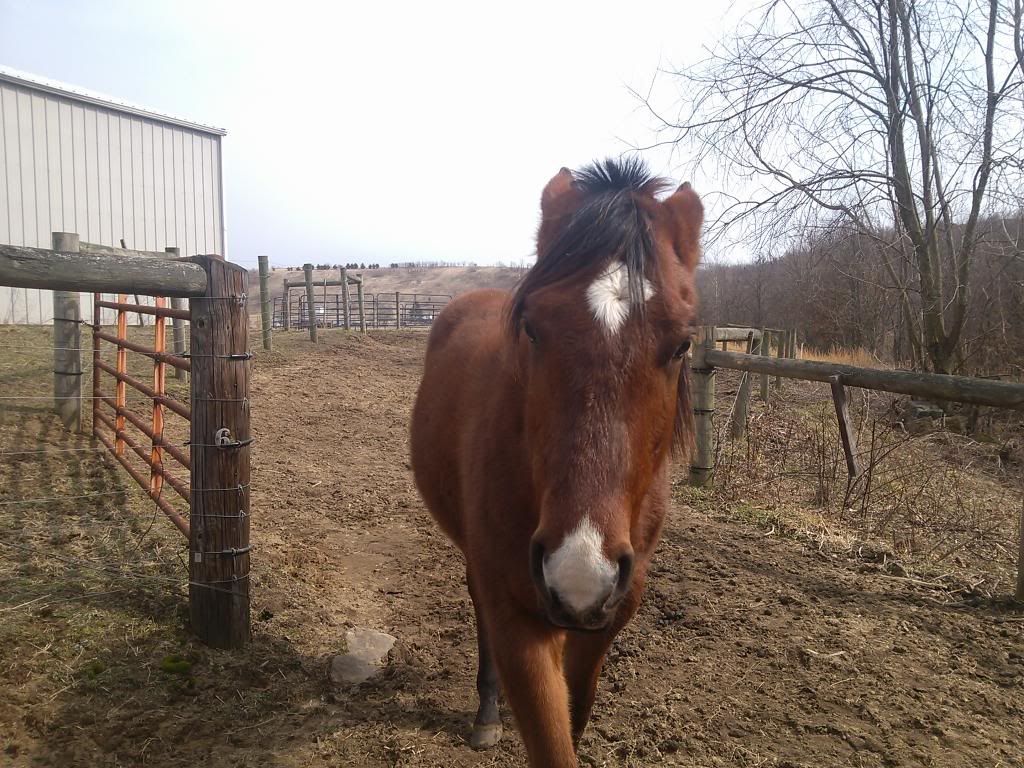 Looks pretty grumpy to me so, I chased him away from me and around the pasture until he had a little bit better attitude. I don't know what his problem is :/ ????
It sounds like a territorial thing. I would do alot of ground work in the pasture with him. He needs to know that you are the boss all the time no matter what.
Super Moderator
Join Date: May 2012
Location: CT USA an English transplant
Posts: 24,590
• Horses:
3
It does look serious but even so I have a horse that will do that and still mean nothing by it - as soon as I face her down she puts on her 'happy smiley' face like butter wouldnt melt in her mouth
The problem comes when you start to let them intimidate you - you show fear and they soon pick up on that
Some of the CA stuff is OK and useful but it can also be a bit confrontational and bullying to some horses and he might even be resenting it and this is his way of retaliating.
Maybe try a different approach, something new to challenge him mentally but dont take any s**t from him either!!