Could he be a cutter?
---
I have a little 2 year old Foundation bred QH gelding. He isn't much to look at I gotta say, but I still think he is freakin cute :P And when I say little, I mean LITTLE. His yearling brother (who is 3/4 exact breeding as Dusty) is taller than him. Don't know why he is so dangum tiny, I guess he just got beat by the short stick O.o ANYYYWAYS.
Dusty is really quick on his feet, and looks for the slightest change in body movement when you lounge him. He likes to play "cutting horse" with my dog through the fence, running beside her up and down the fence and turning as soon as she does.
Of course, I'm not one to believe bloodlines make a horse, but I'll show them anyways. Here is his sire's pedigree.
PEDIGREE RECORD © 2006, AQHA. All Rights Reserved.
And his dam's.
PEDIGREE RECORD © 2006, AQHA. All Rights Reserved.
He is only two, and since he is so dang tiny, I have held off on really saddle training him. I've riden him 2 times, for about 10 minutes each, just walking and trotting circles. He isn't all that stocky, he reminds me more of a Paso Fino than he does a Quarter Horse. But his mom didn't let him nurse very much, so I'm using that as an excuse for his stunted growth hahaha. He has been gaining muscle mass though the past few weeks, so hopefully come fall he will look like a normal QH.
I have been offered an internship with a cutting/sorting trainer. In trade for working with him, he is going to help me with Dusty.
Anyways, here are some pictures of my little pip-squeek.
---
Be wary of the horse with a sense of humour. - Pam Brown
Okay, excuse the horrific photos. I'll try to get some more today, i thought I had better ones on this computer!

Notice in the last picture. All of those horses are the same age as him.......Poor little Mr. Dusty hahahah:) Everyone was all like "You have a cute little yearling there!" "Thanks!!....he's actually two." "Oh....okay then."
---
Be wary of the horse with a sense of humour. - Pam Brown
---
Last edited by MangoRoX87; 07-08-2011 at

02:05 PM

.
Sure, why not?

Try it out and see if he is good! Size really means nothing. QHs are known bred to be cow horses :)
---
Every great dream begins with a dreamer. Always remember, you have within you the strength, the patience, and the passion to reach for the stars to change the world. ~Harriet Tubman
He would probably make a nice ranch horse or cowhorse, maybe a team penner or a sorting horse. He is not bred to be a competitive cutting horse. The only female producer up close is Peppymint Twist. She was a really nice mares and a good producer when bred to a cutting stallion. Hollywood Dun It only sired one horse that would work a cow well enough to be a cutter. He bred the 'cow' out of most of them. His clain to fame was as a reining horse sire.

I know his sire well -- have ridden him many times. I also know your horse's dam. His sire is not real quick footed and definitely not a cutting horse. He has competed in Ranch Cutting at the Foundation Shows, but that is a World away from real Cutting competition. I would guess that he was bred by Brett Mulder?

I had one of his foals and she was OK, but not a cutter by any means. His foals are pretty easy to get along with but do not have a lot of ability. They are pretty lazy and resentful of hard work.

Cutting horses that are competitive in today's really tough competition are bred to win the big cutting competitions. They are truly specialists and getting more so every year.
He is a cute little guy. If it was me, I think that I would give him at least another year before you do any kind of semi-heavy riding on him. With as downhill as he is built right now, that would just put that much more stress on his back and front legs that could cause problems later on. With another year on him, he may even up some and make training and riding easier on both of you.
Like Cherie said, he's not really bred to be much of a cutter, but there is no reason not to train him for it. With enough training and practice, any horse can learn to watch a cow. Shoot, my mustang that has about as much natural cow savvy as a cardboard box does a pretty darn good job. It just took about a year of solid work for him to really catch on. When you compare that with a horse bred for it that will be watching a cow by ride 2, that's a ton of work but it was worth it because he works great for what I do.
Your guy will likely never be a NCHA money earner, but he could be good enough for sorting/penning/ranch horse competitions and the like. Giving him enough training for cutting to give him a bit of savvy could never be a bad thing. If he doesn't work out as a cutter at the level you want, just consider it another entry on his "well-rounded" resume.
A straight cutter probably not but a reined cow horse he could do very well with. Dun It are good cow horses it is just that they make so much money in reining that most of the owners never think to put them on cattle. They take to it like fish to water and love it.
---
-I'm so busy... I don't know if I found a rope or lost my horse.
-An Armed Man is a Citizen an unarmed man is a subject.
-Where ever free speech is stifled Tyranny will reign.
There are several that I know, personally, that were put on cattle. You could not melt and pour them on cattle. A lot of them have an absolute aversion to working cattle. Todd Crawford rode the only one I know that made a really decent cowhorse and cutter. (I can't remember his name.) He is the only one I ever saw that you could 'drop a hand on. The others would let the rider work the cow, (like this horse's sire), but the second the rider quit working the cow, the horse would quit the cow completely.

There is a huge difference in the rider reining and handling the horse and working a cow and being able to drop your hand and horse works the cow. The Dun Its just don't have that kind of 'cow' in them -- even if they are out of cutting mares.

The Shining Sparks don't have that kind of cow in them to be cutters either, but they have a lot more than the Dun Its.

The nicest crossovers I have been around are the Soula Jule Stars. I have a 2 year old SJS and we are hoping he might do both. The Smart Little Lenas and Highbrow Cats are the tough ones.
That has not been my experience with Dun It nor my trainers. This mare has her COA in NRHCA and top 5 in the region in NRCHA. WITH NO COW training. Well one hour to see if she would freak the first time so if she did it would not be at an NRCHA show.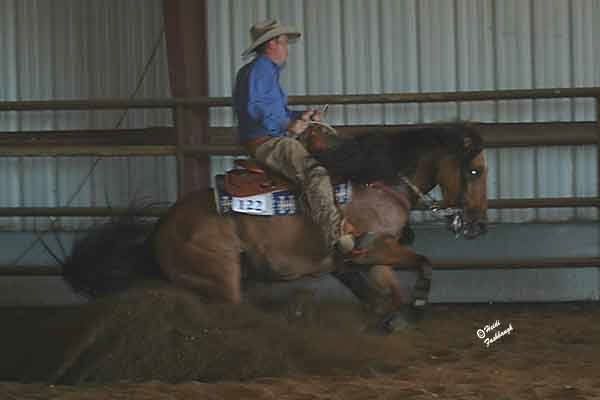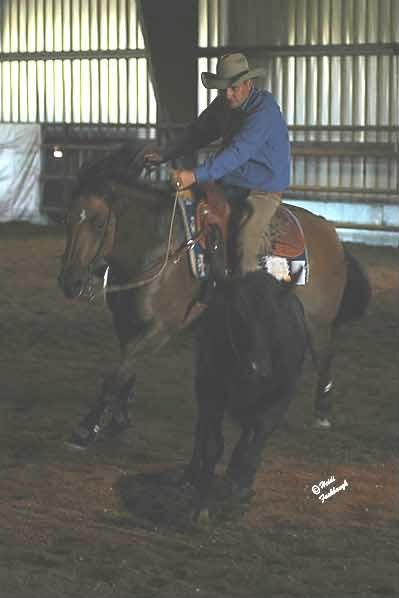 ---
-I'm so busy... I don't know if I found a rope or lost my horse.
-An Armed Man is a Citizen an unarmed man is a subject.
-Where ever free speech is stifled Tyranny will reign.
Cherie- Yes, I know Bret!! I actually won this colt from them through the youth essay contest through the OkFQHR. They say Dusty looks a lot like Bullet, I personaly only see it in the face. Personality wise, Bullet is just a big guy walking around not wanting to move. He's pretty lazy, kind of funny watching Bret try to catch up to a cow with him. Dusty would look like a spazz monkey next to his dad. He loves to go go go stop turn go go go go. He has brakes, deffinately, and is no where uncontrollable, just a lot more entergetic than his dad. My best friends owns another one of his colts that she won the year before me, and he is the laziest horse I have ever laid eyes on.
---
Be wary of the horse with a sense of humour. - Pam Brown
You just proved what I said. Obviously, no horse with one hour of cattle work in their life is 'working' a cow. The horse is really broke and the rider is working the cow.

Almost any horse will lay their ears back and chase a cow. A cutter has to keep their ears up and 'work' the cow in a manner that it has been taught to work it. The days when a horse could win a cutting with its ears back are gone. Those are just 'cow haters' and they no longer place at all (along with the horses that snap and bite at them).

When a judge or a cutter talks today of a horse 'having a lot of expression', they are referring to a horse with its ears up and going back and forth that is literally 'playing' with the cow, reading that cow and trying to control its every move.

It takes about 18 months to teach -- not an hour or a month or two -- and the expression is natural and bred in. From the very beginning, they do not lay their ears back.

Once you get past the Snaffle Bit Futurity, there is no herd work and even the horses in the Snaffle Bit Futurity can be handled and the rider usually does not drop his/her hand. If you watch the Snaffle Bit Futurity, it will see that it is the cutting bred horses (like Boyd Rice rides) that the rider drops their hand on and let the horse do it all.
---
Last edited by Cherie; 07-09-2011 at

04:43 PM

. Reason: spelling