That mare works cattle quite well. If she did not she would not win like she does in NRCHA. Only time that mare has lost a class was in the mud and well she hates mud. Never shows well in it.
As for the ears. They are always like that. She has them pinned about 24/7. Just her things like most dun it mares.
Case in point.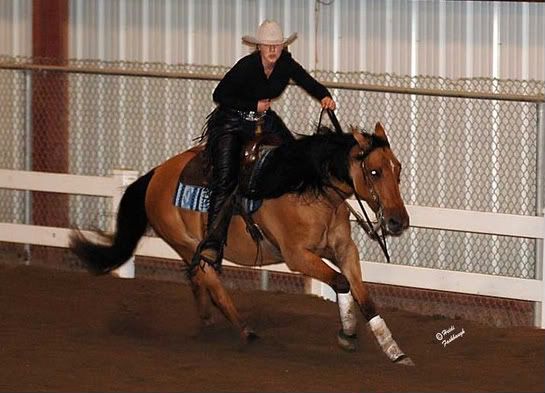 Like I said a Dun It will not make an NCHA Open Futurity horse. Heck even horses bred out the rear to be cutters do not make NCHA Open Futurity horses. However what they do make is a NRHA Open Futurity horse and Non pro/green Reiner horse and they do very very well in NRCHA. If you go back just 2 generations they where bred to be cutters. Only reason why they went the reining rout was simply location.
If this mare did not have cow she would not have done as well as she did. I know horses trained just as well as she is that do not even place at NRCHA shows.
---
-I'm so busy... I don't know if I found a rope or lost my horse.
-An Armed Man is a Citizen an unarmed man is a subject.
-Where ever free speech is stifled Tyranny will reign.
---
Last edited by nrhareiner; 07-09-2011 at

05:06 PM

.
I did not say your horse did not have any 'cow' in her. I have about 40 Foundation bred horses and they will all work a cow. My stallion I sold about 10 years ago was a horse named Classical Silver. He and all of his get have a lot of cow in them. Every last one of them will work a cow, let you rope and doctor big cattle, will sort and pen cattle and will sure turn one on a fence. BUT, they are not ever going to be cutting horses. The man from Mexico City that bought him, won the 'Supreme Reined Cowhorse' title on him 2 years in a row on Mexico City at the largest show in the country -- But, they still aren't cutters.
I told the OP this
Quote:
He would probably make a nice ranch horse or cowhorse, maybe a team penner or a sorting horse.
I told her he would probably make a 'cowhorse'. That is NOT a cutting horse. A cutting horse requires that the rider drop his/her hand and NOT help the horse.
The OP specifically asked if her horse could be a cutting horse. That was the question I answered and told her he could probably be a cowhorse but not a cutter. There is a world of difference.
So, we agree -- he could make a cowhorse -- especially if he is not as lazy as his sire.