Cross country training days?
---
I wasn't sure where to put this, but hopefully someone could offer some insight. I'm not an eventer, as I was never thrilled of jumping over objects that arn't very forgiving. However, there is a need in my area for more cross country courses and I now have an extra 35 acres to fill that need. :o)

I would like to host training days for people to come out and practice and maybe host a cross country schooling type event every now and then. My question for everyone is do you have a similar facility in your area? What do they charge? What do you like and don't like about their facility? Do you have a favorite jump? which jump do you need to practice the most on?
---
~ Starline Stables ~
Firstly, make sure you have a Certified CC Course Builder to come and help you. It'll cost $$ but that way you know those fences on your property are up to standards, and that in the long run - covers your tooshy for liabillity.
You can make the fences yourself, but they must be inspected and they must be approved by someone in the field. For example, the Fox Hunters at the Hunt Club here *where I am from* had the fellow do the coure at this particular fascillity, who helped build Rolex Fences and he also built and designed all the fences at Richland Park here in Michigan.
SO when people pay money to use the course, they are riding USEA/USEF standard fences that are acceptable for Eventers to pay money to use them - so if something happens physcially to a horse and rider, you cannot get blamed and pinned for unacceptable, faulty fences.
The Manager at the Hunt Club charges $35.00 for a day use on the course. You sign a waver and the rider MUST have an Insured Coach on property with the rider. If not, the Manager of the barn must be out there with you - liabillity reasons.
The course runs from Beginner Novice to Training Level. Every fence is up to each levels max fence height. The fences are demanding per level, and inviting per level.
The terrain is challanging to more difficult fences, and flows easily to less demanding fences *All this will be worked with you by the certified course designer*
The most challanging fence for me is the Trakhenner. I always look at that blasted open space between the fence and the ditch that is dug underneith it. Hate it, hate it, hate it!
My favorite fences are the roll tops, the 3'3" Table Top and the water obsticle. I love jumping down into the water.
This is Nelson and I jumping the Training Level 3'0" log fence. This is the first fence taken on the course. This fence must be approached in a coffin canter, right out of the start box you go down a slopy hill, with about 2 strides of flat even ground.
This is a Training Level Ski Ramp. About 3'3" wide and 3'0" high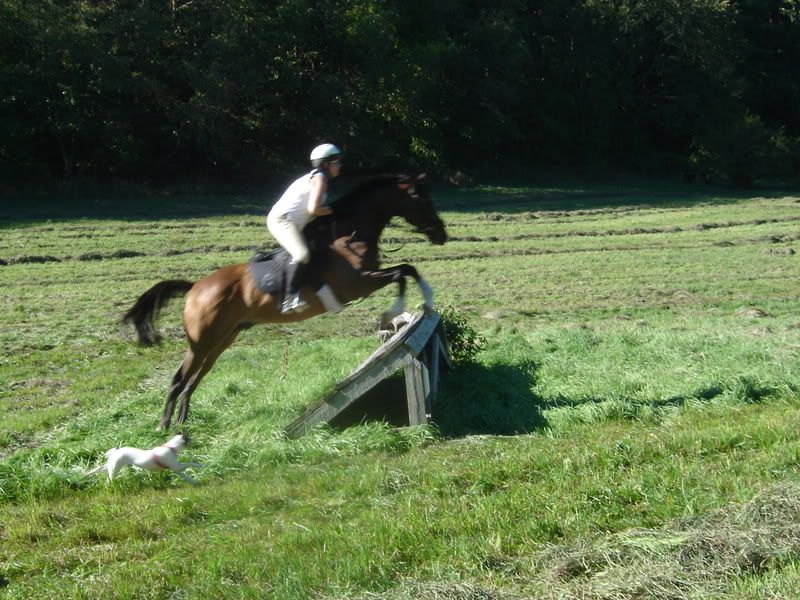 Training Level Roll Top. Very inviting. Just pick up more of a hand gallop on your approach and remain solid. It is about 3'3 wide and 3'0" high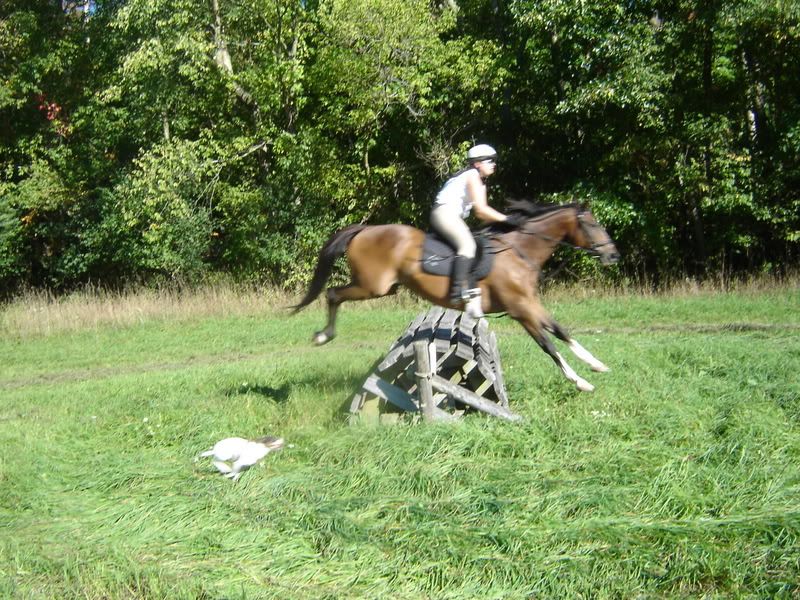 This is a Novice Stair Case. They call it the stairway to heaven. Looks just like a stair case on the side you approach. About 2'9" height, 2'9" wide.
Here is another view of the course. Looks bleak, but during comp mode it has a totally different appearance. And that isn't the 1/2 of the course. In the forrest to the left, there are even bigger, more demanding fences and then in the forrest to the right Training Level heads out that way hitting skinnies, 3'3" stairway to heaven, another table top and a huge jump coming out of the forrest towards the water complex, doing down a drop to hill, then to another jump dropping into the water.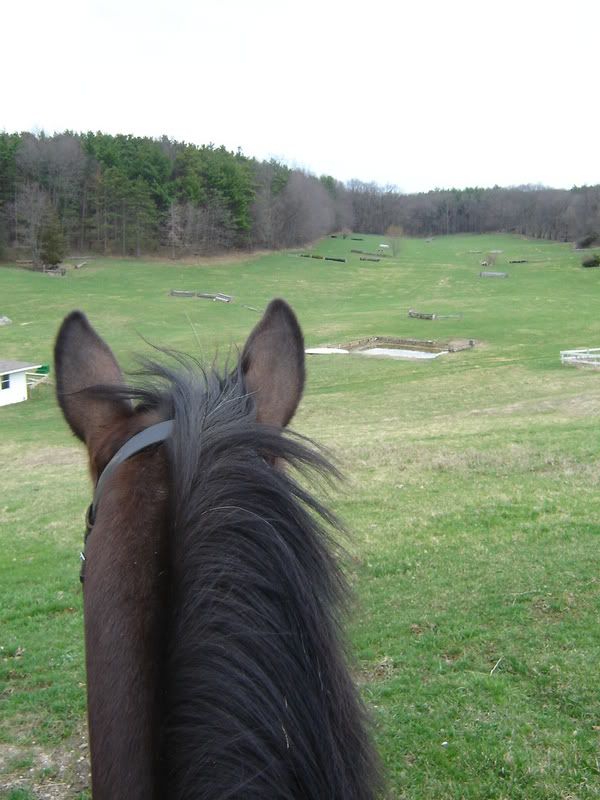 ---
Last edited by MIEventer; 06-06-2009 at

03:15 PM

.
Green Broke
Join Date: Mar 2009
Location: Kansas in the summer, Kentucky most of the time
Posts: 3,028
• Horses:
3
Once again, Great post MIEventer.

Starline- lots of great advice from MIEventer. Definitely use it!
---
Look like a SUPERSTAR, Ride like a FOUR STAR, Win like a ROCKSTAR
Eventers: Making BAD Dressage look GOOD!
That is multiple levels of jumps all in one field right? Unfortunately I don't have alot of trees in my field at all. Is that a must for eventers? Is it relatively safe to have horses turned out where the jumps are? (obviously not when riders are out there jumping).
---
~ Starline Stables ~
If you are using your fascillity as a place for schooling, then you don't need allot of hooplah.

Now, keep in mind - majority of people will pay money to school on the course they are going to compete at. For example, at the Hunt Club - their USEA Event is held the first weekend of June. The open date for the course before the comp is 3 weeks - so competators who are registered to compete will come and school over the course so that they are accostomed to the fences before the comp comes so that both horse and rider are prepared for that big day.

Now, some fascillities - such as Richland Park. CIC*** CCI*** fascillity - will not permit anyone to school on that course. It is far to expensive to allow people to step foot on in at anytime aside from comp.

But most low level fascillities allow schooling 3 weeks prior to competition. Then 1 week before comp, the course is closed so that any minor repairs can be done and decorating the jumps and cleaning up the terrain for competition day.

So keep that in mind. If you want a course for schooling only, don't be insulted if people would rather spend their money on courses that they will be competing on.

Another option, is hosting clinics. Hiring a very experienced, quallified Eventer to come and give clinics - but again, your course must be approved/inspected by a certified course designer so that those jumps are safe.

I would not permit horses to be turned out in the area the course will be built. Horse chew, horses can damage your expsensively built course - which in the long run can cost you more money for repairs and cleaning up the area so that when people pay you to school - it is safe and up to standards.

You don't need forrests for your course - that was just added on this particular course for xtra umph and to give more area for the 3 different classes *BN/N/T* jumps to be spread out so that the ride per rider meets USEA ride times *5 minutes, etc, etc*
My husband builds everything and we are fortunate enough to have access to nice equipment :o)

Here in North Texas, I'm in an area where their are only 1 maybe 2 major facilities with cross country courses that hold recognized competitions. There may be a few other facilities with a couple of cross country type jumps but nothing substantial.

Do boarders pay more for combined training facilities?
---
~ Starline Stables ~
Make sure your fences are approved and inspected by a certified course designer.
Absolutely! however I'm not sure where to find that individual.... ???
---
~ Starline Stables ~
Contact USEF and find out where to get started on the search. Contact USEA recognized courses that are out there where they have comps, and find out who and where they found their course designers - etc, etc, etc.

It is one thing to build a course yourself on your own property, for yourself to use - but I believe it is a whole new ball park when you open the course to public.

So really do your research here to cover your arse in the long run.