Desensitizing to a scary monster thing that looks like grass lol...
---
My trainer threw in this jump during one of our lesson and Hero freaked out - Its an x-rail with this greenery and he freaked...I was confused because he's seen it before and I had him walking over it when it was just a pole on the ground.
She just took the greenery off and we havent work with it since.
I thought well he needs to learn that its okay and not scary.
So I have been taken this thing in the round pen with me and letting him sniff, trot over it (well he jumps over it).
Well the other night it was just hanging across a vertical in the wind and he spooked from it across the entire ring - I almost lost it. I was so frustrated.. the next day I brought my husband out to keep an eye on me while I introduced it to him again. I let him walk up and sniff it when I ask for another step he does a few side way steps and then..
The results.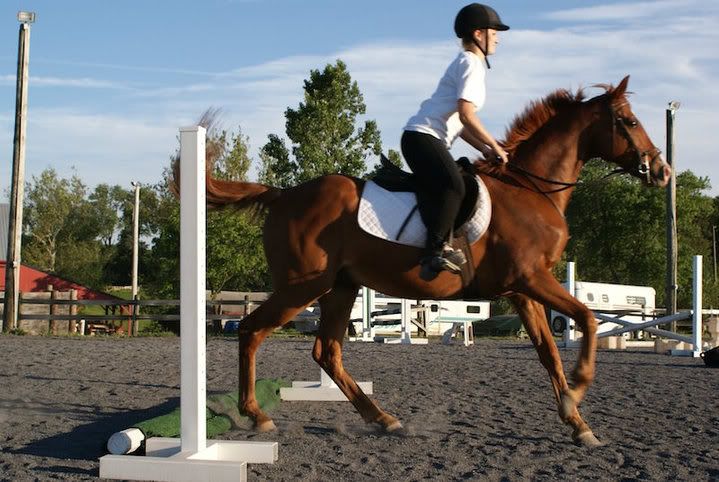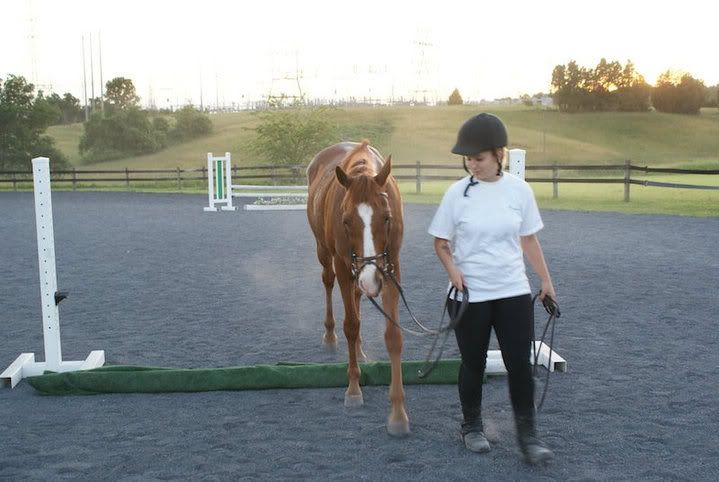 Did I push him too much? I thought we ended on a good note but it took me 60x to get him over it.
I think I might keep doing this every time we're out there to just keep showing him its not scary.
I'm sure next time I go out there to practice this it'll be back to the start all over again.
lol! It is good that you kept it up until you ended on a good note! Next time will probably only take 45 times, then 30 the time after that. . . For my little mustang, it was water. A tiny trickle of water. My 30 minute trail ride turned into a 3 hour trail ride!
Banned
Join Date: Jul 2009
Location: In a land far far away, or so I wish.
Posts: 12,825
• Horses: 0
It for sure looks like horse eating green fuzzy stuff to me.
Good job getting him used to it - again.
Good job!! He should be fine with it now. Looking at the pictures of both you and him walking over it, he looks pretty relaxed. I'm soooo glad you ended on a good note, that's the most important thing!!!
---
- If today was your last day, and tomorrow was too late, could you say goodbye to yesterday?
The fact that you got him over it is a success in and of itself. Even if he jumps over it every time it's a step in the right direction. When are you trying to introduce this to him? I would suggest working him in the arena with said object for a while and not asking him to do anything but circle it, etc, without actually making him approach it. Keep his rhythm steady and keep him focused on you. If he tries to look just ignore it and keep riding him around in the arena. Once he is totally relaxed, supple, and paying attention to you completely (and possibly is a bit tired ;) ) would I approach it. Every time he even takes a step towards it praise him. If he wants to stretch down and sniff it, praise him. When he's comfortable just standing near it, then ask him to walk over it. Like I said, even if he jumps it, that's a good thing!
---
"Always be yourself. Unless you can be a unicorn. Then, always be a unicorn."

What is it with those green things? My horse thought it was a monster the first time too. If I remember right, most of the school horses I rode over the years were afraid of them too. Looks like you made good progress already. I did a similar thing. I just kept riding my horse past it until he stopped reacting to it. I quit after the first calm pass so he knew he did a good thing.
---
You just have to see your distance...you don't have to like it.
still having problems granted its been since tuesday since ive worked with him on it but last night i went out and warmed him up, then was trotting circles around it - he really was forcing the circle out more to get away from it. once he calmed down I went towards it - he spooked so bad I almost fell. He did a okay I'll jump it to a sideways spook.
I was by myself so I ended with just walking around it because I didnt want to hurt either of us -
I'll try and have my husband come out next time or maybe ask my instructor on wednesday.

I just dont get whyyy he is so afraid of it still when I had him calmy walk over it.rrrrrr
Make him cross it, over and over. Don't do any other pattern.

Warm him up, and make that the ONE and ONLY obstacle until he gets it. If he jumps it, great. Let him take 3 or 4 steps as a semi-reward and stop. Count to "5-mississippi" and turn him around, and calmly and collectively ask for it again. Do it back and forth, over and over, until it just wears him out. He will eventually rush over it at a trot instead of jump, then at a walk. Once he walks over it, stop him half way and let him rest over it.

If he is STILL struggling, make him go forward over it, and make him back over it. Once he's calm by it, call it a day. Even if it only takes 10 minutes, call it a day, and let him have the rest and think about it. Just spend the rest of your visit grooming and loving.

What ever you do, when he is spazzing out, you can't get frustrated. Just calmly ask. Don't keep it at the front of your mind that he always has a problem with this, just pretend he is a new horse, and this is a new obstacle --- every time he balks at it. Set a reasonable goal for the day, and don't accept anything less than perfect.

And too... when you're trying to get him to stop JUMPING over it, halt him before he even gets his weight redistributed to jump. You'll feel him rock back on his hocks, loading up, just crank on him a little and change his mind.
---
Last edited by westonsma; 06-14-2010 at

10:33 AM

.
thanks westonsma

I think he got the hang of it the first day iwth the photos above I slowly started to half halt him after he settled and the helped him just calmy walk over it instead of walk then HOP

But yesterday I walked him up and he wouldnt even go near it! I hate that kick kick kick step side ways kick kick then he backs up fratically. I usually pause and wait and let him go forward again.

He seems more comfortable trotting towards it and jupmping it then walking.. is it okay to warm up over it at a trot and slowly bringing it down to a walk?