Developing muscling
---
My gelding needs to build muscle. He is hollow in his haunches from his stifle joint to his loin. He also has a hollow near his withers.
I've been lunging him over ground poles, and I'm seeing some improvement on the topline.
I do yoga and stretching exercises with my horses and he loooovvveeesss it.
Can you think of any other exercises I can do with him to improve his muscling?
I have put a picture of him on here, and then I used photoshop and drew in to show what I am talking about.
Thank you in advance for any advice you might have!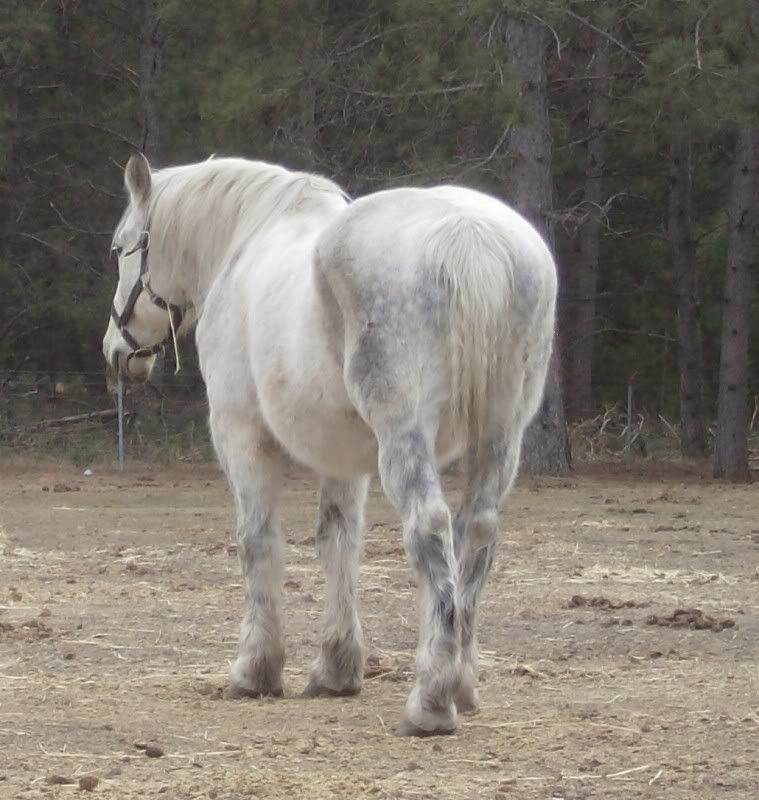 Hill work, trot-canter-trot transitions, transitions within gaits..... dressage work basically. But correct dressage work, where he HAS to use his back end or it will be pointless.

Lovely looking horse!
Thank you Kayty!

My vet insists that its "normal" for drafts to have that great hollow in their hindquarter, but none of my other drafts have ever had it. This fellow I've only had for about 2 months, and its how he came to me. He is an incredible boy!
Loping and backing up, as Kayty said correctly where he is not hollowing his back, but rounding it and picking up the shoulders not dragging them. I like to back the horse through the shoulder to keep the shoulders up and hind-end engaged.

Good lesson for transitions is to walk the horse 3 steps and stop. At the stop push him into the bridle just enough that he raises his back then as you release the pressure of the rein ask him to walk again. At first he may dance around so it is easier to start against the rail. Then you will counter move him until he stands and 'collects' himself then let him walk out. You will move to the trot and canter. At the trot it is still 3 steps then stop, at the canter you will count 1 thousand 1, 1 thousand 2, 1thousand 3. You are looking for the horse to start collected, he will then start stopping collected and finally he will do both and travel collected.