Diablo- Chapter 2 (With pics!!!)
---
Ok! So, I went out again today to work with him, and of course, fell in even more love with him!!!
So, I caught him much easier today by giving my horse some attention and treats before even thinking of catching him. He was nervous when I did switch my attentions to him. But...he stood there while I haltered him and then got a treat. YAY!
Led him around a bit and got him used to it again, put him in some chain cross ties (wasn't too happy with that but new ones were being put up that are nylon with safety releases). He was VERY nervous...and my own horse wasn't really helping by crowding him x.x Ran her off though and he stayed nervous, so I moved him out to the front of the barn, away from my horse compleatly. Groomed him up (Brushes eeeeaaat him!!! lol) Once he calmed down, I showed him Fly spray....oh joy...lol. There was LOTS of bakcing away with wide eyes because that too would eat him!!! Didn't take too long though and soon I had him standing like a pro! Though, as soon as he heard it slosh, he flipped out again. So...I shook shook shook it and got him to chill out again lol.
When I was done with that, I hooked him up to the new cross ties and just let him stand there because why? He was nervous! So, I let him just stand there and chill out a bit. When he calmed down and just stood there, I went to go comb his mane...You'd think I had come at him with a chainsaw!!! He pulled one of the ties right out of the wood!!! It took a minute to calm him down, and my mom (love her but she thinks that when a horse freaks out you just let them be lol) told me to just stop it and put him up. I didn't though. I went up to him with the comb and let him freak out. He backed and backed and backed until he learned I wasn't giving up and the comb wasn't attacking him. After that, I could put that come ANYWHERE. Mom put the cross ties back up and I made him just stand there again while I combed out his tail. He stood like a pro lol.
Took some pics (which I'll show you soon! lol) Then worked him at lunging a bit. He's a SUPER fast learner!!! Even his owner said that he's never been lunged, just put in a round pen. He did rather good after he realized that, once again...ropes and whips won't eat him!
I only worked him for about 10-15 minutes on both sides, and amazingly, when I was done...he followed me around o.o Totally wasn't expecting that as he kind of has that 'grumpy old man' attitude when he's not being totally freaked out!
Now...for some pics!!!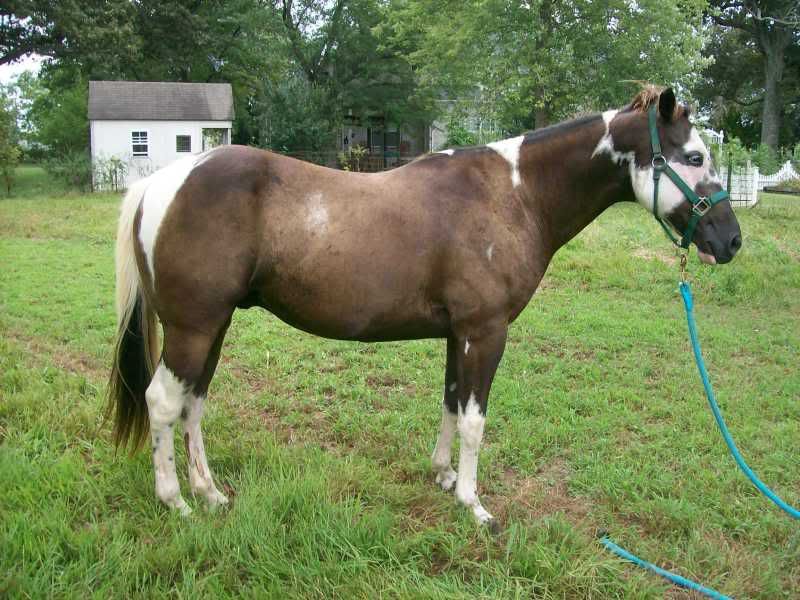 He is VERY sunfaded, which makes me a bit sad...but it's fixable with some time and attention lol. And, if you look close, you can see that both of his eyes are blue hehe.
He just looked SO much happier after I was done working with him today...as if he just has so much more to look forward to or something I guess....Either way, I think this is good for him and me and I can't wait to work with him even more!!! Who knows...maybe some day he'll make a wonderful trail horse!!!
Yearling
Join Date: Jun 2010
Location: On my horse's back! Obviously!
Posts: 925
• Horses:
2
Aww! He's so cute! I love his mulit-colored mane and tail!
Yessss!!! I won't lie, I'm not usually a fan of Paints....I'm just too much of a stickler for symetry to take uneven patterns lol, but I just LOVE him! Even if he is a fraidy grump of a horse lol.

The spots on his face (I'll get a pic of those too lol) always make his face look dirty...I just want to scrub them off...but you know...kind of a part of who he is lol.
I have to agree, i dont usually like paints.. but there's really something about him thats special.. makes him look really handsome. Sounds like your making real progress with him
good job! i think he's going to learn to love soon and will want lots of kisses!
.. he's a beaut! good luck and keep up the good work!
He's really handsome! I will definitely be tracking his progress :) He has such unique face markings!
---
Nicole
Oh, he's a diamond in the rough! With some time and color brightening, and of course shinyness(lol) he'll be a real stunner. (: And he has two blue eyes, just like my guy. Good luck with him.
---
There is something about the outside of a horse that is good for the inside of a man. ~Winston Churchhill
wow thats some really cool colouring!!!
I love the mane side of his neck! The mane like camoflauges!!
Cute horse!
But I would like to advise you not to have other horses around when you cross-tie a horse... even with the calm, been there- done that horses it can be a disaster.
Good luck with your training and keep us updated! :)
---
Every great dream begins with a dreamer. Always remember, you have within you the strength, the patience, and the passion to reach for the stars to change the world. ~Harriet Tubman