The different conformational types and their uses?
---
So we have hunters, jumpers, trail horses, dressage horses, barrel racers, etc. Now, I'm somewhat familiar with the different builds, but not quite. I would really like to see pictures of a horse, and what that horses particular build is best for. Now obviously just because a horse is built a certain way doesn't mean he/she will actually enjoy and do well at what it is built for. So those of you that are really conformation savvy.. could you post pictures and explain what said horse does, why, and why said horse can do what it does? Some day I would LOVE to jump and maybe learn a bit of dressage, and I would like to be able to find the "right" horse for what I want to do. :)
I go much more by breeding and what horse's close relative have been able to do. I gave up a long time ago trying to pick prospects by type.

For one thing, there is no measure of desire, heart, ability or the amount of 'pressure' a horse will take and still keep trying to comply. The point at which a horse that is asked for high level performance 'blows up' or 'gets mad' or just plain quits you determines how great or good or mediocre any horse is. This is why people pay huge prices for well bred prospects that come from great long lines of horses that have been or produced great performers.

Many years ago I was told by one of the greatest Reining trainers, Bob Loomis, that of all of the conformation traits you don't want in a reining prospect, you don't want a horse that is built 'down-hill'. You don't want a horse that is lower at his withers than at his hip. This was before he bought and trained Top Sail Cody (who was not built down-hill).

Well, a few years later a horse came along named Hollywood Dunit. Dunit and most of his get are anywhere from 1 to 4 inches lower at the withers (which many don't have) than they are at the hip. There went that great observation. The dunits were (and are) harder stoppers than most other reining lines.

Nowadays, no one will put the $25,000.00 plus that it takes to finish a reining horse unless that horse has impeccable bloodlines. Good prospects sell for $20,000.00 and more and the ones out of great mares and high winning stallions bring $100,000.00 or more.

Do you look at conformation? Of course! But, speed, agility, and innate ability (like cow) along with the desire and the ability to withstand a lot of pressure without blowing up mean a whole lot more.

Do mongrels and rescues ever make good horses. Sure. Once in a while a 'fluke' comes along, but you will go broke looking for them. If you want a good stock dog, you do not go out and buy a beagle.
It's all about the heart baby!!!! I want a horse with try, and courage!! of course physical abilities play a role too, and breeding as well. My mare for ex is a quarab...nothing special. arab side is english horses, QH side is halter horses. She kicks butt in gaming events, reining, cattle work, she can jump like a deer...just about anything i ask her to do, she gives 110%!!! she doesn't have GREAT conformation, but she is a pretty well built mare. Sorry for the photo bombing :) yes, I am slightly obsessed with my horse, she's amazing IMO. And from my name, you might understand that it's been a while since I've been home to see my four legged soul mate :):):):) It's all about the heart :)
Top horses regardless of the field they are winning in, could probably go on to be top horses in another field with some retraining.

Talking about English riding, a good competition horse needs good conformation to remain sound. There are always exceptions but they are few and far between.

The biggest difference in conformation comes from the heavy horse breeds and the riding horse.
Heavies will need a shorter neck, straighter shoulder and their hocks should be set close together (old saying is a good draught you should get a bowler hat between its front legs and a postcard between its back legs) This is to give it more power to pull. They do not need speed, purely strength.

In the UK there are a lot more types of showing classes. In horses there are
Cobs (Light and Heavy weight and now Maxi cobs) Shorter thick set horses capable of carrying heavier weights. The first two sections are for horse over 14.2 but under 15.1

Hacks, Riding Horses and Hunters, all are different types, but all are conformationally correct. There are also many sections for each of these classes.

All of these horses would be perfectly capable of being trail horses.

The dressage horse needs the big movement and needs to be lower behind when it canters. That is all from action and not from conformation.

As said, the willingness to work at the sport chosen by the owner/rider means a terrific amount. If the horse is not enjoying its work then it will show in its performance.
Weanling
Join Date: Jun 2012
Location: Michigan, but my heart is in FL!
Posts: 281
• Horses: 0
One of the best classes I ever took was Form to Function of Horses. I suggest you read Susan E. Harris books because she does a wonderful job explaining how the form of a horse relates to it's movement. For example why the deep angle in a Saddlebred's shoulder is so important because it allows for higher action in the front legs. Here is a picture of the horse my daughter rides. He is a purebred Arab.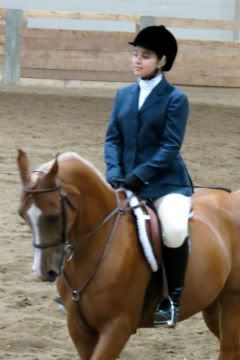 he has a nice laid back shoulder but not not tremendously, so he has some action but not as much as say a Saddlebred or an Arab bred for English Pleasure. However having a deep angle to the shoulder also means that the neck will be set higher naturally. So you get a higher head set for that really nice arch which is desirable for an Arab. But he isn;t going to have that low flat topline like a TB or QH will in their Hunter class. And he isn;t going to move out with as long as a stride either.
---
Last edited by uflrh9y; 07-14-2012 at

07:41 PM

.
Weanling
Join Date: Jun 2012
Location: Michigan, but my heart is in FL!
Posts: 281
• Horses: 0
What we used to do for Horse Judging Team was cut out different pictures of horse and look at the side by side. You will see obvious difference in conformation and it will make it make sense. Here is a quick one for you. (these are pics from the web, none are my horses)
quarter horse
saddlebred
Isn't it obvious why the top one is shown with a low head set, flat topline, longer stride, easy motion, and has a lot of power for forward motion and why the second one has lots of action in their front end with most of it's weight on the hind end, a high head carriage, and is all about the vertical? Just by looking at their form you can absolutely tell their function. :)
Weanling
Join Date: Jun 2012
Location: Michigan, but my heart is in FL!
Posts: 281
• Horses: 0
Army Wife, photo bomab anytime, those pictures are amazing! Gorgeous horse.
Subbing...

I know what I like to see. However it doesn't make it correct. And I am no conformation expert.

Curious to read responses!
---
I DON'T LEAD 'EM AND FEED 'EM, I RIDE 'EM AND SLIDE 'EM.
Quote:
Army Wife, photo bomab anytime, those pictures are amazing! Gorgeous horse.
Thank you so much :) I learned a lot from your pics!!! I've heard a few takes, not sure how true they are, but they make sense. Like the deeper the "V" in between a horses front legs, the further they can reach doing turn arounds in reining. Or the deeper the slope from the loin to the tail head, the further the reach on the back stride.
Weanling
Join Date: Jun 2012
Location: Michigan, but my heart is in FL!
Posts: 281
• Horses: 0
There is also the conformation box theory. Where if you draw an imaginary box from wither to dock of tail to the ground the horse should fit equally in thirds and horizontally in half. I found this picture to help explain.
I don't know if they still do it, but way WAAAYYYY back in the day Practical Horseman used to have judging photos with reasons on the back page. That was probably my favorite part.
---
Last edited by uflrh9y; 07-15-2012 at

09:09 AM

.