disrespectful horse
---
Well I have finally realized hoe much my horse disrespects me. And now I don't know if I should stick it out with him or not. About 5 months ago I bought Moose and he was the first horse I have actually owned, I've been leasing the past few years. We brought him home and everything was fine. He is an 18 year old ottb and has been a lesson horse and eventer. I got him to ride english for fun. He was everything I ever wanted for the first few months. Now he has shattered my confidence!

He has learned I am such a push over with him and I have been babying him, letting him decide what we are going to do everyday. He has lost all respect for me, and his acting out makes me nervous and scared of him. I know he is a great horse, he showed me that this winter, but now I have let him get away with so much, I do not know how to fix it.

I took him and I on our first trail/camping ride this weekend with my neighboors. The problems started when he wouldn't load. After he flipped out the back of the trailer I was hysterical worrying he was going to get hurt and I was just saying I didn't even want to go camping, that he wasn't going to load so let's just leave him here. Finally I left the area while my husband and neighbor forced him on there.

The next issue I have with him is him tying. He pulls back when tied and this is his behavoir that scares me and makes me so nervous I shake. When he pulls back, he really pulls back and doesn't give into the pressure. I don't want to kill my horse or have him get hurt when he startd doing this so he has learned when he freaks out when tying, so do I so I untie him and let him run free. I start getting tense and worry that he is going to pull back if he starts moving around when tied so I stop my tying training lesson and let him out to pasture.

He has learned how to manipulate me to get what he wants. I need to fix this or I will never be able to enjoy him.

When it was finally time to trail ride he was all nervous once I got on his back, as was I since it was both of our first time trail riding. It was about 5 minutes into the ride and everything went downhill, literally. There was a huge steep hill to climb up, nothing I had ever had any expiernce with being an english rider doing most of my riding in the arena. So we follow the horses in front of us up it, we get half way up then moose starts backing down. Another rider still at the bottom let's me follow him and his mare up, so we start up it again almost get there, but tthen stops, I start kicking him, he was dancing around in the woods, I got nervous and not knowing it at the time must have pulled on the reins for security, we both start going down the hill, he starts to lose his balance so I fly off, before we both fall and he falls on top of me. I got a pretty nice black eye and some good bruises.

At this point I am hysterical again and just wanted to go home. I was sore, embarssed, my confidence gone. I ended up swithing horses with my husband. He was riding one of the neighbors well seasoned trail horses. My less expieranced horse husband who has never gotten on mooses back got on Moose. He rode Moose for the entire 8 hour trail ride. There were a few hiccups in the begining getting him to not speed up to get in front of the line, and he tried backing down the next hill. Overall once my husband got on moose, you would never have guessed it was his first trail ride. He was a different horse.

It makes me feel aweful my husband who hasn't messed with horses much got on my horse and could ride him. And now after the fall my confidence is gone.

My husbnd has been working with our neighbor on treating moose with a harsher hand, and not putting up with the disrespectful stuff he has tried with me. Moose has got me fooled that he is a bad horse. I saw how good he can be with my own eyes.

I just don't know how to get my confidence back and be firm with him, I always considered hitting a horse abuse, but I've seen how using some force on moose has gotten him back to the way he is supoose to be!
Posted via Mobile Device
Hitting a horse with anger with no purpose besides satisfying your anger could definately be seen as abuse. But what do you think when he's out in the pasture, and gets kicked by another horse for doing something disrespectful? Do you consider that abusive? Correcting a horse does not mean abusing a horse. Hitting a horse does not always mean abusing a horse. You may gave to get tough with a horse, and it is not necessarily abusing a horse. Think about it this way - since you haven't been tough/stern/accepting nothing less than respect, NOW you have to be EVEN TOUGHER than you would have to have been in the first place. Wouldn't it be more fair to him to correct him and get his respect immediately, than to let him get away with bad behavior until you have to give him the *smack down*
Posted via Mobile Device
---
Last edited by katbalu; 05-29-2012 at

10:33 AM

.
Quote:
I always considered hitting a horse abuse
That there is your problem. There is nothing wrong with one good hard whack.
With the tying, honestly, tie him solid in a rope halter with no clip on the lead rope (any metal creates a weak spot). He is old enough to learn to give in to pressure sooner or later. You just walk away and leave him for a while. Have someone supervise him in case he's really going to hurt himself, but if you're likely to cave in to his protests, don't be within eyesight. Both my horses tie solid, I don't use twine because I have had a horse learn to pull back when it broke and he got loose. I can walk away and leave them for literally hours at a time and never a problem.
If you ask him to go forward, he GOES FORWARD. I don't care how much force it takes you to make him move, the important thing is that you make him move. I know some people who wait them out and then make them stand a little longer, but honestly, if a tree is coming down on top of you you don't have TIME for that. IMO you should ride, all the time, like you expect your horse to respond and do as it's asked RIGHT NOW, just in case you really do need to get somewhere in a hurry.
Loading can be a fear thing, or it can be a stubbornness thing. My gelding was terrified, at first, after falling twice in a transport truck on his way to me. My mother was the first one of us to try to load him and he flat out refused, so she gave in because she didn't have a lot of time. Ever after that, he was a nightmare until we MADE him go on. He now loads easy every time and sometimes self-loads. He self unloads every time easy and calm.
Horses are big, dangerous animals, so it's imperative that they respect you. A large part of that respect is you ask, they do. Right away without protest. To teach them to respond, you start really small, with a very gentle ask... like a please, pretty please will you? And then you tell them (for example with the hill) "walk on". And then demand. "WALK ON". And then a promise, and this last phase has to be REALLY good, because it's your last resort. "YOU WILL WALK ON RIGHT NOW OR YOU'LL BE SORRY".
it's sort of like, with the walk, a little touch with your heels. Then a squeeze. Then a little kick. And last but not least a big cadenza, HUGE kick, whip, spur, whatever you have to do to MAKE that horse move.
Start this in the round pen at first, a controlled space. Make sure that when your horse does move, you don't catch him in the mouth, and just let him go for a few strides. Then bring him back gently, and start again from the very softest of asks. They learn very quickly. It will seem to the outside observer that the horse is having a big panic but they are actually perfectly calm once they understand what's going on.
Be aware that if YOU are the one to do this, he will escalate his behaviour and try to dominate you. Whatever you do, don't give in. Just keep at it until HE gives in. Even one step is progress. Even half a step is progress. If he moves in the direction you ask him to move, even the slightest little bit to begin with, then YOU have won.
The important thing to make sure you always do, is get what you're asking out of the horse... even if you have to take a step back and ask for it a little simpler, as long as you finish on that good note you have won and he will learn that you are the boss.
Edit to add; the problem you have is because you seem not to have gone past the "please, pretty please" and so he has gotten away with ignoring you. Horses always take the easy way out, and if you make it easier for him to do as he is told, then he will do as he is told. You haven't been doing this, so he hasn't been behaving himself.
---
REGAL PRINCESS
---
Last edited by blue eyed pony; 05-29-2012 at

10:38 AM

.
I think you both would be best served by finding someone who can work with you together (and possibly also separately) from a training/instruction standpoint.
Sorry, I double posted :)
---
Last edited by clavoie; 05-29-2012 at

11:35 AM

.
Yes, I think it took this camping trip to realize how big of a problem I have created. I am also glad no one has said to our right sell him and move on.

Thanks for pointing out that.horses naturally are rough with each other in the pasture. I guess I was just so hung up on the fact that hitting a horse was being "mean" to them. I just wanted my horse to like me, so when I asked pretty please and he refused, I gave in and said okay maybe next time. I wish I had caught my mistakes a lot earlier.

Luckily my neighboor who we went camping with is also my farrier and he breaks horses on the side. He is a wealth of knowledge and made a good point to me this weekend. He explained to me horses are not pets, they are livestock. I have been thinking Moose is this fargil little thing while in reality he isn't.

This weekend I steped back and let my husband and our farrier do whatever it took to get moose to respect them. There is a world of differnce between how moose responds to them. He is an angel to them, and rightfully so. They didn't put up with his games. Everytime he pulled back they untied him and ran him backwards in circles, up hills, and finally he stopped pulling back.

The farrier told us to tie him up for a few days and just let him be, he will work it out himself and realize it isn't worth hurting himself. This weekend we are taking Moose out on the trails by our house this weekend with my husband, the farrier and his wife and I am going to ride him. I am excited because I do want to conquer this.

Luckily our farrier/friend is willing to work with me to get moose back to respecting me. Him and my husband are also going to spend a lot of time working with him when I go on vacation a few weeks.
Posted via Mobile Device
Hitting a horse with anger with no purpose besides satisfying your anger could definately be seen as abuse. But what do you think when he's out in the pasture, and gets kicked by another horse for doing something disrespectful? Do you consider that abusive? Correcting a horse does not mean abusing a horse. Hitting a horse does not always mean abusing a horse. You may gave to get tough with a horse, and it is not necessarily abusing a horse. Think about it this way - since you haven't been tough/stern/accepting nothing less than respect, NOW you have to be EVEN TOUGHER than you would have to have been in the first place. Wouldn't it be more fair to him to correct him and get his respect immediately, than to let him get away with bad behavior until you have to give him the *smack down*


Totally agree with this - you took the words right out of my mouth. Horses are smart and they will test you. When they find out you are a push over they will exploit this to no end. Horses "battle" for pack hierarchy. You need to be at the top of this pecking order. No exceptions.
---
ďWhen your horse follows you without being asked, when he rubs his head on yours, and when you look at him and feel a tingle down your spine...you know you are loved.Ē
―
John Lyons
"I just wanted my horse to like me..."

And therein lies your problem, which you're realizing now. Start thinking about your relationship with your horse this way: You will make his life easier, less stressful, and ultimately happier when you become the kind of leader he rely on, and the kind of leader who gives him consistent structure and boundaries.
Quote:
Well I have finally realized how much my horse disrespects me. And now I don't know if I should stick it out with him or not.
I read the whole post. I say, keep him. He IS manageable, he isnít too old to enjoy yet, but you need to learn to horse-wrangle. There are VERY FEW horses around anymore that anybody can handle. So, if you want to be a horse owner, learn from him. REMEMBER, the horse is the same weight to YOU, as you are to a cat. You MUST be gutsy, brave, and DONíT worry about
him
getting hurt. The previous owners didnít want him anymore, and I donít care if he gets banged up while you learn to be his boss.
Quote:
He has learned I am such a push over with him and I have been babying him, letting him decide what we are going to do everyday. He has lost all respect for me, and his acting out makes me nervous and scared of him. I know he is a great horse, he showed me that this winter, but now I have let him get away with so much, I do not know how to fix it.
You must dedicate the whole summer to reestablishing leadership. Your starting point is haltering, tying, and grooming.
Expect and teach him to drop his head down and tip towards you holding it there while being haltered.
Like this--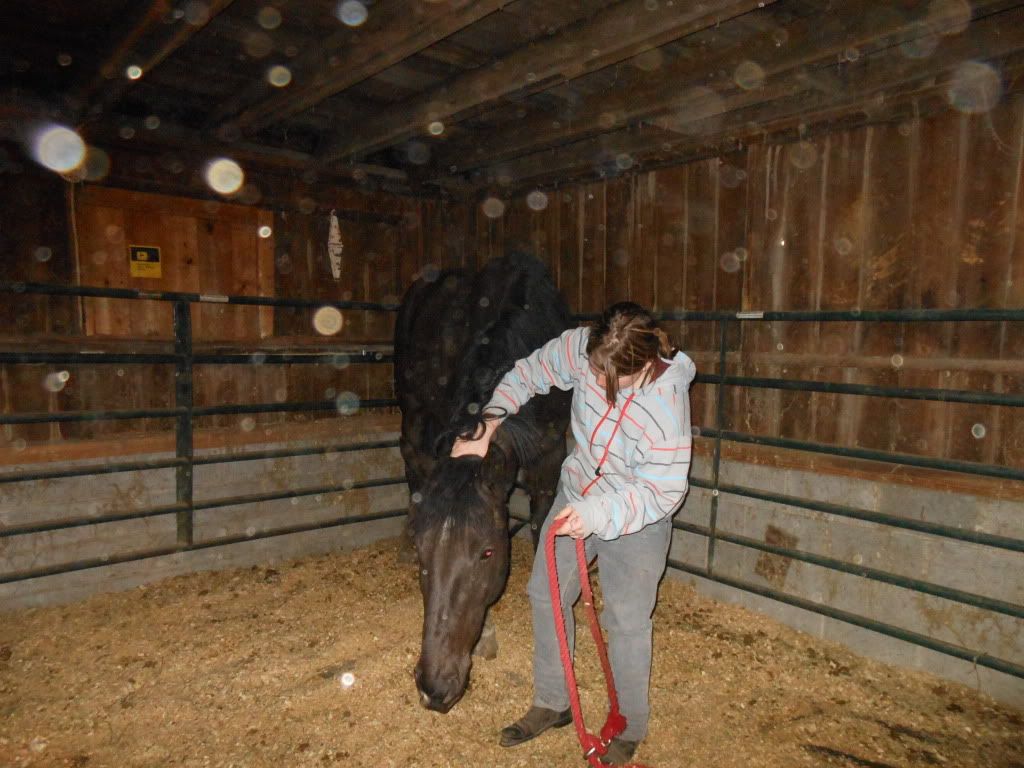 Put the lead around his neck to hold him. You do NOT need to tie him for this. The first session will be a fight until he does it perfectly 5x in a row, EVEN IF it takes you both ALL AFTERNOON!
The SECOND session will be to teach him to tie w/out breaking the lead
. I will require a fence with a fence post and a very long lead, lunging line or rope, even a clothesline rope (cheap at the Dollar Store) will do. Use the smallest fenced in area you have for this. Run the rope through the fence post about this height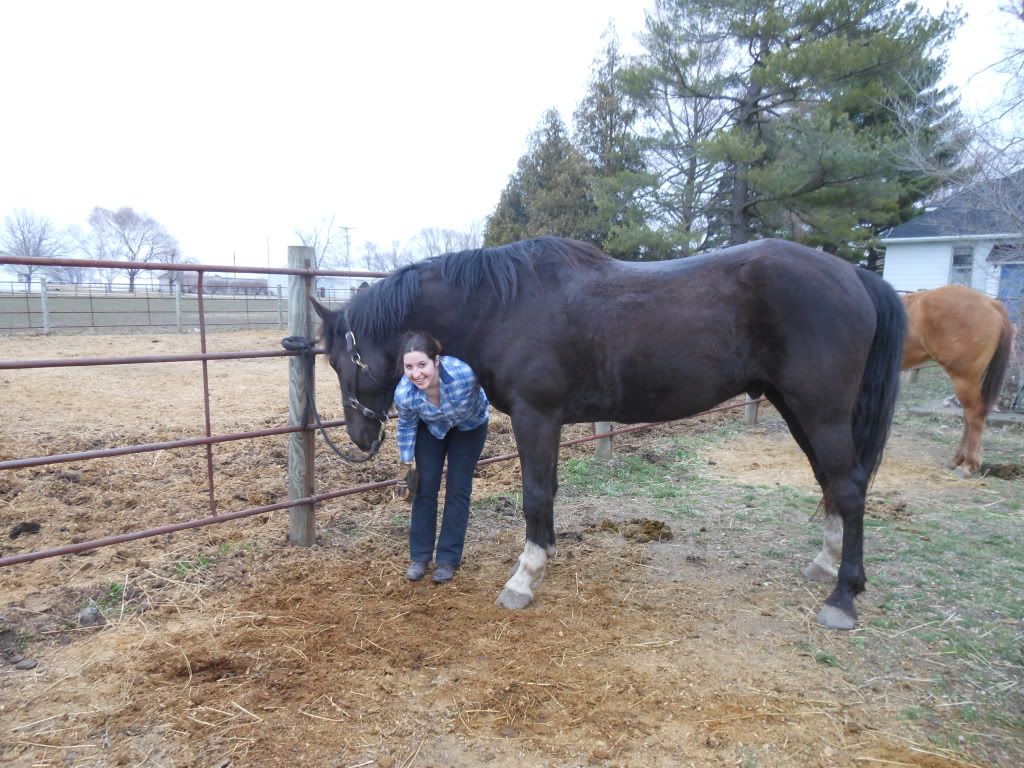 Spook him to pull back, DONíT hold the end. He will back up until itís looser but he wonít pull it all of the way through. Go online and find Clinton Andersonís ads for his tie ring. Itís the same principle.
Keep repeating, again, until he does this perfectly 5x in a row. He will, eventually, stop spooking bc it takes effort, and horses are lazy. You MUST set aside a good week of 7 days in a row to get him to master this. MY OTTB was a mess when DH and took him on the ďRed River CampaignĒ (CW Reenactment, April, 1994). We switched horses and he walked most of the 12 miles we traveled that day. But, the next day DH was aboard, and he was an angel by Wednesday. It IS possible, so donít give up.
The THIRD session is grooming
. Carry a short whip. He must learn to turn on the forehand for you every time you change sides. Throw your arms up to ask, use a good smack with the whip if he doesnít listen IMMEDIATELY. Moose is the same size as my horse, ďLong Arm of the LawĒ, but, being a TB his reaction time is faster. My horse needs a couple of seconds to move obediantly. My TB didnít.
The FOURTH session is grooming 2.
He must allow you pick up his feet. Start with ONLY the front 2 feet and master those before you do the back 2. Donít pay attention to any posts that tell you itís bad horse management to not pick out all 4 feet. His feet will survive waiting for the training, and you can blame the previous owner for ALL training problems. Lean against his shoulder, pinch in the back of the leg above the fetlock. First time you ONLY want him to pick it up a little. Ask for him to pick up and hold it longer and longer. He will PROBABLY be pretty good at this already, but you want to assume that it will take longer than you think. Take a good MONTHóconsidering that he has hurt you YOU need to time for your confidenceóand you will enjoy all of the power you get from telling him what to do and winning all of the little battles.
Quote:
I took him and I on our first trail/camping ride this weekend...(and) he wouldn't load. After he flipped out the back of the trailer I was hysterical worrying he was going to get hurt
Go to Clinton Andersonís video on horse trailer loading. The exercise to load will teach you much more about horse control than any other. To be honest, I am more spooked by my mean-as-dirt 8 lb. Rooster than ANY of my horses. (Iíll PM you about this one.)
Quote:
I got nervous andÖwe both start going down the hill, he starts to lose his balance so I fly off, before we both fall and he falls on top of me. I got a pretty nice black eye and some good bruises...I ended up switching horses with my husband. My less experienced horse husband who has never gotten on mooses back got on Moose. He rode Moose for the entire 8 hour trail ride. There were a few hiccups in the begining getting him to not speed up to get in front of the line, and he tried backing down the next hill. Overall once my husband got on moose, you would never have guessed it was his first trail ride. He was a different horse.
Allowing Moose to have freedom instead of learning to tie has taught him that you believe this is acceptable. GOOD THING your husband wanted to be his boss. THIS tells me the horse isnít all bad.
You are lucky that he didnít kill you on the trail ride. Your fears are legitimate. He is not READY for trail-riding, but perhaps next year he will be. You obviously can get a saddle on him now, so do so every day (possible) and get your husband to ride him as much as possible bc they have now established a bond with your husband in charge and you want to keep this going. Make him wear a helmet, please.
DONíT be ashamed. I have been riding since I was 9yo.ó43 years, more or less. I have owned horses for 27 years (next month.). I have been studying the tv trainers. They ALL train their own horses correctly from the beginning, so that THEIR horses donít have problems and they donít get hurt. The demos they do with problem horses show that they know how to ĒBREAKĒ a horse out of that horseís bad habits, which is not a skill I wish to learn, but I DO know how to retrain. You are younger than me and this experience will teach you what to look for in your next horse.