Quote:
Now in the case of finding myself riding in a Tombthumb bit by accident, because I bought it thinking it was another colt starting bit
, then I got my butt
severely
chewed by the bit nazi's and I replaced that thing quick smart.
You lie!

On the subject of draw reins, I'll admit that I've never used them, but I see how they work and I'm not sure that's the direction I want to go. And I'm not even
entirely
opposed to the
educated
use of artificial headsetting devices. But I'd much rather go with a running martingale--where I can easily control the release and never have to risk a blow-up and possible rear and flip, than something where if a horse has an issue, I have to struggle with multiple straps and now potentially draping-on-the-ground reins. Could be a dangerous wreck. I think draw reins also provide an easier opportunity for overbending a horse, to its detriment.
Quote:
You lie!

.
I tell you I still have the emotional scars
I am not a fan of draw reins, training forks, and martingales in general. Like someone else said, it's not so much the equipment itself that bothers me, it's how 99.999% of the people using them...use them. I'm sure there are probably some issues that are quickly and correctly resolved by the proper use of one of those items for a limited time (I can't really think of any, but I am not so quick to completely dismiss something I don't have extensive experience with). All I can say is that I have never used any type of head-setting device and have yet to have a problem getting a horse's head right where it feels correct for them.

My Dad once told me at a local horse show where there were training forks galore, a couple of draw reins, and uber tight tie-downs, "Gadgets like that (training forks and draw reins) are nothing more than crutches for people with bad hands." Shoot, he trained horses for almost 50 years from simple trail riding horses to world champions, WP to reining to roping, in 2 different breed associations and he has never used draw reins or a training fork. I'm more apt to take his word for it than some 20something "trainer" who works on nothing but headset and forgets the rest of the horse's body.
---
Always remember that feeling of looking at a big, open country over the ears of a good horse, seeing a new trail unwind ahead of you, and that ever-spectacular view from the top of the ridge!!! Follow my training blog:
http://robertsontraining.blogspot.com/
Green Broke
Join Date: Oct 2010
Location: Some times Llanelian - North wales, sometimes Hull in East Yorkshire (UK)
Posts: 3,679
• Horses:
5
Quote:
Do you have time to surf the web for pictures? I would love to see examples.... My avatar, is it good or bad?
I don't need to go surfing because unfortunatly I never managed to stop him doing it entirely and quite often in the showring he would suddenly go from being light and round to leaning on your hands and breaking at the 3rd as it was easier for him.
So I have plenty of pictures of him doing it
(he is the pony at the back of that picture)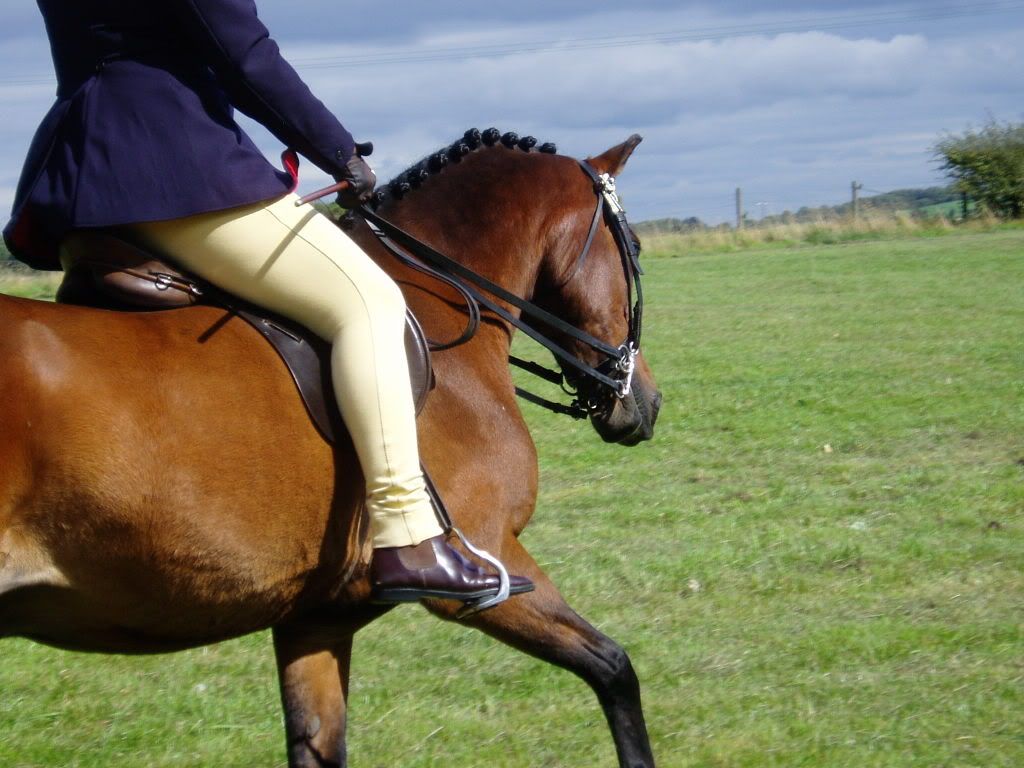 Pride after a lot of schooling, he is still breaking at the 2rd but at least he is using his backside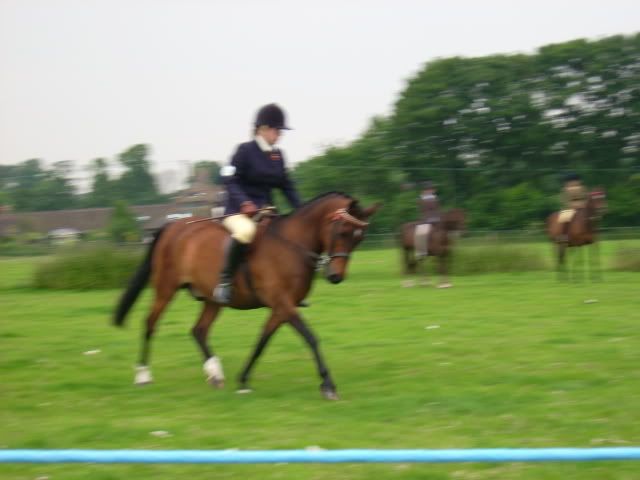 Picture of him going properly-ish, this is in a grand parade so his outline was the least of my worries, we had to contend with having cows, pigs, sheep, bands, tractors, motorbikes, a hell of alot of birds being released and to top it off we had a fly over by the Red Arrows.
Even so you can see he still has the slight tendancy to break at the 3rd.
Compare Pride to Stan, who didnt know how to break at the 3rd, he only ever knew how to go properly.
Stan goin beautifully, look at the smooth arch of the neck. the poll is the highest point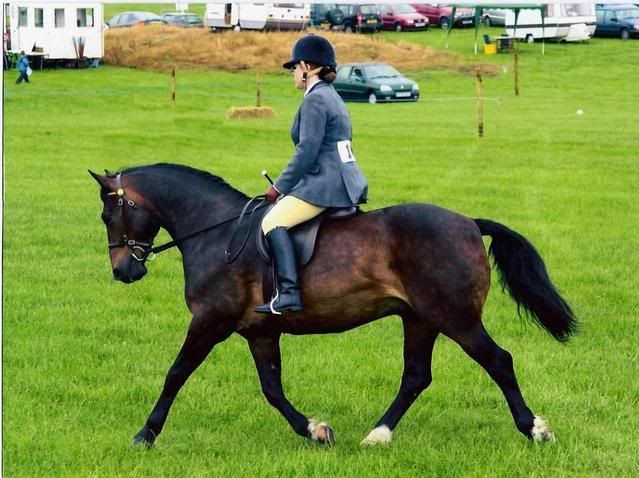 Stan overbent but still
not
breaking at the 3rd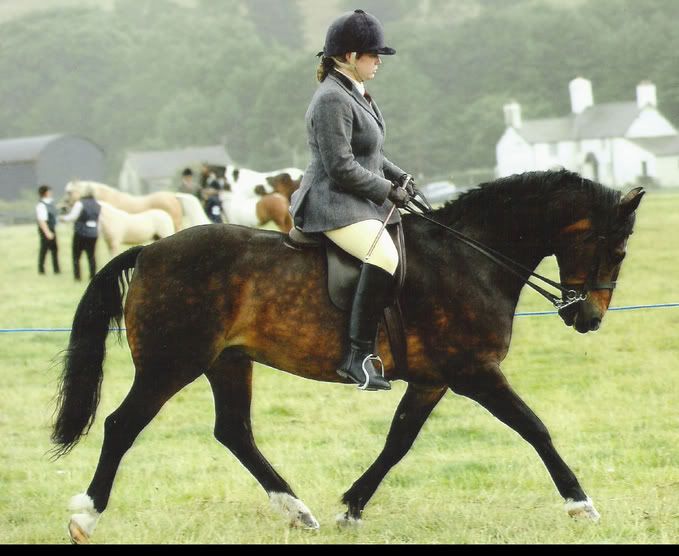 Even here: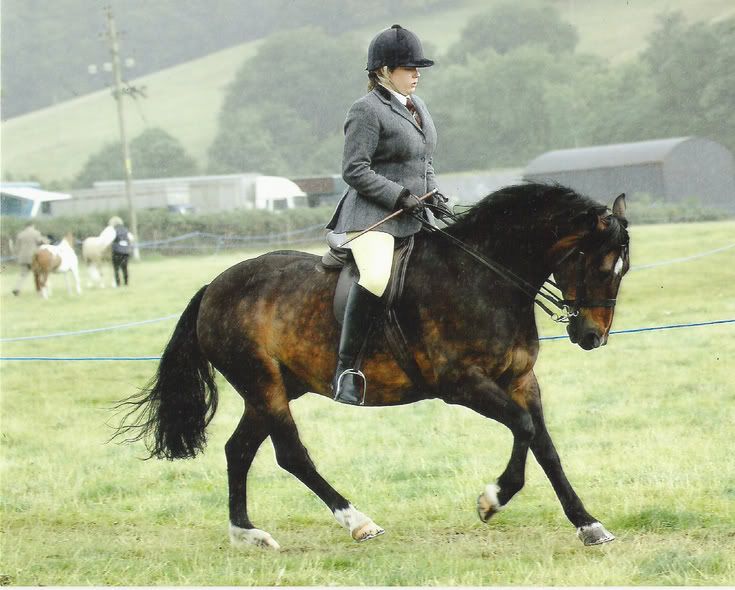 Where he and I are having a fight about the speed at which we are going (he wanted to race the 17hh hunter, I wanted to maintain a nice canter), his neck is round and whilst he is over bent and his poll is not the highest point there is no kink in his neck like pride got.
Stan has NEVER had a pair of draw reins anywhere near him
---
RIDE your horse FORWARDS and keep him STRAIGHT


Quote:
I agree. To me, a nice headset is what you see in the field every day-a head level with the withers. But I guess I don't show, either, so I wouldn't know.
What you see in the field every day is a fine frame when the horse is in the field but when you put a rider and saddle on the horse then they need a different frame. Like the difference between strolling on the beach or climbing a mountain with a backpack on.
---
There's nothing like the Rockies in the springtime... Nothing like the freedom in the air... And there ain't nothing better than draggin calves to the fire and there's nothing like the smell of burning hair. -Brenn Hill
Faye,

Those are great pictures and your honest self appraisal very refreshing and easy to understand.

Kevin,
Thank you for pointing out that the horse cannot go in exactly the same frame he would unriddern, without damaging his back eventually. This is often not explained, and is in fact one of the primary reasons for all of the slow and careful training in dressage; to build up the frame that makes the horse able to bear the vertical load of a rider, without breaking down in the back and leg joints.
Quote:
Because of WINNING, it's important, and how you get there doesn't matter.
SIGH, I know this because for years I've been happy to bumble around in the most simple of tack, being a happy hacker, if I could stop and start and change direction and pace when I wanted I was happy. I couldn't understand why people used draw reins and other gadgets.
Last year I started riding and competing in the lowest of low level dressage, and guess what, now I totally understand it.Mr G and I are using muscles that we never used before, I'm having to learn a whole new way to communicate with him, and he is learning new ways to hold himself and a new way of going.
It takes a long long time to establish this new frame, for both of us to develop the new muscles we need, and to be able to hold it together for more than a few strides. I now look at some gadgets and catch myself wondering if it would help me 'cut some corners' but in the end I don't do it. I love to win, I love coming home with ribbons, but I love G man more, and I want him around sane and healthy for many years, so I choose NOT to use the shortcuts.
Oh I so hear you! I bought an OTTB with the hope of him learning collection, still he does not have it 18 months in and I am not able to ride him as much as I want to. I wanted a jumper, and I cannot jump as he has no collection.
I look at gadgets too before my mind takes over and rules them out. One gadget he is happier with is a pee wee bit, I realize they are not legal for competitions, but he actually likes the thing more than a snaffle.
I would not use draw reins, but if you can get a horse moving forward, you can achieve more than just the head set while using them. They just have to be used correctly and not just looking for a head set.