Evalutating Jumping Potential.
---
Not sure where to put this.
I realize a horse that enjoys jumping is half the battle, but if you were to say, look at a prospect via photographs, what would you look for? What is a horse that will excel at jumping supposed to look like going over a jump? We were playing around with some of the various horses on the farm the other day, free jumping. None of them had ever jumped before. jump is about 1.5' high. The shots are from a couple different angles. Please pick their form apart and explain which angle shows jumping ability the best, which horse, based on the photo given, shows the most and/or least potential.
I would like to learn more about this, so any help would be very appreciated.
Rosie. thoroughbred, 4 in the spring.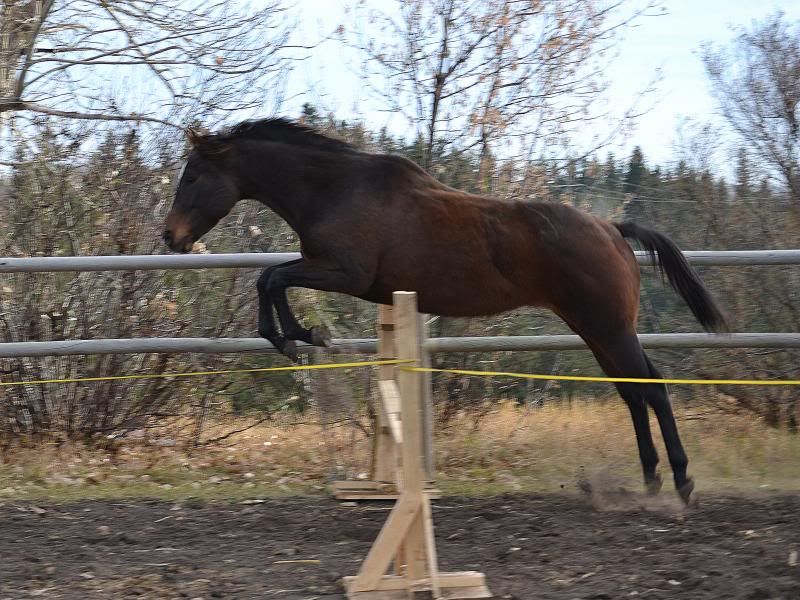 Pi, 7 in the spring, thoroughbred.
Nevada, 6 year old AQHA.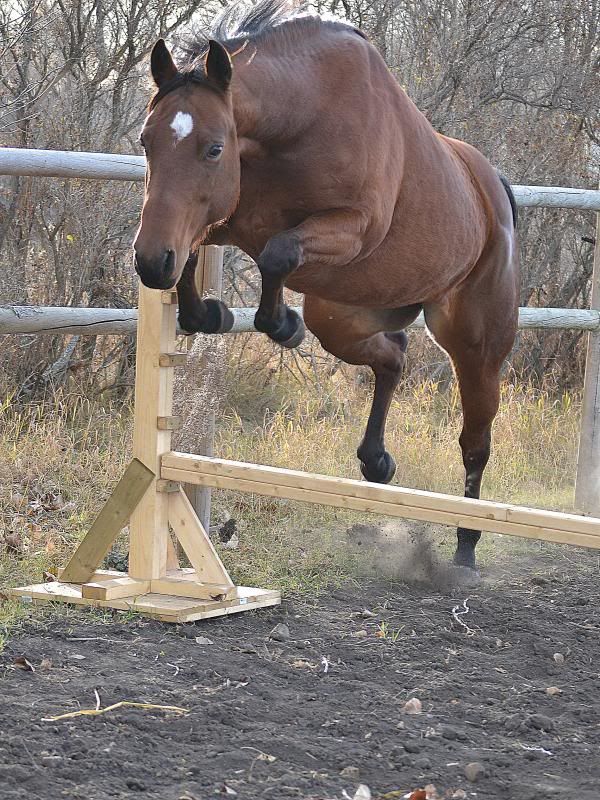 spirit, coming 5 year old thoroughbred.
flash. appy/arab/paint. 10 years old. obviously this rail is just a downed gate rail, maybe 6" off the ground
Ooh, this looks fun. My comments come with no credentials or background in judging horse's jumping form whatsoever. It's just what I see.

Rosie, nice balanced form. Very square. Room in the shoulder for more range. I would jump that horse in a second.

Pi, kind of belly flopping over the fence. Doesn't look terribly interested in jumping. Would need some more hind muscle to get the job done safely.

Nevada. This guy has scope, Big powerful jump in that one. Really uses his neck and cracks his back. This is a horse for an experienced rider since that head and neck is going to disappear in flight and the rider will need a good solid leg to stay with him.

Spirit, hard to tell from this pic, but I think he might have talent. He looks like he is unamused with being asked to jump a fence he can step over. I bet he would put in a much tighter effort over a larger fence. I like him the best.

Flash, not sure what to make of him. Jumps flat but with tight knees. He's safe in front, but still hurling himself over the fence using speed instead of impulsion.

At the very least, I have bumped this back to the top, so hopefully others will take a look.
---
You just have to see your distance...you don't have to like it.
I say Spirit- the horse is not over jumping too much and looks easier to sit than the others.
Here's my opinion, for what it's worth:

Horse 1: I like this horse the best of the lot. She's figured out where to take off to bascule nicely over the fence. Her knees are square, she looks focused.

Horse 2: Not a very flattering photo, but based on it alone my reaction is "meh" Got deep and had to really launch off the back, looks confused about the whole thing.

Horse 3: First impression: nice knees! Thennnnn you get to the hind legs - and that's where it all falls apart. He's obviously come into the jump burning rubber and barely remembered to tuck his legs in time to not crash. The one toe lift off, classic HOLYCRAP save. Nice tight front end, needs a lot of work.

Horse 4: Not impressive. Barely hefted the front end over.

Horse 5: Pretty well the same as #4.


NOW.. a word on free jumping: Some horses free jump well, and can't get themselves over a cavaletti with a rider to save their loves. Some horses can't be bothered to lift up their legs over a free jump, but are amazing under saddle.

A word on jumping, period: most horses sound of body and mind should be able to navigate a 3' course with relative ease, over 3' is where you look at splitting talent, and a lot of people don't need or want a horse that needs to be competitive over 3'.
---
The lovely images above provided by CVLC Photography cvlphotography.com