Eve Training Update!!! **PICS**
---
Quick Eve update - seriously, I can't believe how well she's doing lately! We've been doing a fair bit of long reining in the mornings when I go out before work, when I go after work I like to throw the saddle on her and as long as she's calm and relaxed, and listening to me well I'll hop on her for 10 minutes afterwards! Now we're just working on continueing a forward motion with a rider (she likes to stop and just stand there) as well as degrees of turning...she takes the slightest tension in one rein to mean "do a 180!" We're learning together...learning each other...
I'll start with some pics from Monday! I went out with Niki and we were long reining in the front yard. These are from the first time we've done this outside the round pen so I was really proud of her! She's got her voice commands down pat for walk on, trot, and whoa...still working on canter in the round pen but not ready for that on the long reins yet! Yesterday I went out before work and we went in the yard again and she did wonderful!
I absolutely LOVE her attitude towards everything...
Oh ok, we'll go this way!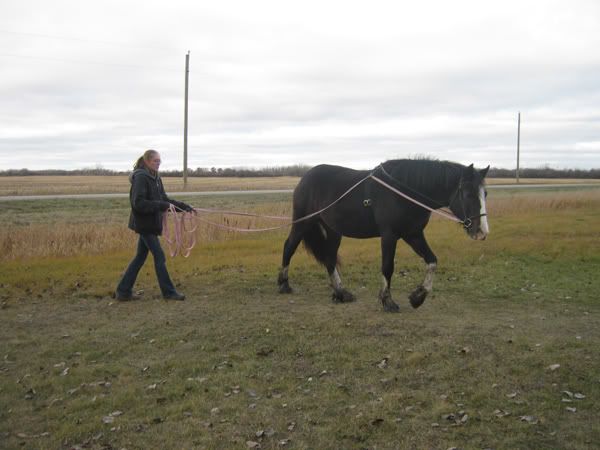 Something caught her attention!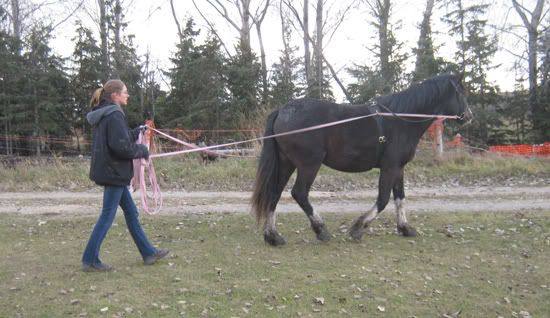 Yay pony!
I think she grew again...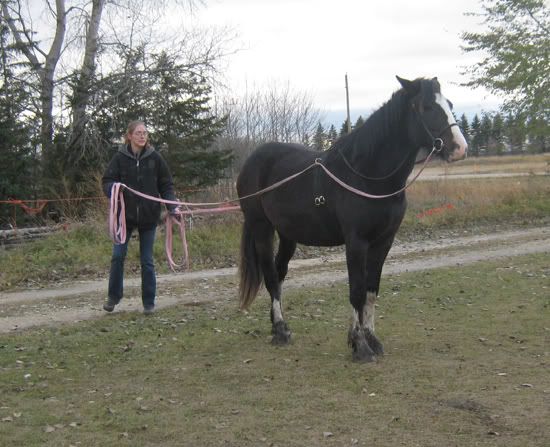 Next pictures are from this morning. Apparently I passed a car that was the ONLY car in the city that got snowed on? But it didn't snow in the last week...not sure how this happened but I thought it funny so I snapped a pic!
Starting out today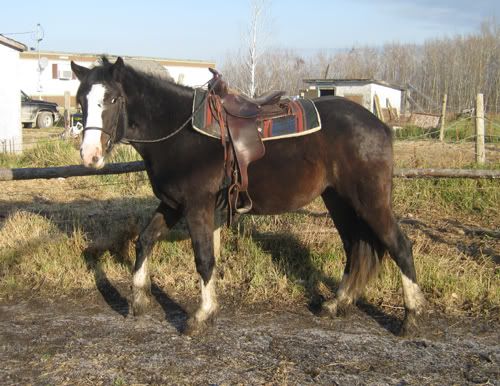 She was a little lazy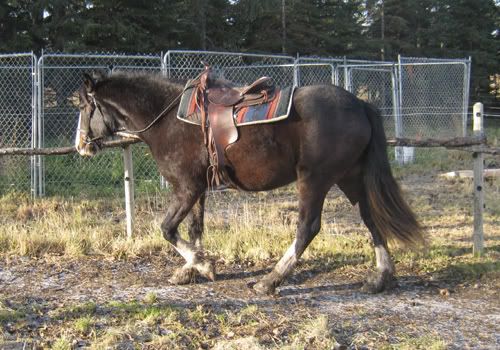 I was earlier today that I normally am so she got a late breakfast!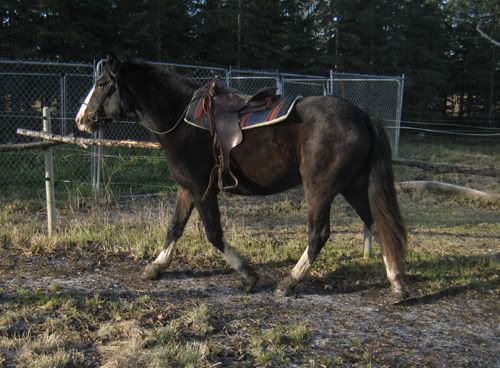 LOVE how the sun played with this pic!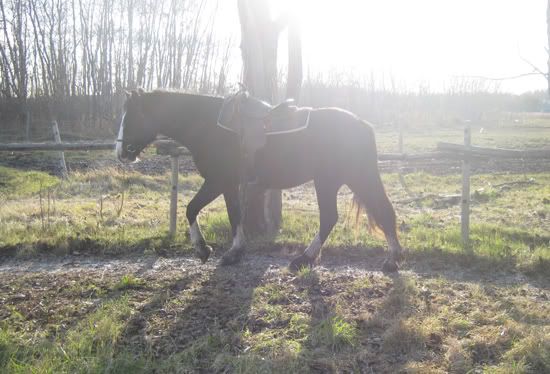 Trots!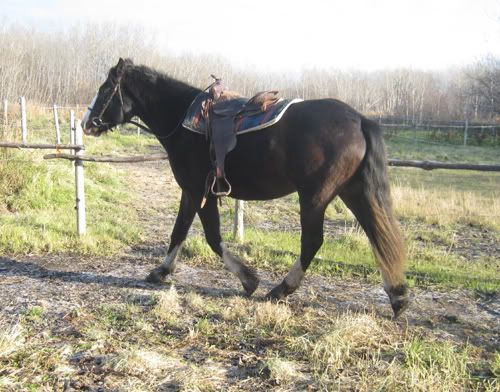 Lazy trots!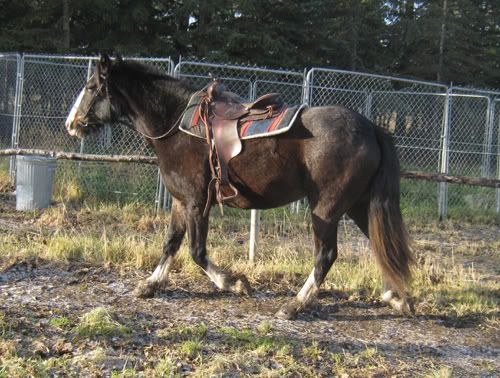 WP trots!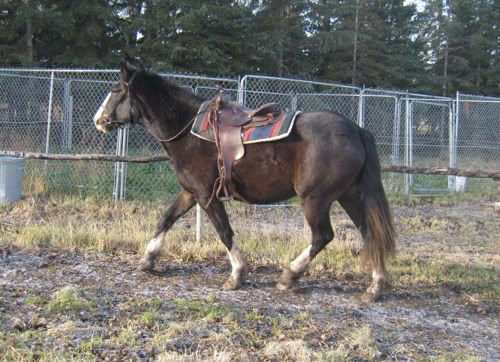 LOL so after round penning I set up the camera to take a video of me riding her...pressed the button and realised it was on camera still! The pic came out ok even though Eve looks mad as heck!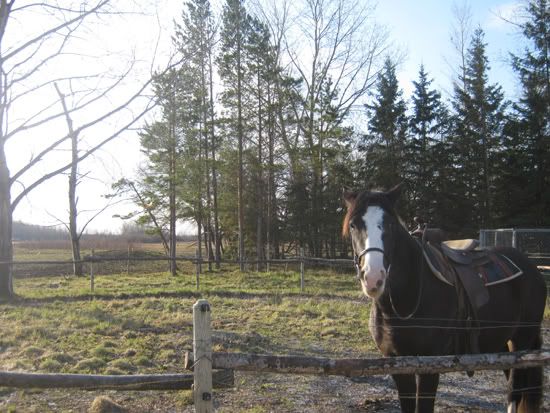 And eating her morning noms for a job well done!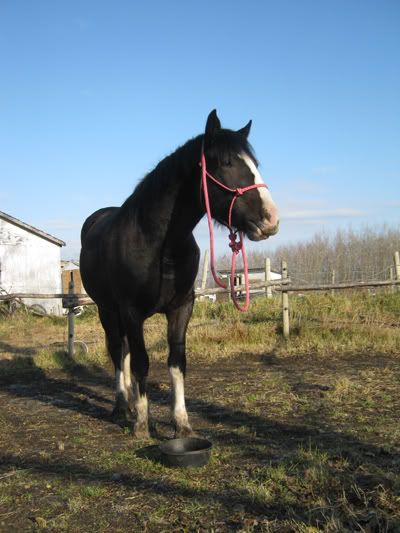 I have 2 videos, one just free lunging, the other riding but they're crazy long and not too much action so I think I'ma save then for my next video or something. WAY too big for photobucket and kinda boring for youtube...I'll just take clips and make a movie again! They're fun!
---
Never ride faster than your guardian angel can fly
She looks great, you seem to be very devoted to her training.
She looks great what age is she??
Thank you so much, she really has filled out alot in the last couple months! She's roughly 27 months now, so just under 2.5 years old. She's very mentally mature for her age though, seems to understand and grasp well what I'm teaching her.

I do have a question though...I'm in no rush to start really riding her since she is a big breed and they tend to develop slower physically, she's got her voice commands down, lets me pick out and trim her feet, I can move all around her at any speed with her still as a statue, her leading skills are better than some of my older girls, and she's accepting all tack, AND has a good start on long reining...what other things can I do to better prepare her for proper riding once we get there? I'll be doing maybe 10-20 minute walk rides over the winter, starting into trot over the summer next year...any ideas on how to build proper neck muscles before I'm in the saddle?
---
Never ride faster than your guardian angel can fly