Eve Training Update!!! **PICS**
---
Eve has been doing AMAZING lately. I figured out my western saddle really doesn't fit her still growing back so I've been riding bareback for a bit here...but a couple days ago I tried my english saddle on her and I swear it fits like a glove. Allows for free shoulder movement, doesn't move when I mount, and most importantly she's comfortable with it on.
These pics are from 2 days ago, first time trying this saddle and she did awesome!
She picks her knees up so high in the snow!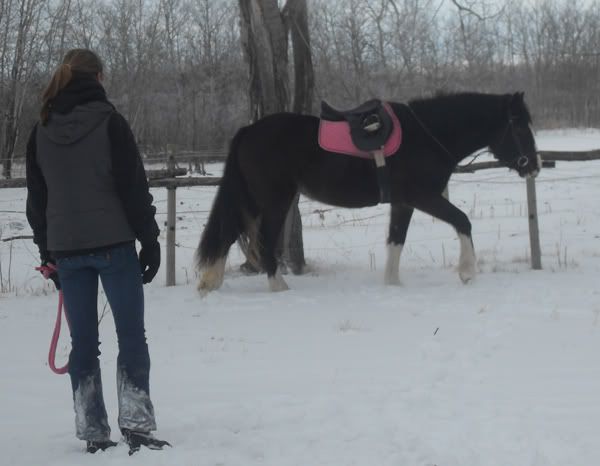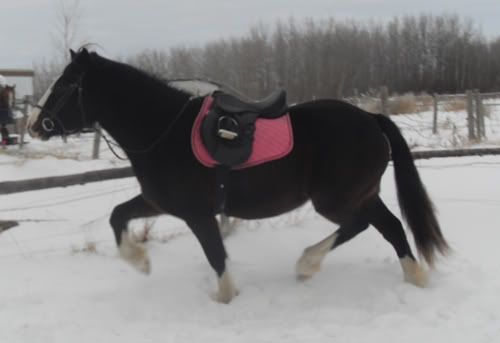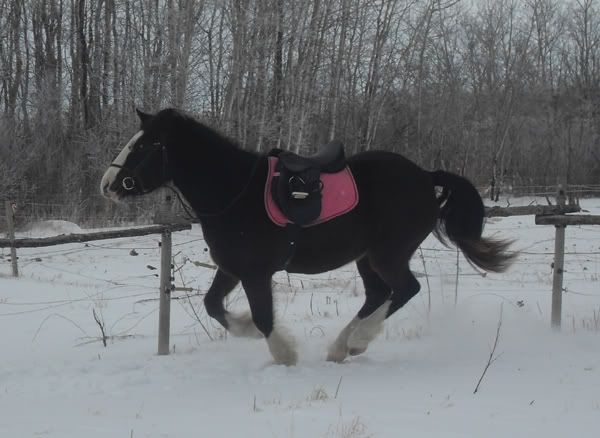 LOVElovelove this pic!
---
Never ride faster than your guardian angel can fly
Now some riding pics...she was a doll today! I kept it kinda short, only been riding for maybe 1/2 hour at a time thus far. Going to pick it up to 45 minutes soon though, I think she's ready!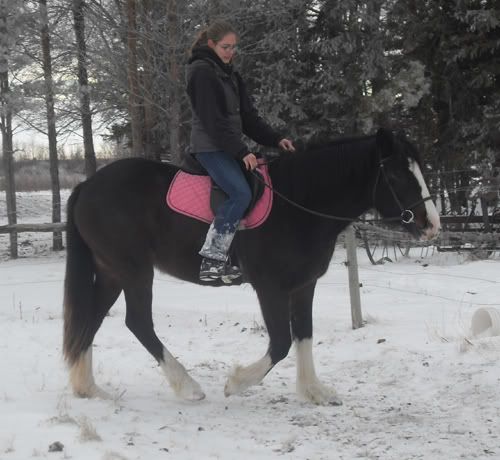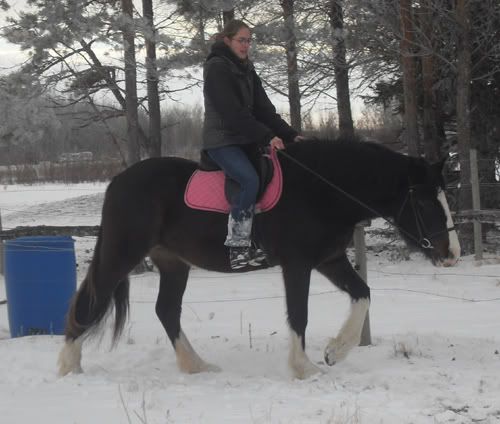 That's all for now, I should have more new pics after the new year! Going for a nice ride tomorrow actually...
---
Never ride faster than your guardian angel can fly
Gorgeous horse!!
---
Britni & Halo (2009 QH filly)
Thank you both, she's a little butt high at the moment but I think she'll even out considering she's only 2 1/2...
---
Never ride faster than your guardian angel can fly
Where's your helmet?? You are too young to ride without one. It is cold out, snow on the ground and no gloves, not even a hat???
Nice horse but play safe
Too young? I'm 23 and more than capable of desiding if I need a helmet or not. In new situations I wear one, I wore mine for the initial 6 months of riding I put on her but in the round pen walking and trotting, I think I'm ok. I did have gloves that day, they were just too bulky and messing with my dexterity. I don't know why I skipped the hat though - my ears were freezing!

I hear what you're saying and yes I could be wearing a helmet, when I take her into the paddock this week I will be...but she's got round pen work pretty much down and I'm old enough to deside when to wear one. Thanks to my hoarding mother, I have to FIND my helmet tomorrow before I tack up...thanks for the input though.
---
Never ride faster than your guardian angel can fly
Yearling
Join Date: Dec 2009
Location: I cant tell, your strangers:)
Posts: 1,157
• Horses: 0
She is a big beauty:)
---
Horses aren't just a pleasure, they are an escape from all evils of mankind.
*faints* Absolutely STUNNING girl. Good job on her, the saddle looks really good.. So does the pink! Have a great ride later! (:
Shes coming along so nice! Soo pretty! Have you cantered her yet?
---
When God Made Horses, He Painted The Good Ones.
"All I pay my psychiatrist is the cost of feed and hay, and he'll listen to me any day."