Eve Training Update!!! **PICS**
---
Eve's been doing really well lately, with her long reining, learning to pull a tire, and riding. Today was a bit of an off day...it was windy and she got it in her head that there WAS a horse-eating monster in the trees behind us and trotting away was the solution! She was very alert and nervous today in the paddock so I kept it to a walk, practised halts and did alot of serpentines. In the end though it was a matter of finding a good place to end the session and start again tomorrow. Between the wind and her having a "baby day", I wasn't going to fight with her over it! I know I wasn't letting her win anything by having a short ride today, so I'm not too worried about how she'll do tomorrow. Anyway, onto some pictures!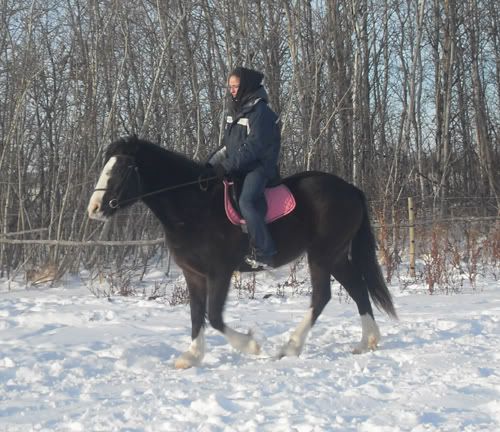 Not happy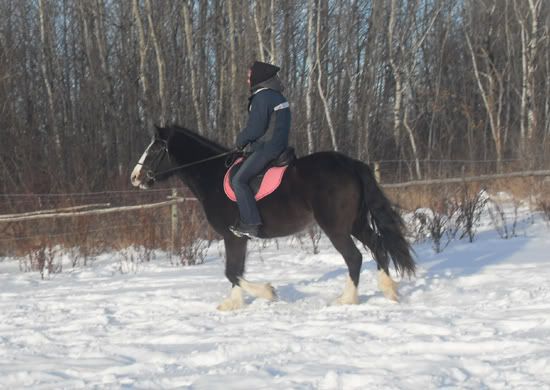 ZOMG! It'll get us!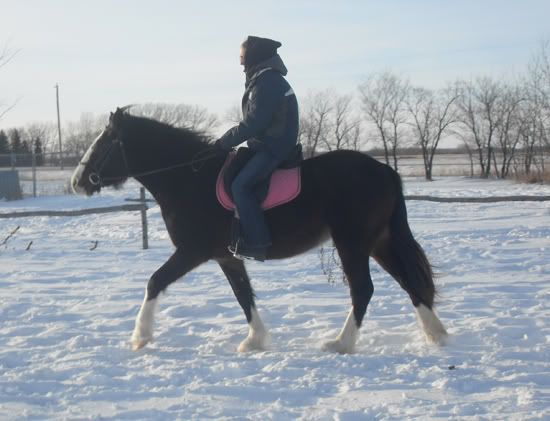 Stepping out nice, but you can tell how alert she was!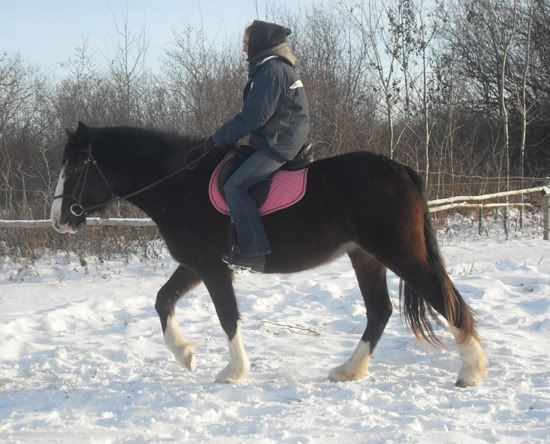 She relaxed a little bit though - fav pic from the day!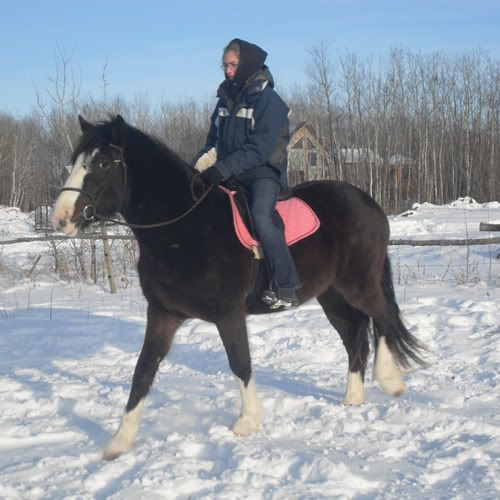 Other way!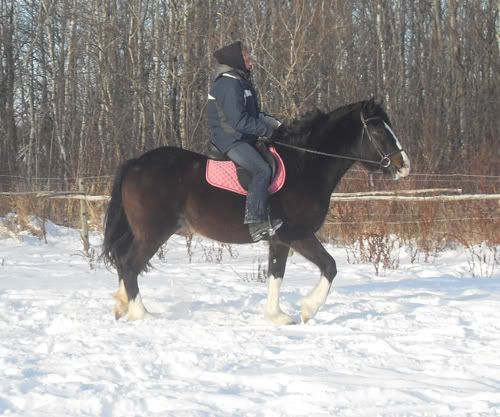 Another ZOMG moment...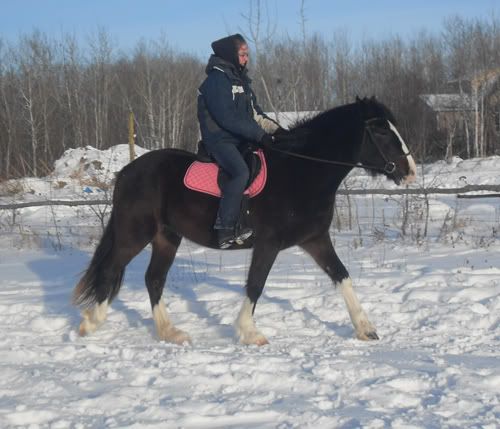 Just trying to keep a consistant walk!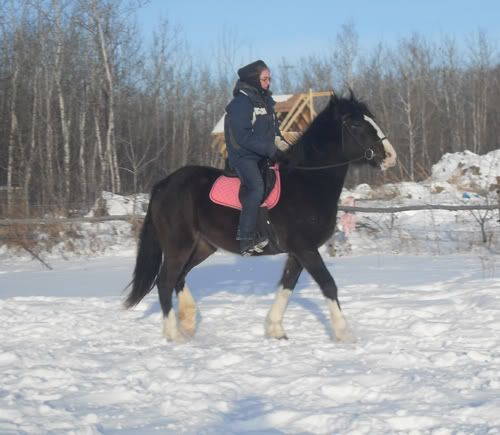 Again, boogie man in the trees!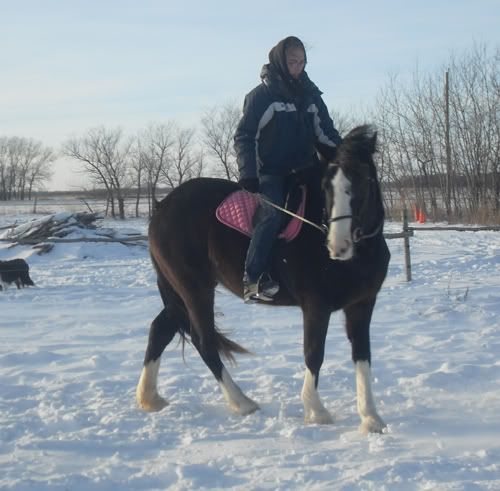 She refused to move so we did a circle and carried on!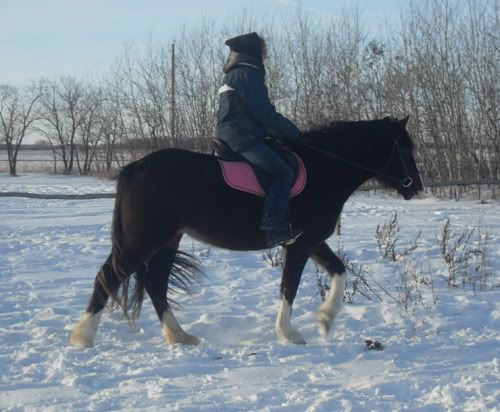 Much nicer walk
Asking for whoa
Givin lurves
Seriously, she grew...can't even see me behind her anymore!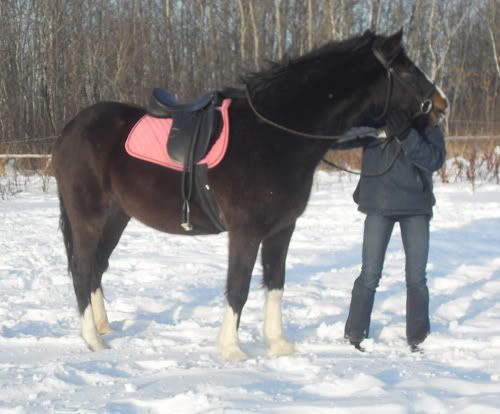 Oh there I am!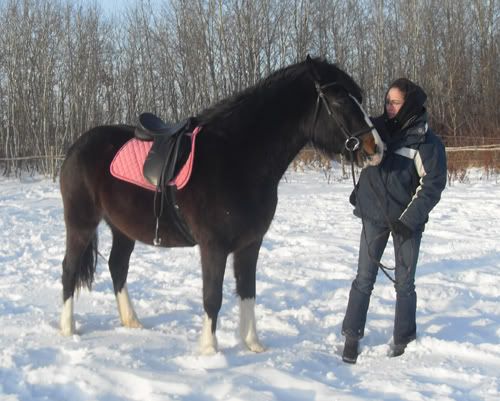 Good pone...
---
Never ride faster than your guardian angel can fly
She's adorable! I love how Jynx and Eve both have pink saddle pads, only in different riding styles. It's super cute.
And I've very envious of all your snow, just so you know.
---
Fabio - 13 year old Arabian/Lipizzan gelding

~
Rest peacefully, Lacey.

I'm jealous that you guys have each other who are not only close enough to see all the time, but are also willing to stand out in the freezing weather to take pictures!

I'm sorry you had an off day, but at least everything was under control and was fairly easy to get over. I hope tomorrow is better for you!
---
"Great spirits have always encountered violent opposition from mediocre minds."

Wallaby - I was riding Eve western for a bit there but she told me real quick that it didn't fit her well! Now that I'm using the english on her she's usually a doll! As for the snow, you can have it! LOL well no, I like the snow...just not the -40!

ricci - It is VERY nice having someone there with you all the time. Sometimes we goof off and try new things like doubling backwards over crossrails...LOL and others it's nice to have someone to call 9-11 if necessary! In summer it's easier but in winter we kind of alternate! She'll ride first and I'll snap some pics, then go grab my horse and get ready...I'll warm up while she goes inside to regain feeling in fingers and toes, then out to take some of me! LOL it's a working system so far!
---
Never ride faster than your guardian angel can fly
Green Broke
Join Date: May 2009
Location: Winnipeg, Manitoba, Canada
Posts: 4,510
• Horses:
2
Muahahaha, Shay-la used to hate pink and I am slowly bringing her over to my dark side of overdone pinkness!
*giggles* We do it in waves. Shay-la ran out and snapped pics of me and Ashley then ran inside while I put Jynx away. Then I ran inside to warm up while she tacked up Eve. We haz a system!
---
Quote:
I hope God tells her to smash her computer with a sledgehammer.
That's awesome. Looks like ya'll are doing great. And as for her alertness over the trees, there may have really been something out there that she could hear or see and you couldn't. You handled that wonderfully.
---
Always remember that feeling of looking at a big, open country over the ears of a good horse, seeing a new trail unwind ahead of you, and that ever-spectacular view from the top of the ridge!!! Follow my training blog:
http://robertsontraining.blogspot.com/
Thanks, I figured this was just one of those times where you pick your battles and this wasn't one I was prepared to win. It was too cold to spend another half hour in the round pen before remounting and continueing our ride. Tomorrow is supposed to be beautiful out though so we'll see how she does then!

There *could've* been something in the trees yes, but the likelyhood of that is very slim. The neighbors on that side have no dog and the deer aren't brave enough to come within half a mile of the farm. Worst it could have been is one of the farm cats, but even then I'm almost positive it was the wind in the trees that was getting to her. Trees moving and wind rustling...enough to scare the bravest of 2 year olds! There was a jogger on the road that scared the crap out of her too...but tomorrow's another day!
---
Never ride faster than your guardian angel can fly
Started
Join Date: Aug 2009
Location: In the barn whenever possible.
Posts: 1,910
• Horses:
2
Eve is darling! I look forward to reading more about her training and seeing pictures.
---
"Riding a horse is not a gentle hobby, to be picked up and laid down like a game of solitaire. It is a grand passion. It seizes a person whole and, once it has done so, he will have to accept that his life will be radically changed." -Ralph Waldo Emerson